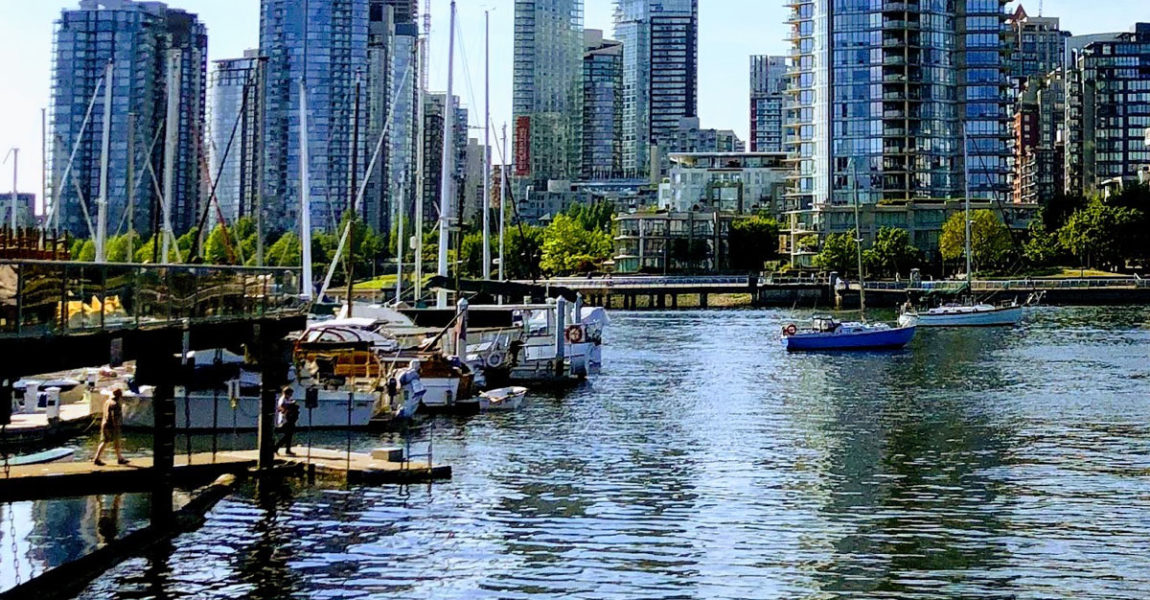 By Brian Soland, AICP
In September 2017, immediately after getting married, I convinced my new spouse to pack up and leave San Francisco for Vancouver, British Columbia. When searching for a public sector position where I could work on large important projects, I stumbled upon Vancouver as place that was motivated and committed to investing in transit, multimodal infrastructure, and transit-oriented communities.
I landed a job at TransLink, the regional transportation agency and transit provider, and currently serve as project manager for one of Metro Vancouver's SkyTrain rail extension projects. TransLink provides rail, bus, and paratransit service for the entire region and allocates funding for walking, cycling, and regional roads. In 2019 we were awarded the Outstanding Public Transportation System Achievement Award by the American Public Transportation Association.
Here is my experience moving to Canada and working as a planner.
Getting a work visa to be a planner in Canada is a breeze
Logistically, crossing the border to the north and working as a planner couldn't have been easier. The position of urban planner is one of 25 recognized under the NAFTA (and soon USMCA) trade agreements that allow an accelerated and simplified immigration process into Canada. All I needed was a job offer letter, copies of my résumé and planning degree, and a simple application form submitted at the border. In less than an hour, I had a three-year work visa (with the potential for unlimited renewals) and was on my way into Canada.
My spouse automatically received a work visa that allows her to work anywhere as long as my visa is valid.
Some unexpected differences
Getting into Canada was the easy part. Adjusting to living and working in a new country, even though it was so close to home, presented unexpected hurdles and several key differences regarding work.
Public support of government programs: The public tends to expect the government to get things done right and has more faith in planning and transportation decisions. Not to say it's easy, but there is more public acceptance of what we planners do and why we do it.
Acceptability of density near transit: The focus on transit-oriented development has been robust and mostly successful. Issues surrounding affordability — both producing more and protecting existing — are top of mind for planners here.
Lack of ADA and equity programs: Granted, Canada's history is much different from that of the U.S., but it's still worth noting that there are very few programs that facilitate and support historically disadvantaged groups. Things like ADA and Title VI do not exist here.
Government structure: The role of city councils, mayors, and provincial governments seem very similar to California's structure. However, provincial politics and government agencies are much more involved in local initiatives and decisions, and exercise more direct influence compared to their California state agency counterparts.
There are also some day-to-day lifestyle differences worth noting.
Taxes: This topic can range from simple to very complex. The United States is one of two countries in the world where taxes are tied to citizenship and not to residency (Eritrea is the other). So even if you live abroad and earn no money in the United States, you're still required to file taxes with the IRS. However, the IRS offers foreign income exclusion if you live abroad, such that you likely won't have to pay any U.S. taxes on your foreign income. I found that the Canadian government collects taxes equal to 20-30 percent of wages, a slightly higher percentage than in the U.S.
Exchange rates and savings: Things are a bit more expensive in Canada due to fluctuating exchange rates. And while many things do cost more in Canada, some things are less expensive, especially when comparing rents to the Bay Area. I'm finding that investing and saving for retirement are probably best to keep in the U.S., although IRA contributions are restricted if you do not have U.S. domestic income.
Bank accounts and credit: Moving to a new country, I had no credit and no bank account. While opening a bank account was easy, something as simple as getting a credit card was difficult when I first arrived.
Weather: While I knew Vancouver would be a colder, wetter place, I did not realize how much I value seeing the sun during the winter months. The key for me is getting into the local mountains for snow sports, and planning a vacation to a sunny locale during the winter months. It's important to note that Vancouver more than makes up for it during the summer when it's perfectly warm most days and the sun stays out until past 10 pm.
Canada is a welcoming and fun place to live and work
When I tell Canadians I moved here from California, they often ask, "Why leave sunny California?" To be honest, I miss California more than I expected. However, Canada has some key things going for it, including pristine public amenities, instant access to the outdoors (even better than the Bay Area), a friendly and helpful culture, and in Vancouver specifically — an amazingly livable city. Another key benefit of living in Canada is the access to good universal health care and a system that supports new families with up to 18 months of parental leave, which probably seems mind-boggling to most Americans.
If you're thinking of moving "abroad" to Canada, feel free to reach out with questions. TransLink is always looking for talented and motivated planners to join our team. Check out the job opportunities at translink.ca/Careers.
Brian Soland, AICP, is Project Manager, Arbutus to UBC SkyTrain, with TransLink, Vancouver, Canada. Before leaving for Canada in 2017, he was a senior planner with CDM Smith, San Francisco, for seven years. He holds a master's in city and regional planning from Cal Poly SLO and a bachelor's degree in geography from Cal State Sacramento.