Neighborhood in Transition

The West Oakland neighborhood sits just west of downtown Oakland within the bounds of Interstate 580 to the north and Interstate 980 to the east. It is otherwise surrounded by Interstate 880 and by land owned by the Port of Oakland on the south and west ends.  This residential neighborhood with many historical Victorian homes is surrounded by industrial uses.
West Oakland has been the center of many transportation projects vital to the region, however detrimental to the neighborhood.
The building of the Cypress freeway in the 1950s created a divide to the neighborhood. After the 1989 Loma Prieta earthquake, there was an opportunity to rebuild Interstate 880 along a different alignment. The previous Cypress Street freeway location was transformed into a wide landscaped median with a meandering pedestrian thoroughfare that is now known as Mandela Parkway.
BART construction in the 1970s created another division along 7th Street. The former Oakland 16th Street Amtrak station (closed in 1994) site is now being used as a community garden.
Newer apartment and condominium projects have been built recently and there has been greater interest in restoring some of the older housing stock. This predominantly African American neighborhood has been experiencing progressive gentrification and there is fear that longtime residents will be further displaced by higher housing costs. Many newer residents choose this neighborhood for easy access to San Francisco by BART or by car and proximity to downtown Oakland.
How to get to West Oakland:
By BART: The West Oakland BART Station is only one stop away on the San Francisco line.
mural commemorating Cypress freeway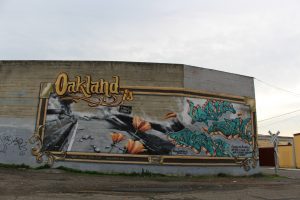 former 16th Street Amtrak Station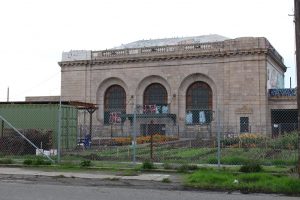 Crucible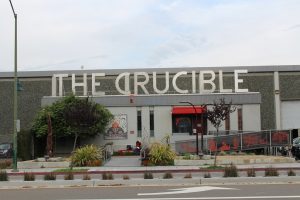 housing along 7th Street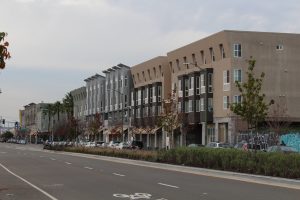 Guide by Dana Turréy and Jackie Yang
Photos by Jackie Yang