Northern News PDF, 27, kept Northern California's urban planners informed
Northern News is saddened to announce the passing of its PDF on April 14 in San Francisco.
At an unobtrusive table not far from the entry to Moscone Center West, a small group of city planners said goodbye on April 14 to the last Northern News PDF, handing out bespoke printed copies of the April 2019 edition. Among them was Naphtali H. Knox, FAICP, 85, who as Northern News' editor since 2005, has overseen the growth and development of the publication from a brown and white, eight-page, printed and mailed newsletter to its current all-digital format.
The child of Northern Section AIP News and Northern Section AIP Newsletter, Northern News was born in San Francisco in November 1978.
By all accounts, Northern News was happy in its cut-and-paste pre-PDF childhood in the Bay Area. As a teen, it grew into a PDF, which in the 1990s was a new way for individuals to share text and inline images with each other — and with printers who could mail printed versions of documents to subscribers — in this case, to Northern California planners.
But with printing and mailing costs escalating in the early 2000s, the APA California Northern Section board voted in July 2007 to cease mail delivery of the Northern News PDF and instead distribute the PDF via the Internet. That same year, the PDF was reformatted so that each article would be set in a single, continuous, right-hand column of text that could be read easily on a computer screen — thin page breaks were the only interruptions.
In April 2011, a full-color magazine cover was added to the PDF that, by then, had become a news magazine averaging 24 pages per issue.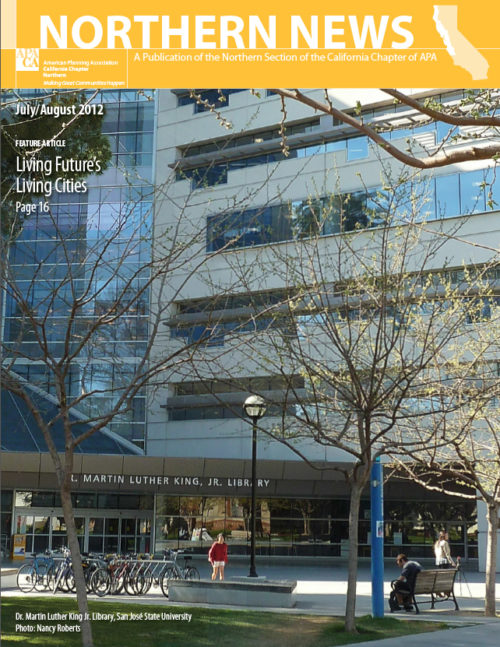 The single-column, continuous-page PDF was produced through April 2013, but its format changed after a chance meeting on an airplane when editor Knox sat in first class and next to the owner and CEO of a multinational media corporation. Observing Mr. Knox reviewing and editing Northern News on an iPad, he introduced himself and asked to look at the publication. The executive then pointed out that readers tend to skim PDF documents, and that readership drops off quickly with each succeeding page. Assuming that growing and maintaining readership was important, the CEO said, it was critical to begin major articles on an early page but then continue each article to the back after just one page — rather than continuing an article onto consecutive pages until it is complete. Thus each new page in, say, the first 10, would begin a new article.
The very next PDF of Northern News, May 2013, adopted that format, which continued until the death of the PDF six years later.
Northern News PDF saw some heady days. It averaged 30.4 pages during the three years 2014–2016, and the longest Northern News PDF ever (27,800 words on 38 pages, with 40 images) was the two-month edition issued for December 2015-January 2016.
Vital until the very end, Northern News PDF left behind a 37-page April 2019 issue with six major articles, 15,500 words, and 54 images.
The Northern Section board and the editors expect to continue Northern News without interruption and without PDF, in the format in which you are reading this memoriam.
Services have been held. Donations in memory of Northern News PDF may be made to the California Planning Foundation.