By Rosanna Xia, Los Angeles Times, February 24, 2020
Ten miles north of Monterey, [Marina offers] sand dune[s and a] sandy beach that stretches for miles along the bay. Not much of the California coast feels like this anymore.
At a time when Del Mar, Pacifica, and other coastal cities are fighting to defend their homes and roads from the rising sea, Marina residents are learning how to adjust with the ocean as the water moves inland.
Sea walls are forbidden, and sand replenishment projects seem unnatural. Officials instead require real estate disclosures for sea level rise, move infrastructure away from the water, and work with the private resort in town to relocate its oceanfront property — a policy known as managed retreat.
A controversial sand mine on the beach is shutting down after a century of dredging away the coast. Residents are fighting a large water company trying to build a desalination plant.
With sea level rise, the mere suggestion of making room for the ocean and turning prime real estate into open space has upended other cities up and down the coast. But Marina is different, a [100-page, 2019] city report (212 MB) declared, and the city instead will show the state and country how to adapt to a changing planet — 'a really powerful message to the rest of California.'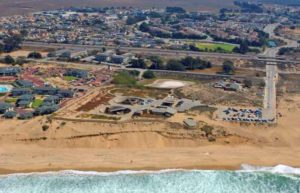 Much of the shoreline remains undeveloped — making decisions today a lot less complicated when it comes to planning for sea level rise. The city points developers instead to parcels downtown and farther inland. A new planned community, Sea Haven, is now advertising the benefits of "homes near the sea."
As more than 35 coastal cities and counties in California agonize over the difficult costs and choices, Marina stands out as a community enthusiastic about choosing managed retreat.
The plan lays out a framework over the next few decades for when office buildings, a sewer pump, and an aging water treatment facility should consider moving away from the sea. Beach amenities, such as a parking lot and public restrooms, might also need to relocate.
Triggers will be identified on when these decisions should be made, based on how much time it takes to permit new construction. When the sea rises to a certain threshold or erosion gets within a certain distance, for example, park officials should begin plans to move the parking lot — rather than just cornering off sections when they collapse.