By California HCD (Alicia Murillo), July 13, 2020
"The California Department of Housing and Community Development (HCD) has awarded more than $279 million from the Infill Infrastructure Grant program to communities in large- and small-population counties throughout the state for infrastructure improvements that support the development of affordable and mixed-income housing.
"Although the program does not fund the development of the housing itself, the infrastructure it provides is necessary for housing development. Capital improvement projects funded by these awards will create curbs and gutters and allow for grading and site improvements, installation of new, larger water and sewer lines, and soil stabilization.
"As a result of this funding, the affordable homes produced will provide approximately 3,700 individuals and families with safe, affordable homes, which will remain affordable for 55 years or longer, serving multiple households over time, and allowing families to break the cycle of poverty.
"'Cities identified lack of infrastructure as one of the challenges to building housing,' said HCD Director Gustavo Velasquez. 'Governor Newsom responded with funding for this program in his 2019-20 budget, and we're pleased to get this funding to communities where they can take the next step and create more homes affordable to Californians in need, serving multiple families for generations to come.'"
Northern Section communities received over $121.8 million, or 44 percent of the total funds granted by HCD, as depicted in the figure below: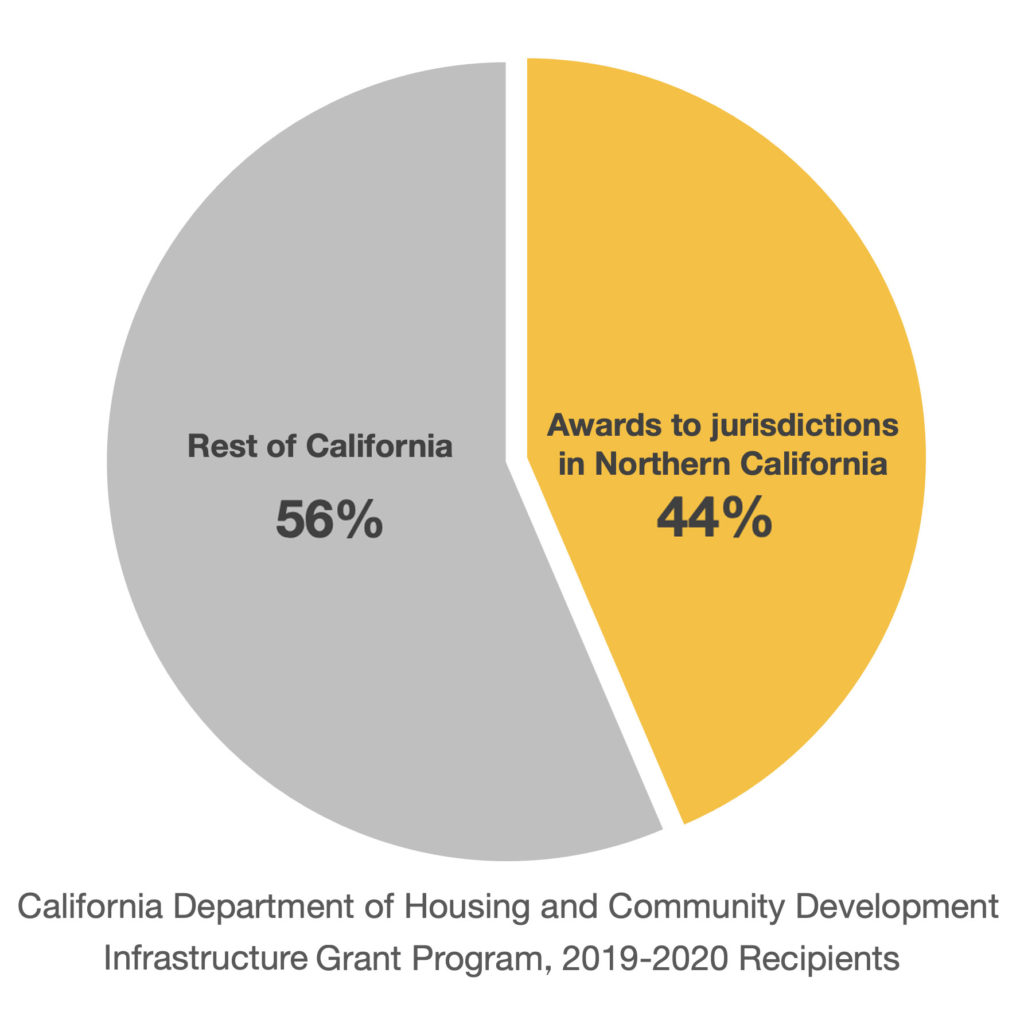 Northern Section grant recipients and their grant totals are listed alphabetically by county:
Large Jurisdictions
Alameda County
Berkeley: $7 million (two grants)
Hayward: $4,038,134
Oakland: $11,772,680 (three grants)
Unincorporated Alameda County: $3.5 million
Contra Costa County:
Santa Clara County
San Jose: $9,077,755 (two grants)
San Francisco County
San Francisco: $51,699,000 (four grants)
Sonoma County
Small Jurisdictions
Humboldt County
Mendocino County
Fort Bragg: $3,089,000
Ukiah: $1,313,504
Napa County
American Canyon: $7.5 million
Napa: $3,774,200
You can see all of the 2019-2020 recipients and projects at large jurisdiction recipients and small jurisdiction recipients.
Read more about HCD's Infill Infrastructure Grant Program (IIG) here.