By Jonathan Schuppert, AICP, September 17, 2020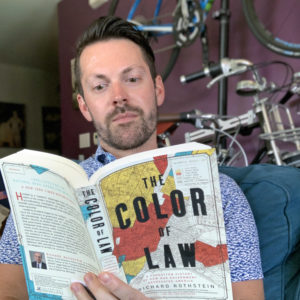 The theme for this year's APA California Conference — State of Change — reminded me how adaptable and resilient planners are. It also called to mind the importance of our profession and our responsibilities as planners.
Our state is physically changing. Many of us have photos of the sky in very unnatural colors to prove it. We're also seeing minds change around equity and racial justice, conditions and issues that have been ignored or brushed aside for far too long.
We planners are continually adapting to environmental, societal, economic, and other changes. Adaptation doesn't come easily and it doesn't happen by promoting the status quo. Daniel Burnham said, "Make no little plans." APA California told us to —
Make no little conversation
A major focus of this year's conference was the inclusion of three "big conversations" around racism and bias in planning, housing, and planning for the future. We're still very much at the beginning of conversations that will help us better understand our role in helping to solve these major issues.
Some of my takeaways:
Talking about racism and confronting it are like going to the gym: The less you go, the more it hurts when you do; so don't just show up for a new year resolution and expect change.
We need to humanize our work: kindness is core to us as a species.
Many systems in place discourage housing diversity and affordability, despite good intentions behind the policies and practices.
Building relationships, listening, and providing more equitable solutions are essential if we are to move forward.
I was inspired by statements that the future belongs to the problem solvers, for we planners are problem solvers. As problem solvers, we're responsible for educating ourselves on the issues, thinking critically about potential solutions and their impacts, and working together to implement the changes needed for a brighter future.
Our APA California President, Julia Lave Johnston, challenged us to identify five things we can do as leaders. I've committed to:
Listening with an open mind and learning how I can be part of the solution.
Funding and finding resources for bias training and other educational opportunities for diversity, equity, and inclusion.
Continuing and expanding our Northern Section distance education efforts to make our great events accessible to a larger audience.
Expanding our outreach to students, and offering mentorship opportunities, especially in these troubled times.
Being open to trying new things — and learning from our mistakes and failures, because they offer opportunities for improvement.
Challenging everyone reading this to list five things YOU can do as leaders, to share that list with others, and to challenge others to do the same.
Now is the time for us to continue these big conversations, put on our problem-solving hats, and make meaningful contributions to shaping better lives for future generations.
Vote, planners, vote!
Election season is upon us. Northern Section will hold elections for Director Elect and Administrative Director and is calling for nominations (details in this section of Northern News).
As for national, state, and local government elections, things will be very different this year. Make sure your voice will be heard. Check your registration status or register to vote. Stay up-to-date here. Keep informed, be safe, and vote!