By Danae Hall, AICP, Awards Program Director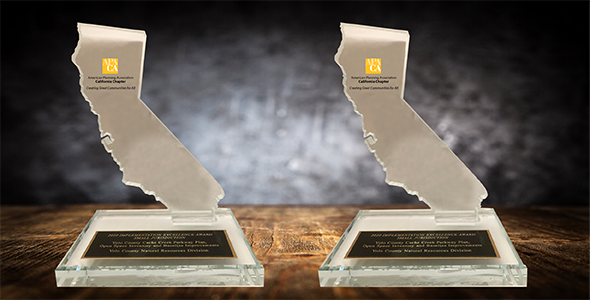 Please join us to celebrate the 2023 APA California – Northern Section Award winners! The APA California – Northern Section is recognizing over 20 stellar planning projects at the 2023 Awards Gala. See a list of this year's winners here: https://norcalapa.org/programs/awards/.
The 2023 Awards Gala will be held at:
Where: Preservation Park, Nile Hall, 1233 Preservation Park Way, Oakland, CA 94612
When: Thursday October 26, 2023, 6:30 PM – 9:00 PM
This year is a particularly special milestone for APA California. APA California will celebrate the 75th anniversary of its founding, an action which helped cement the first nationwide organization promoting the planning movement. The Northern Section was an original section in the APA California chapter, so this year we also celebrate 75 years of the APA California – Northern Section!
We look forward to celebrating with you at Preservation Park in Oakland, which is a short walk from 12th Street BART. Light appetizers and drinks will be served. After the Awards Gala, there will be a no-host after-party held at District, located a short walk from the Awards Gala at 827 Washington St, Oakland, CA 94607.
Are you interested in becoming an annual sponsor of APA California – Northern Section? Please find information about sponsorship here: https://norcalapa.org/about/become-a-sponsor/