By Richard Davis and Silvia Sulis, AICP, LEED AP ND
The "Northern California roundup" segment debuted in the September 2009 issue of Northern News. Starting with this issue, the Planning News Roundup will no longer be featured in Northern News. Through Roundup, the editorial team has always endeavored to provide readers with the most relevant stories in the region. As we transition the newsletter to a quarterly publication calendar, we want to continue to connect you with region-wide trending stories and make these reading opportunities more easily available.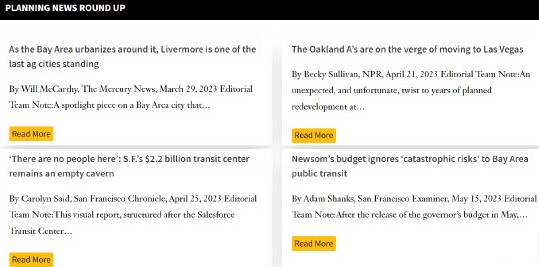 It's Friday – I'm Informed!
Northern News associate editors Richard Davis and Silvia Sulis will provide a weekly Roundup article every Friday on the Northern Section LinkedIn page, collecting the week's most interesting and relevant news. This new format also allows us to engage more directly with our readers! Head to LinkedIn and let us know what you think and share the Friday Roundup with friends and colleagues.
As always, Roundup remains open to your input – if you see a news story you would like to share widely with your fellow planners, please send us a link at news@norcalapa.org or tag Northern Section in a LinkedIn post and tell us you would like to see the story in Roundup.