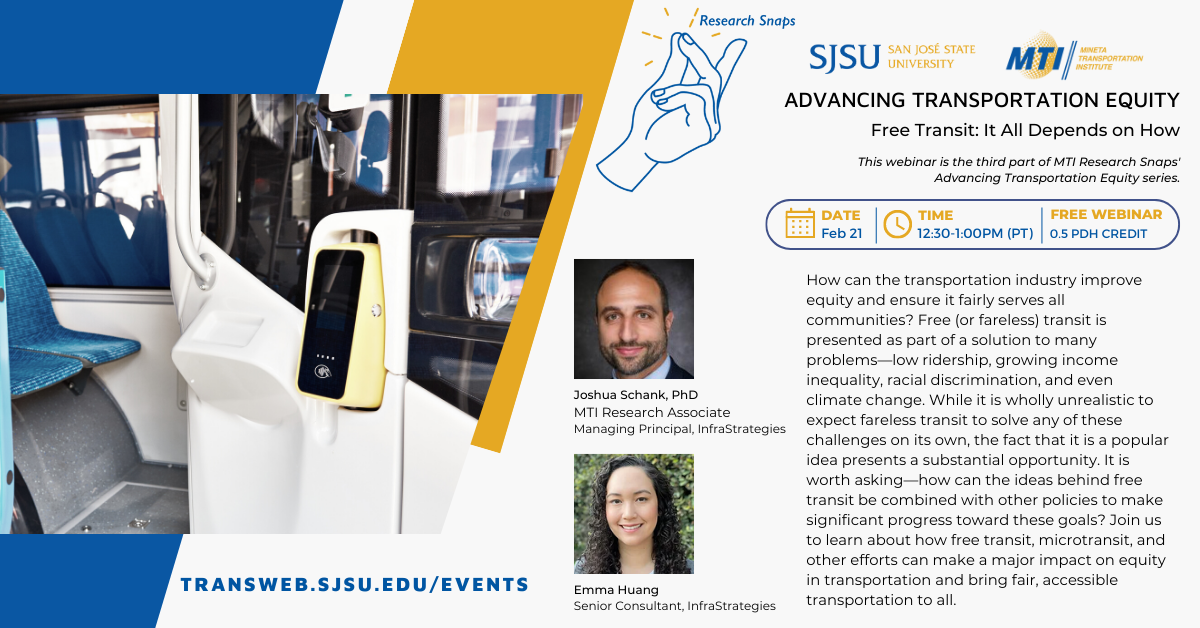 Free Transit: It All Depends on How
38
38 people viewed this event.
Tuesday, February 21, 2023
Online
12:30-1:00p.m. (PT) | Link to register.
This webinar is the third part of MTI Research Snaps' Advancing Transportation Equity series.
How can the transportation industry improve equity and ensure it fairly serves all communities? Free (or fareless) transit is presented as part of a solution to many problems—low ridership, growing income inequality, racial discrimination, and even climate change. While it is wholly unrealistic to expect fareless transit to solve any of these challenges on its own, the fact that it is a popular idea presents a substantial opportunity. It is worth asking—how can the ideas behind free transit be combined with other policies to make significant progress toward these goals? Join us to learn about how free transit, microtransit, and other efforts can make a major impact on equity in transportation and bringing fair, accessible transportation to all.
*0.5 PDH credit available
About the Series
Transportation moves the world—impacting the lives of everyone, everywhere. Like many industries, transportation has dealt with its share of issues in equity. Transportation professionals work collaboratively to identify, analyze, and overcome inequities in the industry, acknowledging a sometimes-painful past to ensure that transportation policies serve all communities equitably.
This February, join us for a 4-part MTI Research Snaps series on "Advancing Transportation Equity." Join MTI researchers in the discussion of transforming equity in transportation as we reflect on some of the most pressing issues of diversity and accessibility in the industry as a whole and how to overcome them.
Webinars include:
Webinar #1 | Feb 7, 12:30-1:00p.m. (PT) | Exploring the Use of Public Transportation Among Older Adults During the COVID-19 Pandemic: A National Survey
Webinar #2 | Feb 14, 1:30-2:00p.m. (PT) | The Central Valley Transportation Challenge
Webinar #3 | Feb 21, 12:30-1:00p.m. (PT) | Free Transit: It All Depends on How
Webinar #4 | Feb 28, 12:30-1:00p.m. (PT) | Voices of Impact
Additional Details
Credits pending or approved - Pending
CM Credits topic area(s) - Transportation
Speaker names
About the Presenters Joshua Schank holds a PhD in Urban Planning from Columbia University and a Master of City Planning from the Massachusetts Institute of Technology. He is a Research Associate at the Mineta Transportation Institute, a Managing Principal at InfraStrategies, and a Senior Fellow in the Institute for Transportation Studies at the University of California, Los Angeles. Dr. Schank previously served as Chief Innovation Officer of the Los Angeles County Metropolitan Transportation Authority (Metro), President and CEO of the Eno Center for Transportation, and Transportation Policy Advisor to Senator Hillary Clinton (D-NY). Emma Huang is a Senior Consultant with InfraStrategies LLC. Emma previously worked as a Transportation Planner in the Office of Extraordinary Innovation at LA Metro. She has a Master of Public Policy from the University of California, Los Angeles.
Sustainability/Resilience credits -