Shop Oakland!
Piedmont Avenue is a commercial corridor branching off of Broadway on the south and ending at the Mountain View Cemetery on the north.  Not to be mistaken with the nearby City of Piedmont, Piedmont Avenue is located entirely in Oakland.  The neighborhood is roughly bounded by Broadway on the west and Oakland Avenue on the east.
The Key System once operated a streetcar line along Piedmont Avenue, now commemorated with a small plaza at 41st Street.  While the trolleys are long gone, they helped make the Avenue one of Oakland's great "walking streets" in the early 1900s.
Piedmont Avenue is a great place for an afternoon stroll to support local and independent stores.  Many small businesses selling a variety of wares (gifts, crafts, books, toys) and restaurants of multiple cuisines (Japanese, Mexican, Chinese, Spanish, Indian) line Piedmont Avenue.
Health and fitness related functions and services are also well represented, starting with Kaiser Permanente on the south end.  The $1.3 billion medical center opened in 2014, replacing the outdated former hospital nearby.  Many small gyms, spas, and salons are located on this street.
Craftsman homes and larger apartment and condominium buildings are located on the side streets between Broadway and Oakland Avenue. The community is represented by the Piedmont Avenue Neighborhood Improvement League (PANIL), one of Oakland's most active neighborhood organizations.  PANIL was formed more than 40 years ago due to concerns about high density development that was changing the community's character. They remain an important voice in neighborhood planning, advocating not only for better development but for creek restoration, public safety, and other improvements.
How to get to Piedmont Avenue:
By bus: Take AC Transit route 12.
By bicycle or car: Head north on Broadway about 1.5 miles and make a right on Piedmont Avenue.
Key Route Plaza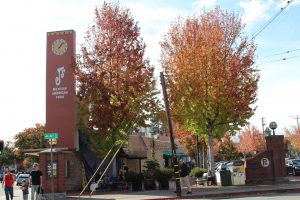 Chapel of the Chimes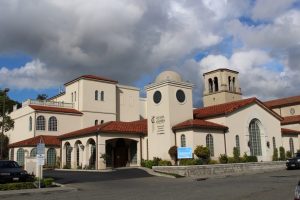 Piedmont Avenue storefronts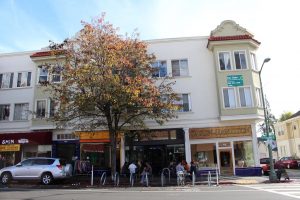 Black Swan Books and Fenton's Creamery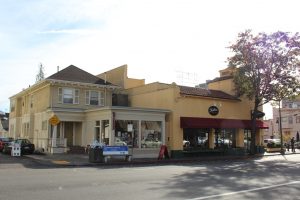 Gaylord's with mural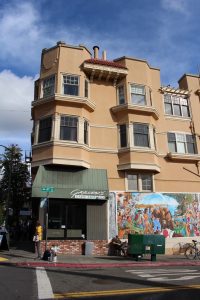 Guide by Barry Miller and Jackie Yang
Photos by Jackie Yang