Where the city meets the country
Stretching 12 miles from the UC Berkeley Campus to San Leandro, the Oakland Hills are a world unto themselves. The hills rise from the Oakland flatlands to an elevation of about 1,500 feet along Skyline Boulevard. Visible from almost everywhere in Oakland, the hills are noted for their steep and forested terrain, winding narrow streets, and hillside homes with panoramic views. Over 43,000 people—more than 10 percent of Oakland's population—reside in the hill neighborhoods.
The Hills include the Oakland neighborhoods of Claremont Hills, Montclair, Piedmont Pines, Woodminster, Crestmont, Ridgemont, Hillcrest Estates, Sequoyah, Grass Valley, Chabot Park, and Sheffield Village, among others. These communities have a history as colorful as Oakland itself, from lumber mills and logging camps, to sulfur mines and summer retreats.  Montclair Village is the major commercial center, located along Mountain Boulevard between Moraga Avenue and Park Boulevard.
The Oakland Hills present unique city planning challenges. This was the site of the most catastrophic urban wildfire in US history. Some 3,400 homes in the North Hills burned to the ground in October 1991, and 25 lives were lost. The North Hills neighborhood is worth a visit, if for no other reason than to check out the architectural kaleidoscope that resulted as more than 2,000 owners rebuilt custom homes in the span of 10 years. Love it or hate it, there's nothing else quite like it.
The hills also contain some of Oakland's most popular attractions. At the south end of the hills is the Oakland Zoo, ranked among the top visitor destinations in the Bay Area. Other hill area landmarks include the Mormon Temple, Chabot Observatory, the Woodminster Amphitheater, the historic Dunsmuir House and Gardens, and Joaquin Miller Park.
Skyline Boulevard runs along the crest of the hills, separating Oakland's neighborhoods from an immense network of regional parks that provides a near-wilderness experience within minutes of the city. Sibley, Redwood, and Chabot Parks cover 5,000 acres and offer some of the best hiking in the Bay Area. You can walk through a lush redwood forest, explore a 10 million year old extinct volcano, and enjoy scenic views from ridgeline trails.
How to get to the Oakland Hills:
By bicycle:  Tunnel Road is popular with bicyclists and ascends to Grizzly Peak and Skyline.
By bus: AC Transit routes 39, 339, and 54 run from Fruitvale BART to Joaquin Miller and Redwood Parks.  Route 18 connects to Montclair from Downtown.
By car: It is easiest to travel by car via Highway 24, Highway 13, or Interstate 580.
View from the Oakland Hills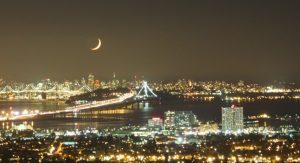 North Hills homes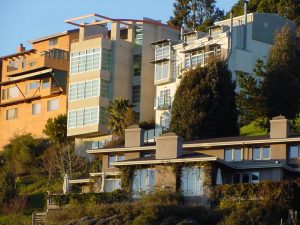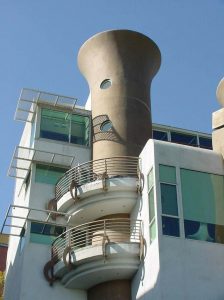 Guide and Photos by Barry Miller