BART News, February 7, 2019
"In November 2004, voters in Contra Costa, San Francisco, and Alameda counties approved Measure AA, which allowed BART to issue general obligation bonds to fund up to $980 million of the $1.2 billion total cost of earthquake safety improvements.
"The highest priority for upgrades has been the Transbay Tube, the very core of the BART system.
"The tube is structurally sound, but BART is preparing for a rare and devastating earthquake — defined as a 1,000 year event — something that happens once every thousand years. In an event this large, the tube won't fail, but it could crack and leak. The current retrofit will install an inner steel lining to key sections of the 3.6-mile-long tube and an upgraded pumping system to allow larger quantities of water to be removed quickly from the tube.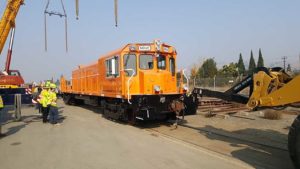 "Later this spring, a crew of more than 100 will bring equipment and materials into and out of the tube via an 800-foot long custom-built work train each night. Passenger trains will single track through the tube during this work, in 24-minute headways after 9 pm on weeknights.
"The components of the work train are being delivered to BART's Hayward Shops. The work train will begin operations in spring from the Oakland Shops. It will travel through Lake Merritt and stop at the West Oakland Station to pick up the works crew before heading into the tube.
"The Transbay Tube work is expected to take three-and-a-half years." Read more here.