Coastal Commission says luxury hotel violated coastal laws for years
By Paul Rogers, Bay Area News Group, June 14, 2019.
One of Northern California's most exclusive hotels, the Ritz-Carlton Half Moon Bay, where rooms rent for $1,000 a night and Silicon Valley companies regularly hold posh retreats, agreed Thursday to pay $1.6 million in penalties to the California Coastal Commission to settle years of violations of state coastal laws.
The penalties, the second-largest of their kind in the commission's history, were approved at a monthly commission meeting in San Diego.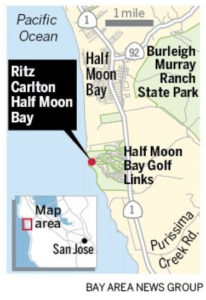 The 261-room luxury oceanfront hotel, golf course and spa was built in 2001 after years of battles with environmentalists and local residents in San Mateo County who said it would block public access to two sandy beaches.
To address those concerns, when the Coastal Commission first issued the project a permit in the 1990s, the agency required the Ritz to build a free public parking lot with 15 spaces overlooking Cañada Verde Beach, a scenic beach just south of the hotel. The commission also gave the hotel the option of building a second public beach parking lot a mile north at Redondo Beach or allowing the public to park for free in the hotel's parking garage. The hotel owners chose to set aside 25 public spaces in its garage for beachgoers.
But over the years, hotel valets parked the cars of hotel guests and golfers in the public spots or told members of the public they couldn't park there, despite multiple warnings and fines from the commission. The hotel also failed to put up signs telling the public the beaches are open and free to anyone, not just hotel guests or golfers.
After being hit with a $50,000 penalty by the commission in 2004, the hotel promised changes but did not deliver. It was issued violations and paid additional penalties again in 2007 and 2011.
Rather than face years in court, the hotel owners negotiated a settlement agreement with the Coastal Commission staff in which they agreed to pay $1.6 million, $600,000 of which will go to the Peninsula Open Space Trust, a Palo Alto land conservation group, to help purchase an adjacent 27-acre property north of the hotel with additional public beach access. The other $1 million will go into a Coastal Commission fund that provides signs, trails, staircases and other amenities to help the public use beaches around the state.