Excerpted from HUD USER, PD&R Edge, August 2019
"Opened in the fall of 2017, Karuk Homes 1 is a 30-unit affordable housing project of single-family homes in rural Yreka, California. The project represents the first use of the Low-Income Housing Tax Credit (LIHTC) program by the Karuk Tribe Housing Authority (KTHA), and the Karuk Tribe was one of the first Native American tribes in California to obtain a tax credit award under the state's Native American Apportionment Pilot. The houses in Karuk Homes 1 are a mix of three-, four-, and five-bedroom layouts and were designed to suit the needs of larger and multigenerational families.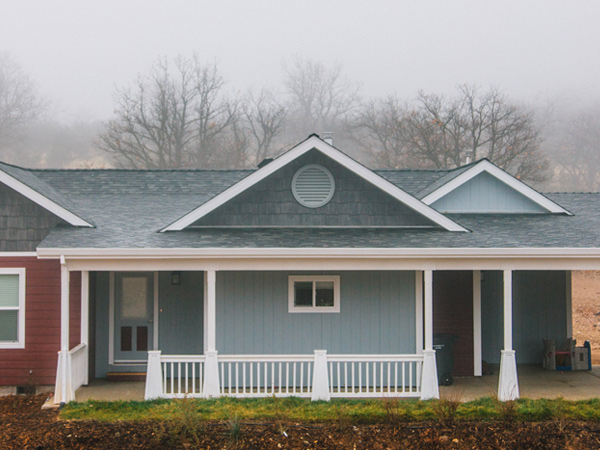 "Based out of northern California's Siskiyou and Humboldt counties, the Karuk Tribe is the second-largest federally recognized Native American tribe in in the state by population, with nearly 4,000 enrolled members. [The Yurok Tribe in Humboldt County is the largest, with almost 6,000 members.] Although the Karuk Tribe does not have its own reservation, the tribal government owns more than 1,700 acres of their aboriginal land. Most of this land is concentrated in the population centers of Happy Camp, Orleans [in Humboldt County], and Yreka, and is used for tribal housing, ceremonies, and resource management. KTHA was established in 1985 and by 2015 owned and managed a portfolio of 194 housing units. Although any local resident in need of housing may apply to live in KTHA properties, the housing agency gives preference to tribe members and their descendants, who share an urgent need for affordable housing.
"For KTHA, Karuk Homes 1 represents not only the first time that the housing agency had ever built a LIHTC development but also the first time it had ever applied for funding through the program. In 2014, the California Tax Credit Allocation Committee launched the Native American Apportionment Pilot to set aside a certain number of tax credits out of the existing rural set-aside for use by federally recognized Native American tribes. KTHA staff submitted an application expecting to learn from the process but were surprised to discover that their project had been selected. 'We really were just intending to test the waters,' explains Sara Spence, executive director of KTHA. 'It was a wonderful shock to actually be accepted on our first application.'
"California instituted the special set-aside because LIHTC funding in the state is in high demand, and most tribal housing agencies are too small, with budgets and housing plans too modest to be competitive. Although state officials originally planned to run the pilot for only a year, it enjoyed such success that they extended it. 'We found the LIHTC process to be very intense but well worth it,' says Spence. 'Most tribes don't have enough funding to add more than a few units per year to their housing portfolios, but it is very, very cost-effective to do many homes at once.'
"Karuk Homes 1 is fully occupied, and, as of spring 2019, KTHA had a waiting list of more than 700 households."