Excerpts from an article by Kriston Capps, CityLab (with 8 large color photos, September 3, 2019)
"Just 45 minutes south of Indianapolis, Columbus is in most respects a quaint Hoosier town brimming with main-street appeal. But in one vital way, it is unlike any other place in the country. It is a mecca for Modernism, a repository of mid-century architecture. As unlikely as it sounds, Columbus, Indiana, is a citadel of design.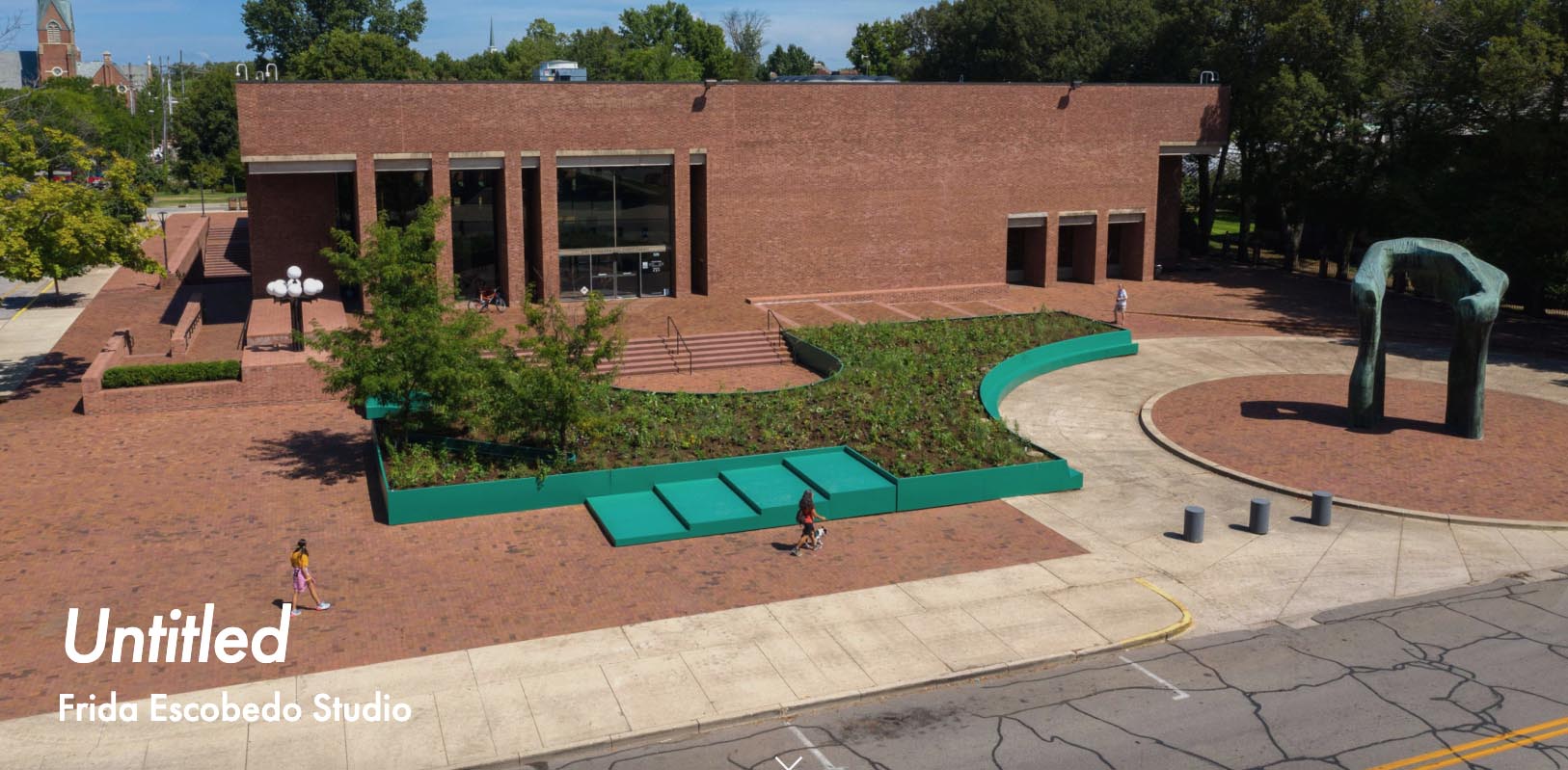 "For the next three months, I.M. Pei's plaza [at the Cleo Rogers Memorial Library] is even more inviting than usual. It's the temporary home for Untitled, an elevated garden terrace designed by Mexico City's Frida Escobedo Studio. Next to the 1969 library, Escobedo's platform is a complement in elegance and a contrast in materials (and ideas).
"More than a dozen other additions and pairings across town make Columbus an ideal destination for lovers of high design. 'Exhibit Columbus' has turned the lens around on architecture, and on itself. Social factors are as key to contemporary design as glass was to the Modernist era, and this biennial reflects that trend."
How did Columbus become what it is today, with "One map of Columbus listing 97 projects of architectural significance, dating from 1942 to the present day"?
"J. Irwin Miller was executive and chairman of Cummins, a diesel-engine [and now Fortune 500] company headquartered in Columbus. After World War II, prospects for the business were strong, but Miller saw that teeny Bartholomew County was struggling to attract the world-class engineering talent that the growing company needed.
"So in 1954, under Miller's stewardship, the Cummins Foundation offered to subsidize any new, public, Modernist building in this Bible Belt town by paying for the architectural fees. Miller generated (confidential) lists of preferred architects for each project, which he offered like a menu to institutions such as the school board. From the 1950s on, the program furnished exceptional buildings with the goal of putting Columbus on the map. The Saturday Evening Post dubbed the city "Athens on the Prairie."
READ MORE in the CityLab article: "Exhibit Columbus looked to architects who focus on community — and designs that would provoke as much as they delight — to elevate the city's historic architecture. Mostly missing is the high-strung academic bafflegab that attends events in New York or Paris or Dubai. The language of design is accessible here."