Earlier this year, The New York Times' Real Estate section explored Antioch, California, as a good place to move for more affordable housing and good transit to San Francisco. Besides depicting the city, the article follows two couples who moved to Antioch. We have appended to these excerpts a response to the article from the City of Antioch's Community Development Director.
Renters and buyers priced out of San Francisco and Oakland are increasingly finding this quiet city on the San Joaquin River, where affordability is 'number one.'
By Candace Jackson, The New York Times, February 25, 2020
"Antioch is filled with sprawling suburban subdivisions built during various real estate booms, particularly the 1990s and early 2000s.
"Myesha and Elgin Lawson had been looking to buy in Antioch [for] affordability. They said they were able to see several nice homes in their price range of $400,000 to $500,000. Most had at least three bedrooms and two and a half bathrooms, and at least 1,400 square feet.
"Most worrying to Ms. Lawson was the commute. The couple, who have a 10-year-old and a 6-year-old, both work in San Francisco. Each weekday, they leave their house at 4 a.m. to drop off the children with relatives who take them to school. Then they drive together to catch the morning's first BART train into San Francisco, at 4:47 a.m.
"What you'll find
"Antioch, a 30-square-mile city with about 112,000 residents, has rural, residential, and marine areas, with its northern border formed by the San Joaquin River. It is home to one of the area's newest Bay Area Rapid Transit stations, [serving] an 'eBART' train connecting Antioch to the Pittsburg/Bay Point line. City officials say the station has put Antioch on the map, literally and figuratively.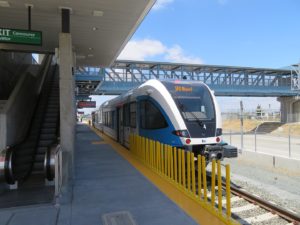 " 'It's a game-changer,' said Kwame Reed, Antioch's head of economic development. The city recently adopted a new slogan — 'Opportunity Lives Here' — with prominent BART train ads encouraging more businesses to relocate there.
"'Antioch had a bad reputation,' said Mr. Reed, noting the city's standing as a super-commuter area with a perception of high crime. He's hoping that the new branding campaign will paint a better image of the city — featuring the waterfront, golf, and hills for hiking.
"What you'll pay
"Antioch remains one of the more affordable cities in the Bay Area, but prices have been edging upward.
"'It's kind of the last bastion of the good commute,' [Marva Clayton of Intero Real Estate Services] said. 'But affordability, that's number one.'"
Read the full article here. In addition to stories of two couples who resettled in Antioch, it describes the "vibe," or general character of Antioch and its housing, along with tips about schools, the likely cost of a house, the commute, and the local history. The article also includes a slideshow with 17 photos, "The Varied Landscapes of Antioch, Calif."
CDD response to the article
From Forrest Ebbs, Community Development Director of the City of Antioch:
"The City of Antioch has a compelling story to tell that reflects the patterns of a generation of land use, housing distribution, and employment equity. As the City initiates its comprehensive update to the General Plan, new avenues will emerge for investment, infill, and opportunity throughout the City. The suburban landscape as we know it will undergo major changes as it responds to increasing urban housing inequity, market and environmental constraints, greenhouse gas reduction goals, and the myriad inputs that will ultimately dictate our future."