Via Agence France-Presse, May 28, 2021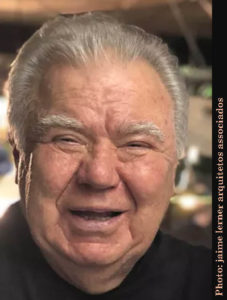 "Prominent Brazilian architect and urban planner Jaime Lerner, mainly credited with developing BRT, the bus rapid transit system operating in major cities throughout the world, died May 27. He was 83.
"Lerner rose to prominence in the 1970s when he was elected mayor of his native Curitiba, a city in southern Brazil, and launched an ambitious plan to overhaul the transportation system.
"Under Lerner, Curitiba rolled out what would become a model for cities worldwide, the Integrated Transport Network. Its vertebrae are its iconic tubular bus stops, with elevated platforms that make it easy for passengers to get on and off and a pre-payment system to maximize efficiency.
"[The system] has been imitated in more than 250 cities including Bogota, Brisbane, Johannesburg, Marrakesh, and Istanbul."

The network was also the source of inspiration for the Emerald Express (EmX), Eugene, Oregon; LA's Orange Line; and The Strip and Downtown Express in Las Vegas.
"Lerner is also remembered for making Curitiba a model of sustainable planning, creating numerous green spaces and an advanced recycling program.
"He served three terms as mayor (1971-1974, 1979-1983 and 1989-1992), and two as governor of Paraná state (1995-2002), of which Curitiba is the capital. In between, he wrote numerous books on urban planning."
Lerner was born on December 17, 1937, in Curitiba. His family had emigrated from Lodz, Poland, to Curitiba in the early 1930s. He graduated from the Architecture School of the Federal University of Paraná in 1964. In 1965, he helped create the Institute of Urban Planning and Research of Curitiba. According to Wikipedia, "Lerner, who later became mayor, led a team from the Federal University of Paraná that suggested strict controls on urban sprawl, reduced traffic in the downtown area, preservation of Curitiba's Historic Sector, and a convenient and affordable public transit system. The plan, known as the Curitiba Master Plan, was adopted in 1968."
According to JTA, "He was the first Latin American to preside over the International Union of Architects, a Paris-based organization representing 1.5 million professionals in 98 countries. Time magazine named Lerner one of the 25 most influential thinkers in 2010, and in 2017 Planetizen ranked him the second most influential urban planner of all time, behind only Jane Jacobs."
Lerner wrote this about BRT in La ciudad es una tortuga: "The surface system has the advantage — with the right features, such as dedicated lanes, level and pre-paid boarding, and high frequency — of achieving performance similar to the underground train at a cost that is affordable to virtually every city, and much more quickly. A healthier city happens where the car is not the only comfortable option of transportation."
For more about Lerner, read "The City Is the Solution: Celebrating Jaime Lerner," an homage by Darío Hidalgo, a sustainable mobility expert based in Bogotá (~3 min, TheCityFix, June 11, 2021). Hidalgo includes two videos: Curitiba BRT (3:41, November 2010) and "Jaime Lerner, A song of the city," (15:23 TED Talk, April 2008).