This article was published earlier by Lost Coast Outpost, October 27, 2022. Republished with permission.
By Isabella Vanderheiden
---
Editorial team note:
Northern Section's members live and work in communities ranging from Monterey County to the Oregon border. We encourage all of our members to share with us their stories about opportunities and issues they are addressing. Special thanks to Redwood Coast Regional Activities Coordinator
Garry Rees, AICP
, for helping to inform our readers about Humboldt's wind energy production activity.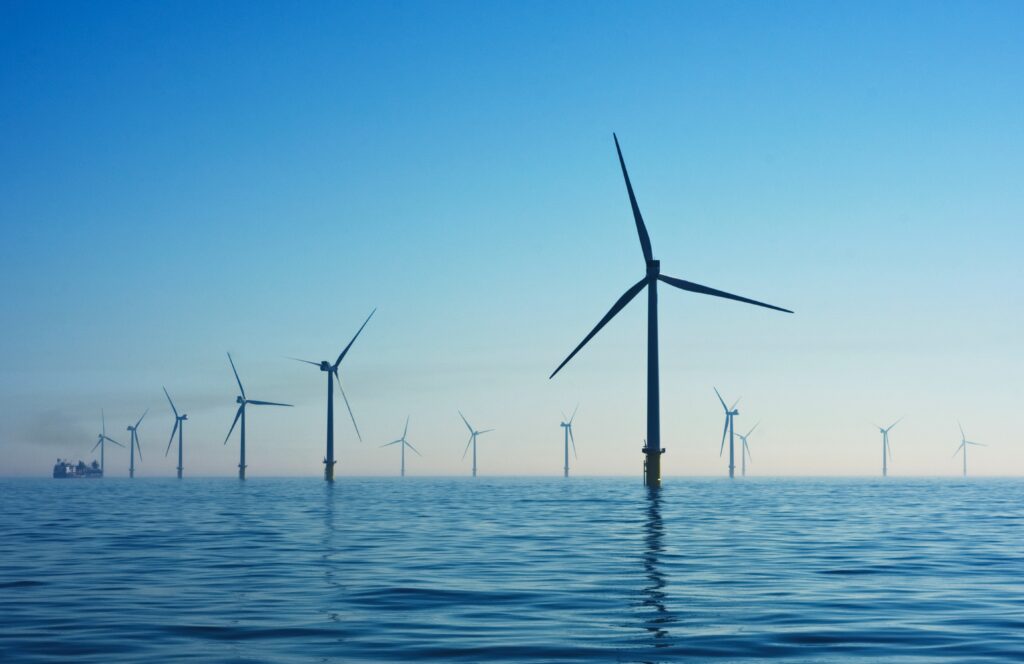 As efforts to bring an offshore wind development to the Humboldt County coast ramp up, local stakeholders are vying to get a big ol' slice of that offshore wind pie.
If you haven't been following the proposed development, now is a good time to tune in.
The Humboldt Wind Energy Area (WEA), located approximately 20 miles west of Eureka, will be broken into two "lease areas" that will be auctioned off by the Bureau of Ocean Energy Management (BOEM) later this year. The entire development will span more than 200 square miles.
The Schatz Energy Research Center has studied the ins and outs of offshore wind energy for years. Because offshore wind speeds are fairly steady, offshore wind can provide stable, consistent energy year-round. And it just so happens that the wind resource beyond our beloved bay is among the best in the United States, according to Schatz Center Executive Director and Cal Poly Humboldt professor Arne Jacobson.
"Perhaps it's obvious, but [utilizing] offshore wind is a way of generating renewable energy that can contribute to addressing climate change in a fairly significant way," Jacobson told the Outpost in a recent interview. "It's also an energy resource that is complimentary to solar. Wind energy can be generated into the evening hours and it also has quite a strong generation profile in the winter."
Of course, there are challenges associated with offshore wind as well. Building the infrastructure that will be needed to connect the wind turbines to Humboldt County and, ultimately, into a national grid will be no small feat.
Just yesterday, the Humboldt Bay Harbor, Recreation and Conservation District announced a partnership with Crowley Wind Services to build a full-service terminal out on the Samoa Peninsula to support offshore wind development.
"There are actually very few ports on the West Coast that could be used for deployment but Humboldt Bay is one of them," Jacobson said. "But the infrastructure is old and there would have to be a significant investment needed to prepare the port for offshore wind. It's a challenge but it's also an opportunity to really invest in the future of our region and the job creation that will be associated with offshore wind."
There will also be localized environmental impacts associated with offshore wind. One of the main criticisms of wind energy is its impact on birds, but Jacobson maintains that the pros outweigh the cons.
"Our group has engaged in research with various environmental partners … to better understand, for example, sea birds and the risk associated with wind farms," he said. "The National Audubon Society supports offshore wind … because they see climate change as a more significant environmental risk to sea birds than offshore wind. …I've heard similar things from people who work with marine mammals."
While it might feel as though offshore wind is moving full steam ahead, Jacobson emphasized that there will be plenty of opportunities for the public to weigh in on the proposed development in the months and years ahead.
"This upcoming lease auction is really the first step," he said. "There are still a lot of steps the developers will have to take to confirm what their plans are, initiate studies, apply for permits [and] environmental reviews. There will be a lot of opportunities to share your perspective along the way because this is really a five or six-year process for them to get everything in line before building anything."
Community-Centered Benefits and Bid Credits
Before we dive into the details of what's to come and the upcoming lease auction, let's talk about what this all means for Humboldt. If this development moves forward, how would it impact our community? And what's in it for us?
Despite all of the aforementioned benefits of offshore wind energy, there will be inevitable impacts associated with the development, especially for folks living along the Samoa Peninsula where the terminal will be built and wind turbine construction, assembly and staging will take place.
To mitigate potential impacts, BOEM offers a little something called a bid credit package. In this case, to qualify for the credit package the bidder "must commit to mak[ing] a qualifying monetary contribution to programs or initiatives" that benefit the greater Humboldt County community.
"A bidder will be eligible to elect to qualify for one or more of the bidding credits," according to the Final Sale Notice (FSN). "A bidder may target either workforce training, supply chain development, or a combination thereof for a 20 percent credit. The Lease Area Use Community Benefits Agreement (CBA) bidding credit will be worth 5 percent of the cash bid. The General CBA bidding credit will be worth 5 percent of the cash bid."
That means – if the bidder qualifies for all three bidding credits – 30 percent of the final cash bid that is accepted during the upcoming auction will be set aside to offset potential impacts associated with offshore wind development. So, hypothetically speaking, if one lease area goes for $50 million, $38.5 million would go to the federal treasury and $11.5 million would be set aside.
Of that hypothetical $11.5 million, $3.8 million would directly benefit Humboldt County. The Lease Area CBA would provide $1.9 million in benefits to communities that use or harvest resources from the geographic space of the lease area, such as fisheries. The General CBA would provide $1.9 million in benefits to a broader set of communities and tribes that will be directly affected by the offshore wind development, including folks living on the Samoa Peninsula.
However, local stakeholders had hoped for a bit more.
In comments submitted to BOEM prior to the release of the FSN, the Redwood Region Climate & Community Resilience (CORE) Hub and the North Coast Offshore Wind Community Benefits Network (the Network) – a coalition of local governments, districts and agencies, tribes, environmental advocacy groups and community-based organizations – requested a 50 percent bid credit package that would be dedicated to local communities, tribes, tribal fisheries, and environmental research and monitoring.
"We are pleased to see a General CBA credit, but the [five percent] doesn't go far enough in addressing our region's unique needs," Katerina Oskarsson, a spokesperson for CORE Hub and the Network, told the Outpost. "We do not want to see the industry repeating the same boom-and-bust cycles that have created a legacy of underinvestment in our region. To be effective, community benefits must be designed by our communities, for our communities."
The Network's proposed credit package drew from months of conversations and interviews with community representatives.
"We heard that our community needs equitable access to quality careers, increased environmental research and monitoring capacity, reliable transportation systems, local electrification, childcare services and housing to facilitate offshore wind development," Oskarsson explained. "We also heard that in order to change the paradigm and build trust in this new industry, a significant portion of the federal revenue generated from this project should be invested directly in the communities who will support its development, instead of the federal treasury."
To achieve those goals, strong community governance will be a critical component as the development moves forward, Oskarsson added.
"This governance structure can also act as an effective community-led decision-making body," she said. "As part of our recommendations, we advocate that funds are managed by community-led steering committees composed of regional constituencies with relevant expertise and close understanding of community contexts."
Speaking with her Redwood Community Action Agency (RCAA) hat on, Eureka City Council representative and soon-to-be Fourth District Humboldt County Supervisor Natalie Arroyo called for robust engagement with Samoa residents in particular.
"I can't speak for RCAA's entire leadership, but my small team has been involved in this process to have a seat at the table, advocate for a responsible and innovative way forward that benefits locals," Arroyo told the Outpost in a recent interview. "There will be inevitable impacts from these developments … I think we all expect a lot of benefits to the community and our world from off-shore wind, but we want to ensure there is a responsible approach to addressing any impacts."
It's important to remember that we are still in the beginning stages of offshore wind development. The upcoming auction (more on that below) really represents the first step in bringing this ambitious proposal to life.
Lease Auction Set for Dec. 6
Just last week, the Biden Administration announced that it is ready to auction off leases to potential offshore wind developers. Forty-three separate entities, ranging from regional LLCs all the way up to energy giants like Shell, have qualified as potential bidders for the five lease areas along the West Coast – three off Morro Bay and two off Humboldt Bay.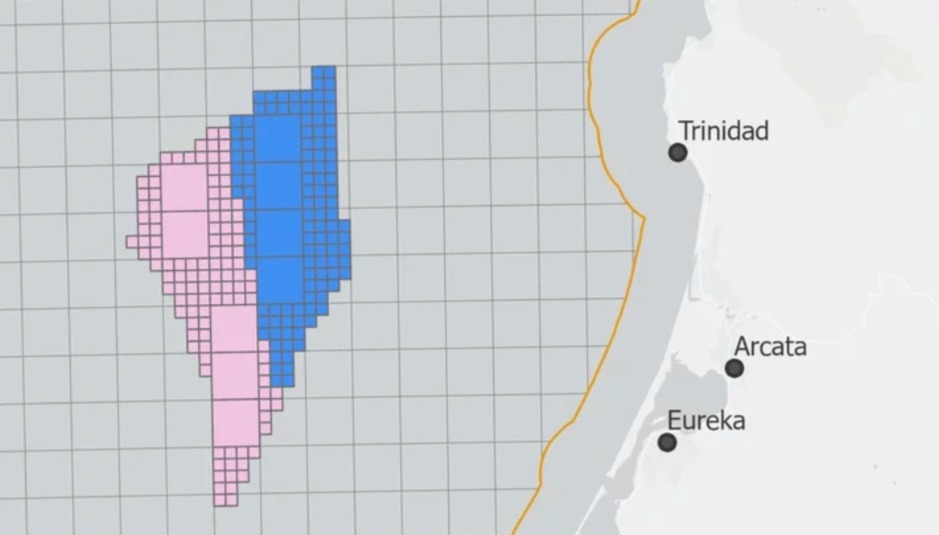 Here's how the bidding process works:
On the morning of Dec. 6, all bidders will hop online for the monetary auction. All five lease areas will be offered up in a single auction. Each lease area has its own minimum bid requirement, ranging from $6.3 to $8 million. "There will be no distinction made between Lease Areas in the Humboldt WEA and the Morro Bay WEA within the auction process. Each bidder may only bid for one of the offered Lease Areas at a time and, ultimately, acquire only one of the Lease Areas in the auction," as noted in the FSN.
Bidding will go in rounds until there are no new "live bids." The auction will probably wrap up on the same day but if bids are still coming in at 6 p.m. EST the auction will continue the next day. After bidding ends, BOEM will determine the "provisionally winning bid" for each lease area through a two-step procedure.
In stage one, the highest single bid received for each lease area in the final round will be deemed the provisionally winning bid. In the event of a tie, selection of the winning bid will be deferred to stage two.
In stage two, BOEM will consider bids for lease areas that were not assigned in the first stage. Only bidders who were not assigned a lease area will be up for consideration. "BOEM will select the combination of such bids that maximizes the sum of the bid amounts of the selected bids … If there is a unique combination of bids that solves this maximization problem, then these bids will be deemed to be the remaining provisionally winning bids."
The provisional winners and the winning bid amounts will be published shortly after the auction. Once the post-auction review is completed, BOEM will send off three unsigned copies of the lease to each provisionally winning bidder who must sign the lease agreement, file financial assurance and pay off any outstanding balance of their bonus bid within 10 days.
As soon as those requirements have been met and BOEM decides all is well and good, the lease will be executed. After that happens the leaseholder will begin the actual planning process.
"After they get the lease, then they go through the vetting process of planning and permitting," Matthew Marshall, executive director of the Redwood Coast Energy Authority (RCEA), told the Outpost in a recent interview. "They're going to have to work with tribes, work with commercial fishermen [and] work with the community. …There's a lot in [the bid credit package] that requires [the developers] to have a robust community engagement process. There are a lot of stipulations that have really been pushed for by the California Coastal Commission."
The RCEA appears on the list of bidders but, Marshall says, the local joint powers authority isn't actually planning on making a bid.
"Back in 2016, when we were in the process of launching our Community Choice Energy program … we decided to explore offshore wind as a potential energy down the road," he explained. A couple of years later, RCEA initiated conversations with developers and put together an Unsolicited Lease Request to pursue offshore wind on the North Coast. "That's why we're on the list as a proposed bidder. To submit that [request] we had to be a qualified entity."
Even still, Marshall says RCEA will work closely with the winning bidder to ensure the project's success.
"We want to see good projects move forward," he said. "We're going to continue to want to work with [future developers] to ensure they're engaging local stakeholders and having a good process that's transparent and supportive of community concerns. We want to make sure we end up with something that everybody's excited about and proud of. We can't put the local community sort of at the expense of broader climate goals and providing renewable resources to California."
DOCUMENTS:
● Proposed Sale Notice Comments to BOEM
● BOEM Final Sale Notice
---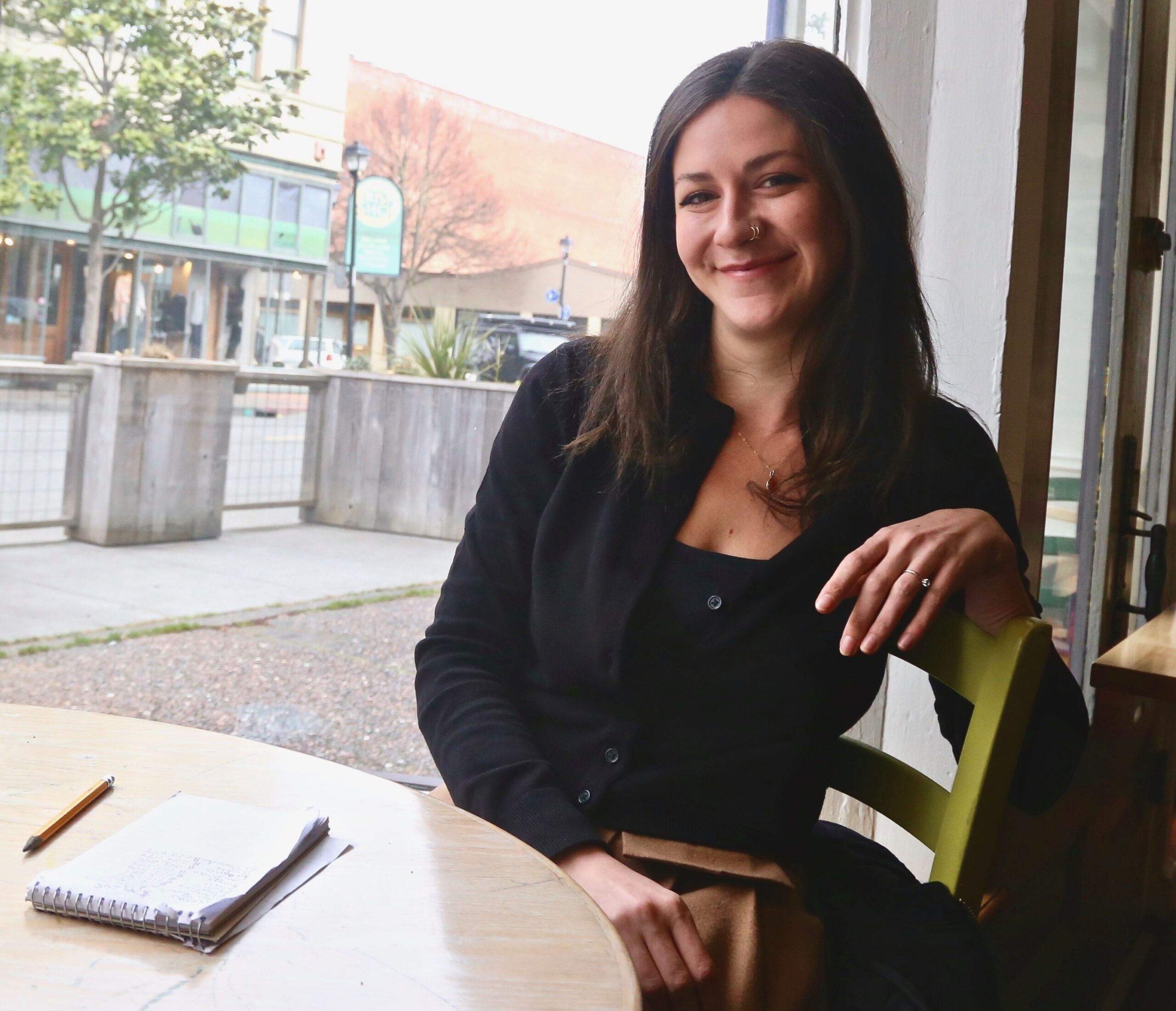 Isabella Vanderheiden is a reporter for Lost Coast Outpost. She has previously worked as the news director at KMUD and as assistant managing editor of "The Times-Standard."
---

The editorial team gratefully acknowledges Lost Coast Outpost's support of Northern News by granting permission to republish this article.
---