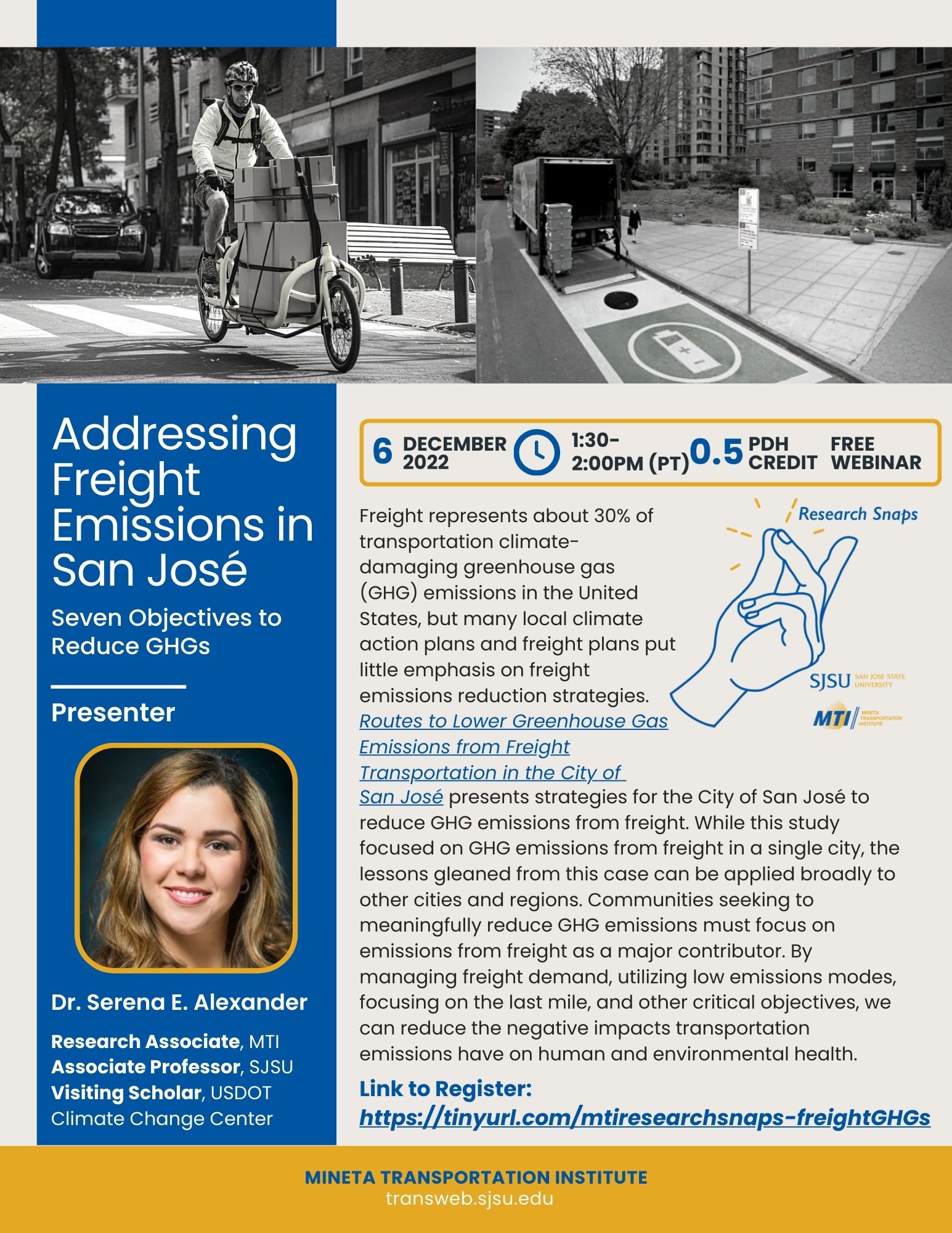 Webinar: Addressing Freight Emissions in San José
1260
1260 people viewed this event.
Freight represents about 30% of transportation climate-damaging greenhouse gas (GHG) emissions in the United States, but many local climate action plans and freight plans put little emphasis on freight emissions reduction strategies. Routes to Lower Greenhouse Gas Emissions from Freight Transportation in the City of San José presents strategies for the City of San José to reduce GHG emissions from freight. While this study focused on GHG emissions from freight in a single city, the lessons gleaned from this case can be applied broadly to other cities and regions. Communities seeking to meaningfully reduce GHG emissions must focus on emissions from freight as a major contributor. By managing freight demand, utilizing low emissions modes, focusing on the last mile, and other critical objectives, we can reduce the negative impacts transportation emissions have on human and environmental health.
Additional Details
Credits pending or approved - Pending
CM Credits topic area(s) - Sustainability & Resilience, Transportation
Speaker names
Dr. Serena E. Alexander Dr. Serena E. Alexander is an MTI Research Associate and Associate Professor of Urban and Regional Planning and Director of Urban Online at San José State University. She is currently establishing the American Collegiate Schools of Planning (ACSP) and Association of European Schools of Planning (AESOP) collaboration platform to serve as a repository of best practices of climate action planning across the globe. She currently serves as Visiting Scholar at USDOT Climate Change Center.
Sustainability/Resilience credits -