Arts Community
Jingletown, also known as the North Kennedy Tract, is a small arts community in Fruitvale, East Oakland, located adjacent to the Oakland Estuary and bordered by the Nimitz Freeway (Interstate 880) and the Park Street and Fruitvale bridges. Jingletown was the site of a Costanoan shellmound, and later grew up into a majority Portuguese and Azorean working-class neighborhood. According to local lore, the North Kennedy Tract was named "Jingletown" after the male Portuguese and Azorean immigrants who, previously impoverished, would walk the streets proudly jingling the coins they were able to earn and save due to the area's industrial boom. They apparently kept their coins on their person because of their distrust toward banks. In the late 1950s and 1960s many of the Portuguese families began moving out of Jingletown and Chicano and Latino families, many who had relocated from West Oakland by urban renewal, began moving to Jingletown in significant numbers. Jingletown was also heavy in the Chicano Movement in the late 1960s and early 1970s. Today it is thriving as one of the fastest growing arts districts in the San Francisco bay area. It is home to the Institute of Mosaic Art and Green Day's Jingletown Recording. An organization called the Jingletown Arts & Business Community (JABC) is the main representative of the art community.
How to get to Jingletown:
By BART and on foot: Take BART to the Fruitvale BART station, then walk along Fruitvale Avenue (10 minute walk).
By bicycle: Bike for 20 minutes along 10th and 12th Streets.
Former Institute of Mosaic Art
Oakland Riviera / Rue de Merde
Virgin of Guadalupe mosaic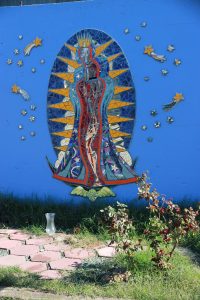 Lizard mosaic
Guide and Photos by Kristin Maravilla