Small town feel, active shoreline, strong efforts for business attraction
San Leandro is located directly south of Oakland. Downtown is centered on East 14th Street between Davis Street and Thornton Street.
San Leandro is one of the oldest cities in the East Bay and was the original county seat of Alameda County. Originally part of the land grant given to José Joaquin Estudillo, the city incorporated in 1872 as a 200-acre tract laid out by Estudillo's son-in-laws.  After the gold rush, the city became a draw for Portuguese immigrants who came to San Leandro to work on small farms in the area; in the early part of the 20th century, two-thirds of the city's population was Portuguese. The influence of these immigrants is still evident today in the street names and the linguisa sausage factories located in the city.
San Leandro was initially known for its agricultural businesses. Many kinds of fruits and vegetables were grown in the city, and it was especially recognized for its cherry orchards. The completion of the transcontinental railroad through the city encouraged the shipping of agricultural products, and canning businesses developed along the rail line. Agri-business was also an important industry; Caterpillar Tractor Company got its start in San Leandro as Daniel Best Manufacturing Company.
The city is currently known for its well-established residential neighborhoods, such as Estudillo Estates, Washington Manor and Bay-O-Vista. It also has a strong commercial/industrial district, which includes businesses such as OSI Soft, Ghirardelli Chocolate, Bigge Crane, and Kraft General Foods and advanced manufacturers such as TypeA Machines. The area is also home to a burgeoning brew pub scene, with Drake's Brewing Company, Cleophus Quealy and the 21st Amendment, which is one of the largest breweries in California.
San Leandro is currently pursuing a significant redevelopment of its shoreline and marina. The marina currently operates as a harbor with berths for 462 boats, with just 30% occupied. Continued maintenance of the marina, particularly the dredging necessary to keep it accessible to boats, has become financially infeasible. The Shoreline Project is a public/private partnership which would redesign the 75 acres of shoreline and water area to create a master planned development which takes advantage of the site's desirable location on the San Francisco Bay. Currently proposed as part of the project are 150,000 sf of Class A office space, a 200-room hotel, a 15,000 sf conference center, 354 housing units and recreational facilities. This project is currently in the environmental review stage.
How to get to San Leandro:
By BART: Take the Fremont line to the San Leandro Station (15 minutes).
By bus: Take AC Transit route 1 or 1R south from Broadway and 14th, exit East 14th and Estudillo (40 minutes).
By bicycle: Oakland and San Leandro's downtowns are connected by International Boulevard/East 14th For a route that is comprised primarily of bike lanes, ride south on Broadway, turn left on 2nd Street, and turn right at Oak Street (which becomes Embarcadero). After about 2.5 miles, Embarcadero will become East 7th Street, which will dead-end at Fruitvale. Turn left on Fruitvale, then turn right on East 12th, left on High Street, and right on Bancroft. Stay on Bancroft approximately 5 miles, and turn right on Callan. Downtown will be to your left once you reach East 14th Street.
Daniel Best building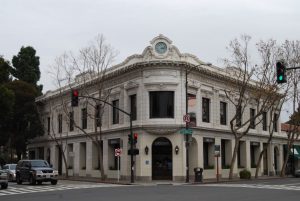 San Leandro homes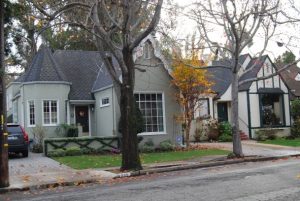 San Leandro marina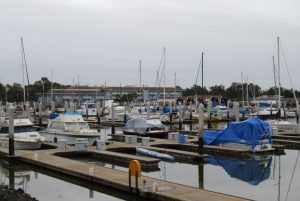 Guide and Photos by Beth Greene