WTTW Chicago, January 24, 2019
Evan Garcia • Chicago has "two new buildings that combine libraries and affordable housing. A collaboration between the Chicago Public Library, which has 81 locations throughout the city, and the Chicago Housing Authority [aims to provide] housing and educational opportunities under the same roof."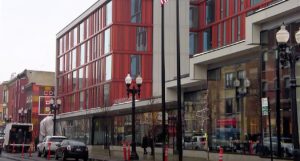 One new "building offers 44 senior apartments, 30 Chicago Housing Authority units, and 14 affordable units in Irving Park; [the second has] 29 affordable apartments, 37 CHA units, and 7 market-rate units in Little Italy.
"Another mixed-use building [will] open later this year on the city's North Side.
"The monthly rent for both CHA and affordable apartment units are set at 60 percent of the area's median income — occupants of CHA units are eligible for further rent assistance through vouchers.
"The buildings were designed by some of Chicago's top architects chosen from a design competition held by the city.
" 'The design of these buildings is beautiful, but also allows for the evolution of the kinds of library services long into the future,' said Chicago Public Library Commissioner and CEO Brian Bannon.
"The libraries will offer high-tech programming including 3D printing, virtual reality, and robotics." Read more here.
Hat tip to Fay Darmawi.