By Nick Sestanovich, Mercury News, July 8, 2019.
"The purchase of up to 30,000 acres of agricultural land between Suisun City and Rio Vista has taken many by surprise. The purchased land stretches from outside Suisun City's Walmart on Walters Road alongside Highway 12 to Rio Vista, with some parcels bordering Travis Air Force Base."
According to "a person who lives on the property, the land was purchased by a Flannery Associates, a limited liability company that has filed for foreign status to do business in California. That application listed Flannery Associates as an agriculture business, but Fairfield City Councilwoman Catherine Moy said it is unclear what the land would be used for. 'We want to make sure that it's not anything that could hurt the base and that it's not a foreign investor,' she said. 'Travis brings $1.5 billion to this area [and is] part of the city of Fairfield. It's my responsibility to take care of that.'
"Moy suggested the Assessor/Recorder's office flag for the public when large amounts of farm land are purchased so they could be more aware of such projects."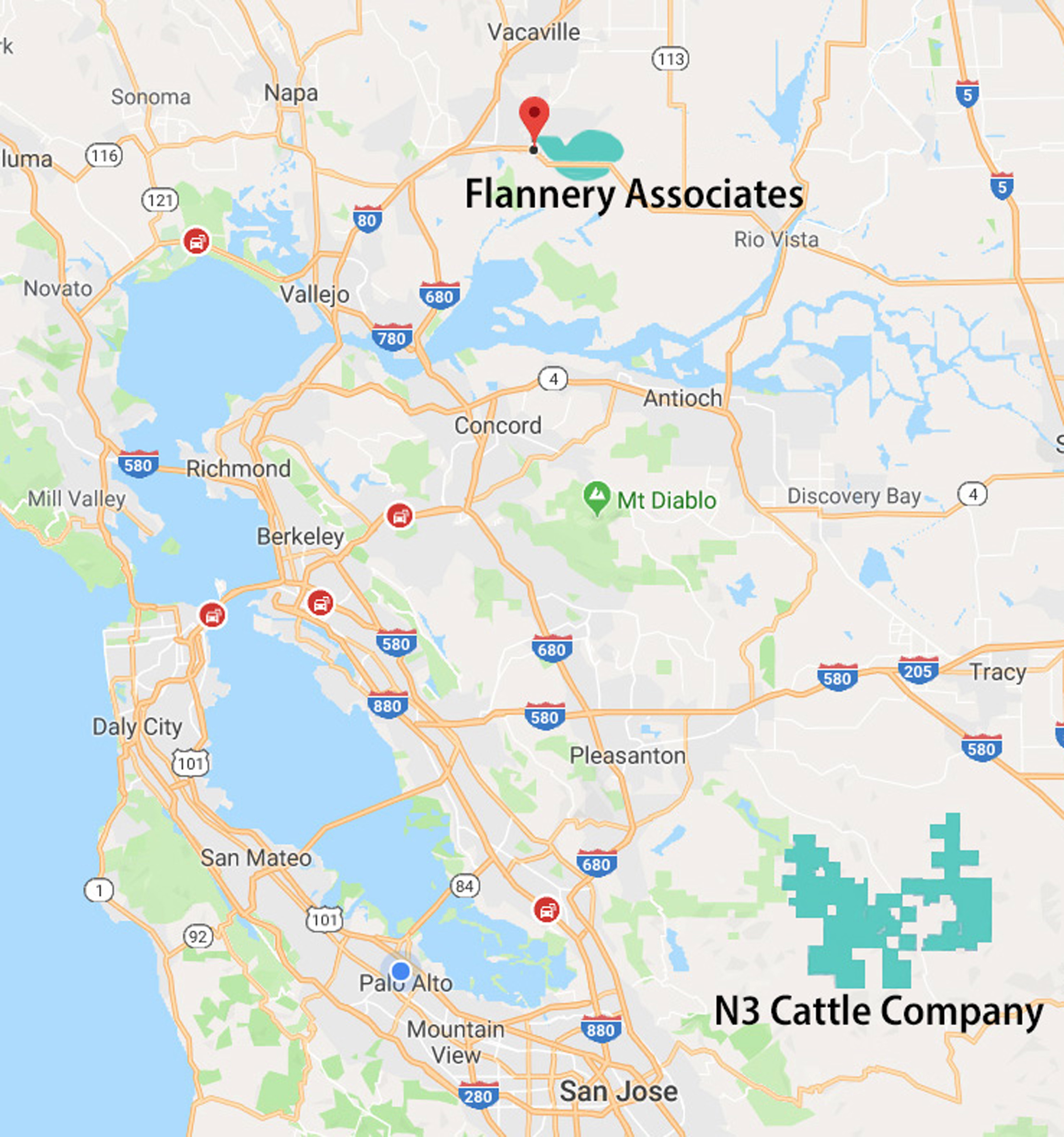 Meanwhile, 70 miles to the south, a massive East Bay ranch is for sale for $72 million
By Ted Anderson, San Francisco Business Times, July 8, 2019.
A piece of original California, "The N3 Cattle Company ranch, 80 square miles of undeveloped land" northeast of San Jose and southeast of Livermore, "is currently the largest land offering for sale in California."
"The [50,500 acre] ranch cuts across Alameda and Santa Clara counties, as well as San Joaquin and Stanislaus counties to the east.
"Even though the land is zoned for agricultural use, the listing agent sees the property as perfect for a wealthy conservationist, 'someone who wants to preserve the land.'
"One family has owned the property as a working ranch for 85 years. The parents passed away about 20 years ago and the daughters have continued running it as a cattle operation but are now ready to move on."
See a slideshow (a map and 29 photos) of the N3 Ranch, or watch a 4:34 video with a Western tang here.