By Marlene Stevenson, March 24, 2020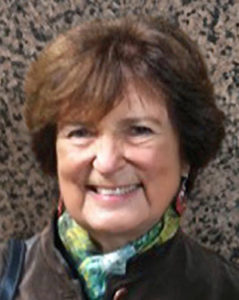 IT IS A LONG TIME since I was Northern Section Director. However, once a City Planner, always a city planner. Whether I am at home in the Bay Area or traveling around the world, I look at how cities function. Where do people live? Where do they work? How do they get around? How long does it take? And what do they do when they aren't working?
Many years ago, I worked in London as a "temp." I would work two weeks here and three weeks there. No car, you take the tube and carry a paper map. Before cell phones you spent your time looking at people and places. Then I moved to Geneva and worked several places there. Same story, but you took the bus or walked. I did buy a motor scooter — not for work, but to travel around Europe.
As we know, European cities were built before cars were invented. In Geneva I lived in a six-story building without an elevator. That might be going too far. Once you made it upstairs you stayed put. If you forgot something when you went out, you got along without it. Have you ever walked up six floors with a suitcase? (Good thing I was young.) Residential buildings were mixed in with the commercial. I loved it. Even had a farmers market.
Once upon a time, industry in the U.S. was dirty and smoky. Zoning made sense. Today, not so much. Could we see our future in Europe? Mix it up.
They really do ride bikes in The Netherlands. You better look before you cross a street in Amsterdam. And buses are all over town. In Europe, trains take you from city to city and country to country. No reason to fly. Remember those hydrocarbons. That's a plus.
I've lived in several places in the Bay Area. Housing tracts, older parts of town, two-story condos, a five-story building and a 20-story building. My favorite was probably the 20-story building in San Francisco. I took BART. I took the bus. Only used the car to drive south. It's possible.
Yet today, I still see new housing tracts. The houses are frequently two-story, narrow and repetitious, with small backyards. Even with a two-car garage, there are cars parked up and down the streets. Garage for storage? Own four cars? Maybe a house makes sense if you have children, but in today's world, children have homework and scheduled activities. They don't go out to play and come home at bedtime as they did in 1950. Maybe houses aren't the best places to live after all. A growing number of teenagers are even deciding they don't want to drive. And there you are in suburbia, having to get in a car to go anywhere. Even if there is a bus, you're lucky if it runs every half-hour most of the day.
So some people, especially planners, are beginning to see density once again as a good thing, even a necessity. Why spend an hour or two driving to work, not to mention home from work. We are beginning to see something like BART and Caltrain as a good thing. We see company buses taking workers to work. The public bus service is usually few and far between, and you may not be able to get where you want to go. Plus the traffic is slow or stalled for cars and buses.
People live farther and farther from where they work because of the cost of housing. Why not mix housing with offices? Make them both tall.
Have commercial on the bottom floors. Mix in public facilities for children. Why not?
Alas we still have people living in small and not so small cities who don't want change They want time to stand still. They want the good life from the 1950s without thinking about the future for their children. What kind of work are their children going to do? Where will they be working? They are the new companies and workers.
We need density. We need a mix of uses. We need public transportation. We need a future because we can't live in the past.
Marlene Stevenson was Northern Section Director from July 1987 through December 1989, during which time she was a senior planner in the Neighborhood Preservation Department at the City of San Jose. She worked in Gilroy before that. Stevenson began her service on the Northern Section Board as South Bay Liaison, then Secretary (1985-1987). She holds a bachelor's and a master's degree in urban planning, both from San Jose State University. Her favorite memory is sitting around her dining room table with the planning committee for the California Chapter Pacific Rim Conference, held in San Jose, September 1989.