Brian Mattson passed away of a heart attack on July 18, while working in the garden at his home in Novato. He was 84.
Bay Area planners may remember him as the Planning Director in Novato until 1984 and then Community Development Director in Vallejo where he retired a few years later.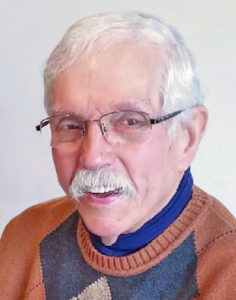 "He was a proponent of good planning principles in the face of development pressure from strong real estate interests," recalled Hanson Hom, AICP, who worked under Mattson in Vallejo. "He had a passion for creating equitable communities and better environments, which he balanced with a sense of humor. And he reinforced strong planning values and the importance of ethics in our profession. Those, along with a conviction to do what's right, shaped me over the course of my entire career."
During his time as planning director in Novato, Mattson was active in the Bay Area Planning Directors Association, and was a member of the Sonoma State University Advisory Committee that advised on the school's planning curriculum.
"Brian was my first boss as I started my profession as a city planner in Novato," recalled Diane Henderson of San Rafael. He hated being called 'boss,' and he led by example. He taught "kindness, courtesy, and professionalism as he guided Novato's development during challenging political years. He always was willing to go the extra mile to do the right thing," she said.
Brian Wayne Mattson was born December 25, 1935, in Watersmeet, an unincorporated community located within the Ottawa National Forest in the western part of Michigan's Upper Peninsula, some 45 miles south of Lake Superior. After graduating from Michigan State University (East Lansing) with a degree in landscape architecture, he earned a master's degree in public administration from California State University-Hayward. Over the course of a 40-year career in public service, he was planning director for Manitowoc, Wisconsin; Spokane and Yakima, Washington; Klamath Falls, Oregon; and Novato and Vallejo, California.
Mattson was known for humble leadership and the ability to navigate political issues during challenging times for urban growth. He took pride in mentoring planners and advising on ethical and professional dilemmas.
He is survived by his wife of 65 years, Evelyn Mattson; his sister, Nancy Severtson; and four children: Greg Mattson (also a planner), Tammy Dunn, Andrea Doney, and Sandra Schondel-Mattson, and eight grandchildren.