By Matthew Moore, May 12, 2021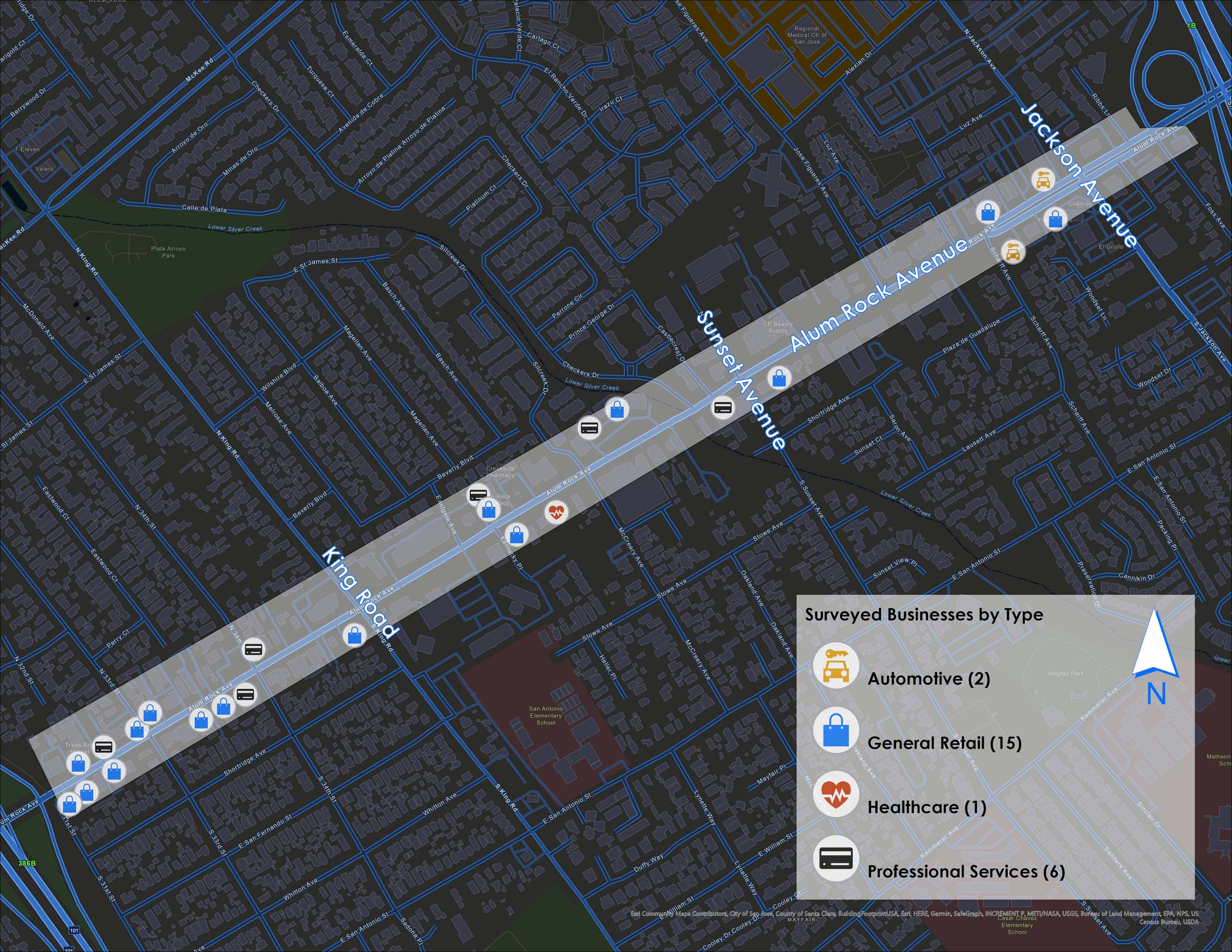 The Alum Rock Avenue Business Corridor, located in East San José, stretches for 1.25 miles between Interstate 680 and U.S. Route 101 and intersects the historic Sal Si Puede and Sunset neighborhoods. These neighborhoods are an immigrant gateway with a notable history of activism and engagement in the political process, but also with decades-long disenfranchisement and a lack of investment. Now, the Corridor community is coping with two major forces: the pandemic (the area experienced some of the highest rates of Covid-19 in Santa Clara County) and a significant uptick in real estate development and speculation because of Alum Rock's prime location near San Jose's rapidly expanding downtown.
At the request of the City of San José, 14 urban planning graduate students at San José State University (SJSU) and faculty members Richard Kos, AICP, and Jason Su — in partnership with CommUniverCity, elected officials, and community leaders — engaged with Corridor businesses and customers during the Spring 2021 semester.
The SJSU team used an "asset-based community development" approach to (1) document the history and existing conditions of the corridor, (2) interview business owners, customers, and community leaders, and (3) produce a "findings" report with recommendations for ameliorating the challenges identified by Corridor stakeholder groups.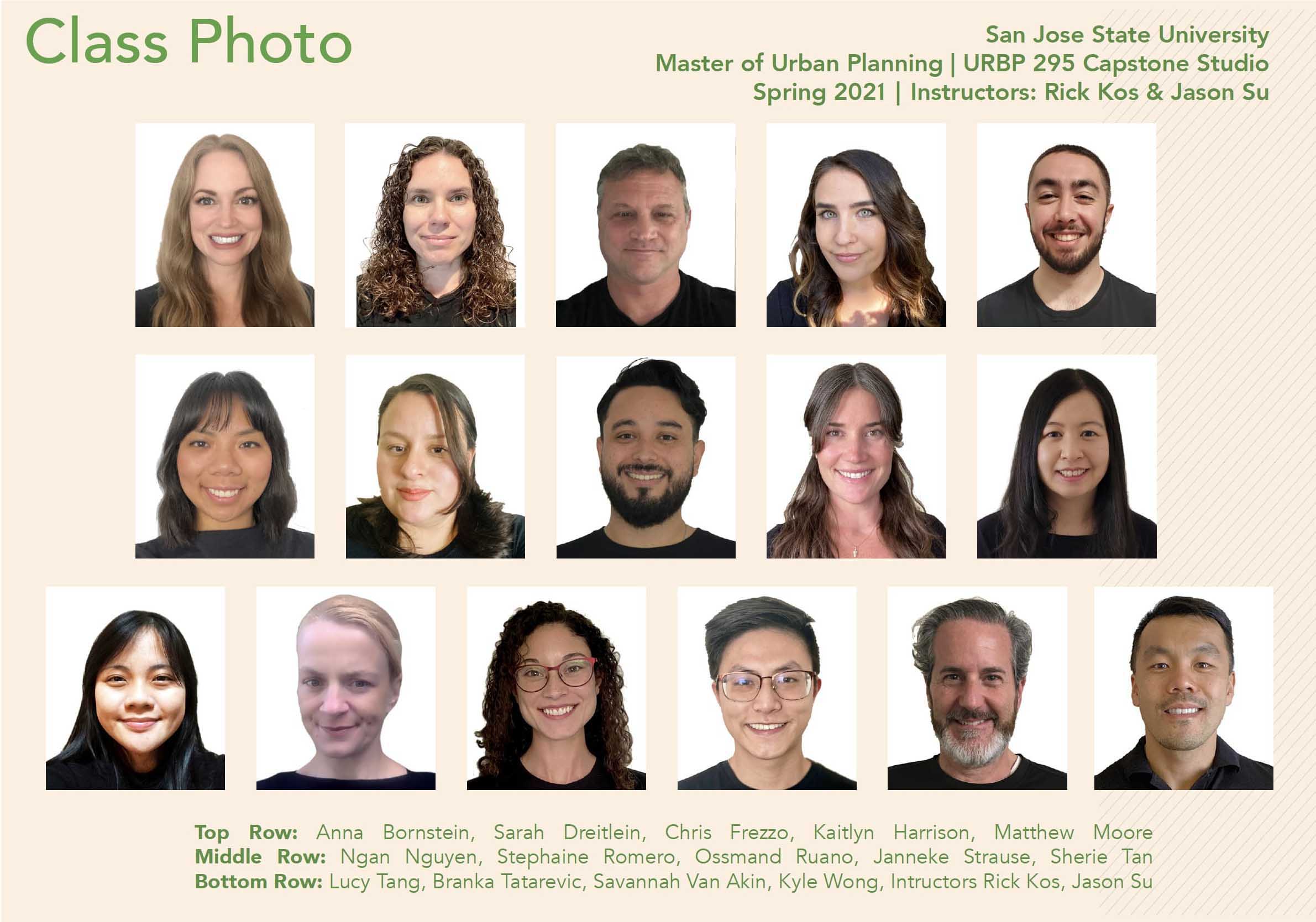 The students' work spanned three phases.
Phase One
To begin, the SJSU team reviewed previous studies of the area completed by their predecessors in Fall 2019 and Spring 2020, including a deep dive into policies and programs that shaped the Corridor. The team met with City representatives and local organizations to gather additional information about the hyper-local impact of the pandemic and planned development. The students also took two walking tours of the Corridor and surrounding areas, led by local organizations SOMOS Mayfair (We are Mayfair), City staff, and local representatives.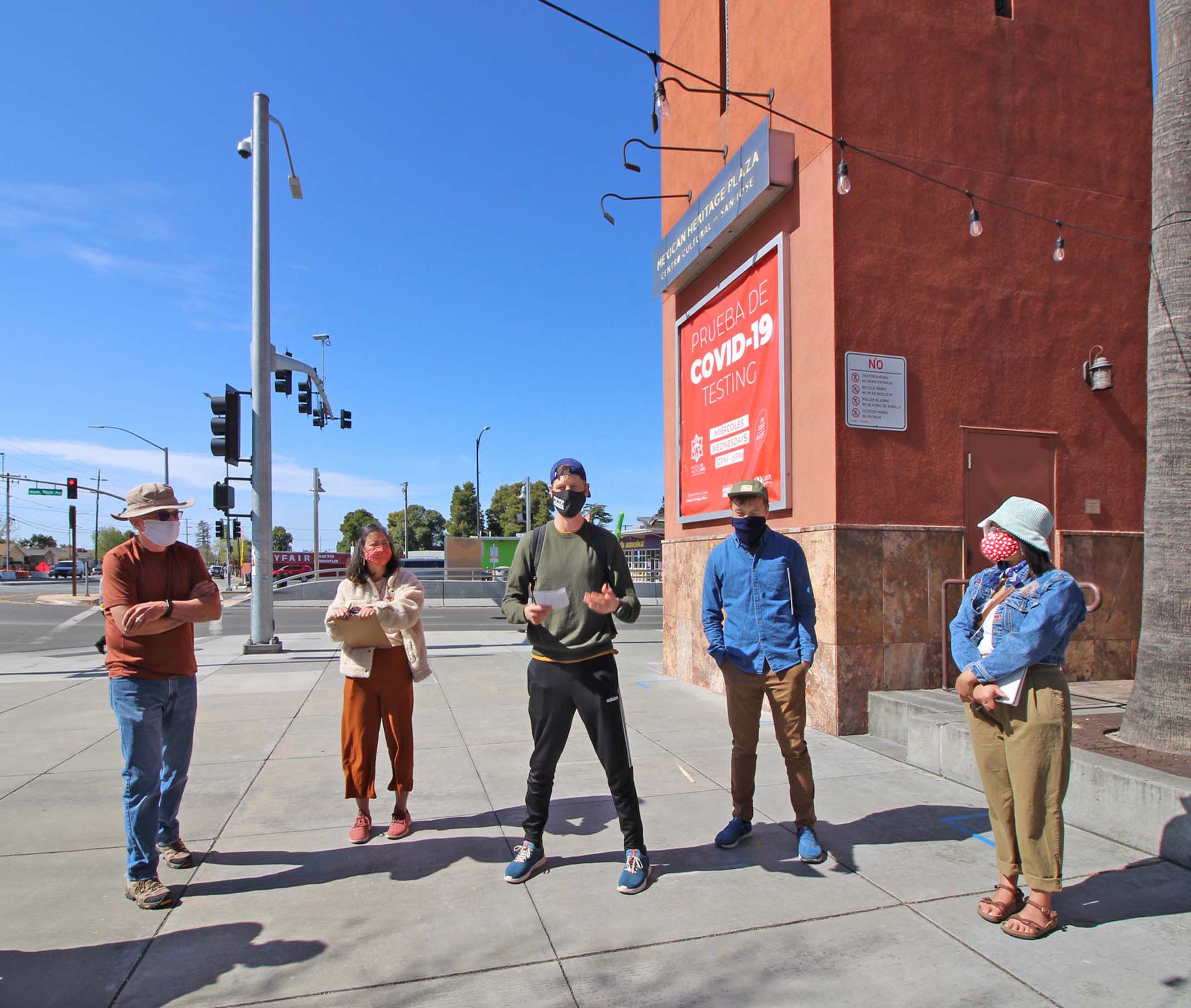 Phase Two
The team split into three groups, each responsible for a specific method of community engagement. All in-person engagement followed Santa Clara County Covid-19 protocols, including masks and social distancing.
Team One was responsible for surveying customers shopping at Corridor businesses. The survey's 15 questions focused on respondent demographics, travel habits, and perceptions of Alum Rock Avenue's business climate. Customers were informed of the survey through posters and flyers with QR codes linked to an online version of the survey, and through two separate table events at the Wash America Laundromat and the Mexican Heritage Plaza.
A total of 96 customer surveys were collected. Overall, 58 percent of respondents reported positive experiences visiting and shopping along the Corridor, but 7 percent of respondents were concerned about the presence of unhoused people, 20 percent about vandalism and littering, 12 percent by a lack of parking, and 62 percent by a lack of local-serving businesses.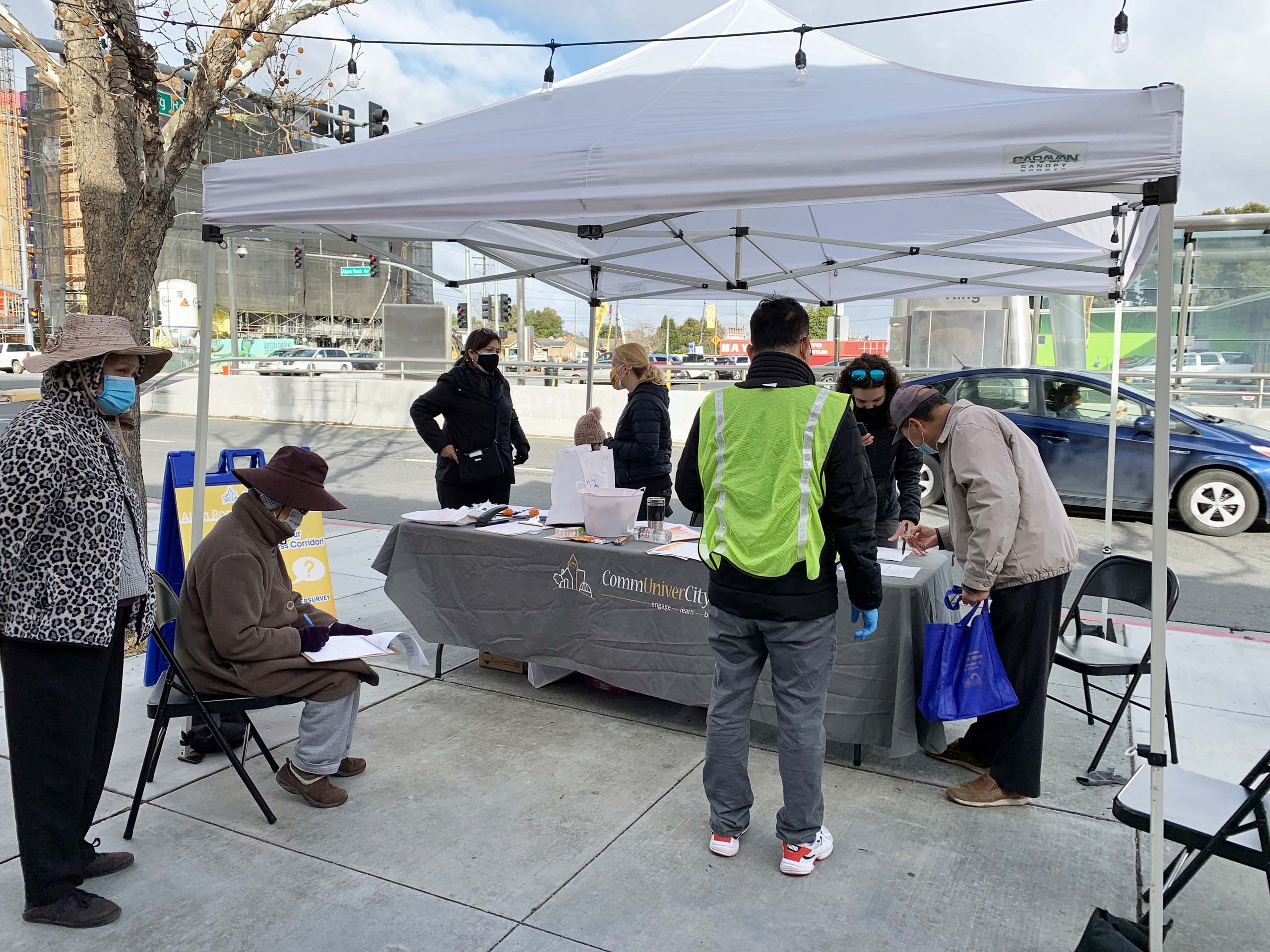 Teams Two and Three surveyed and interviewed business owners to capture their perspectives. The wide-ranging, 60-question surveys covered Covid-19 challenges, cleanliness and appearance, transportation, development and public improvements, safety, advertising and marketing, communication, and demographics. Team Two used in-person visits, emails, and QR codes to collect surveys from 24 corridor businesses. The students ensured that a rich mix of sectors was represented, including automotive, retail, healthcare, and professional services. Ninety-five percent of the businesses were either Minority- or Woman-Owned, with business owners typically of Hispanic or Latino descent (58 percent) or Asian (29.2 percent). Several of the surveyed businesses are Corridor institutions: La Costa Taqueria (24 years), Fast Bicycles (42 years), and the Tire Outlet Store (70 years).
Team Three interviewed seven businesses in depth to understand the owners' perspectives and to track change over time. The team began with a 45-minute discussion, followed a few weeks later by an interview to see what might have changed as businesses adapted to the pandemic's effect on their operations. In response to what Steve Ngo of Alum Rock Beauty Supply described as a month of "total silence," his business adapted by selling pandemic-related products such as "…gloves, face masks …disinfectant wipes, and disinfectant sprays." Other, less adaptable businesses such as Discount Taxes and Lezly 99 & More Market, reported that their revenues dropped precipitously while rent debt accumulated. Lezly 99 owner Maria Barrera said she needed "More people to come and buy; more customers so I can pay the rent. Because if not, I will be displaced from my business."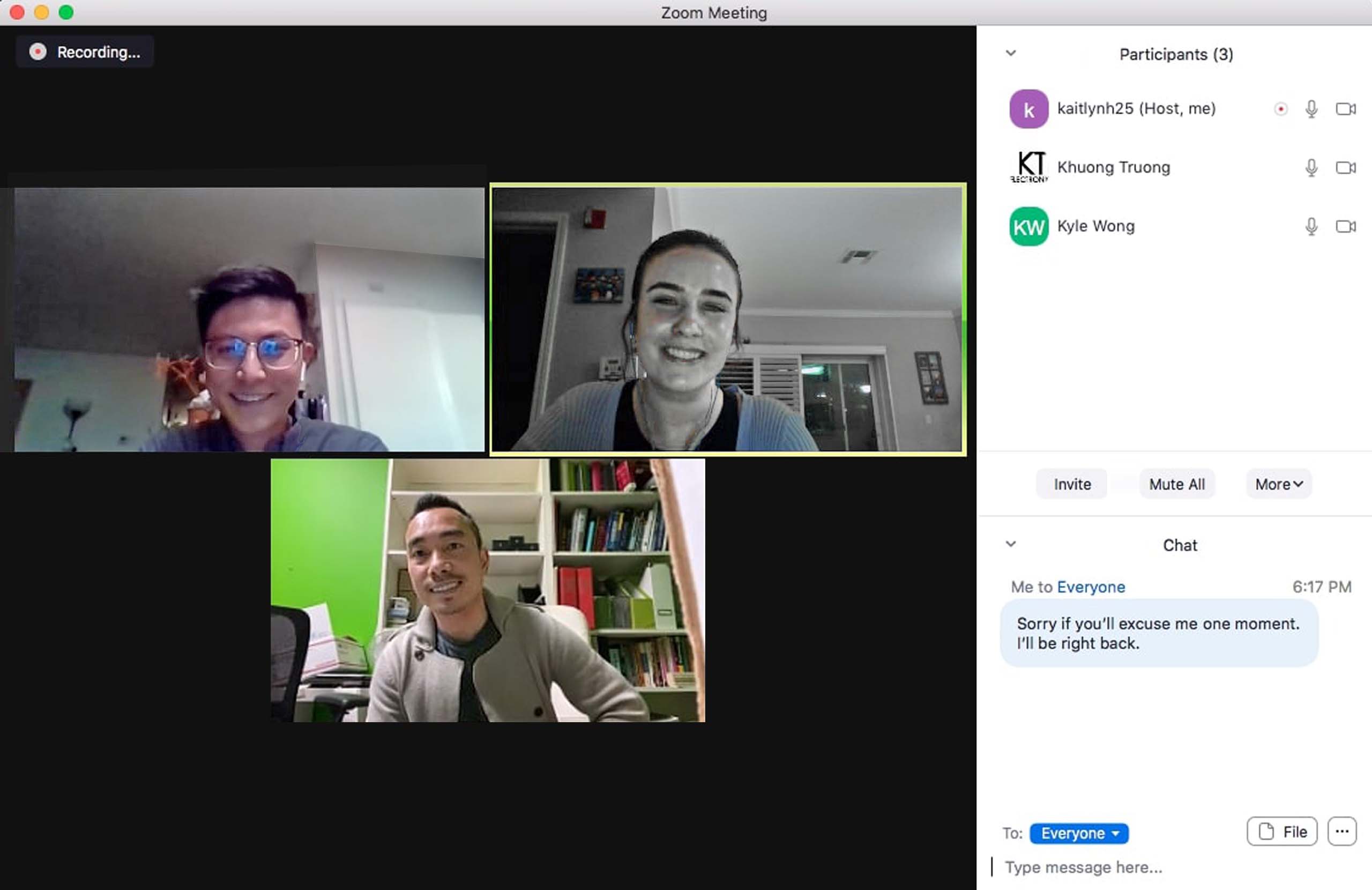 The Alum Rock Avenue business surveys and interviews revealed many of the same concerns identified by their customers, such as a lack of parking and poor nighttime lighting. Corridor business owners also reported crime (robberies, break-ins, vandalism, graffiti, and littering) and harassment from unhoused people as major challenges to conducting business. The owners also were concerned about recovering from the impact of Covid-19, the effects of new development on existing businesses and residents, and the difficulty of participating in local and City decision-making because of language barriers, time constraints, and legacy disenfranchisement. Nevertheless, owners saw many positives in owning a Corridor business, including reciprocity among local businesses and the intimate client-business relationship that comes from sharing a community and language with their customers.
Based on the owner and customer surveys and interviews, the team identified four areas of concern and opportunity, or "themes": accessibility, aesthetics, community resilience, and safety.
With those in mind, the team worked with project partners to develop corresponding recommendations that could produce positive change along the Corridor.
Phase Three
The third phase began April 28 with the team's presentation of initial findings to project partners. An interactive virtual whiteboard session followed, where students and project partners discussed and posted ideas on virtual sticky notes to address each of the four themes.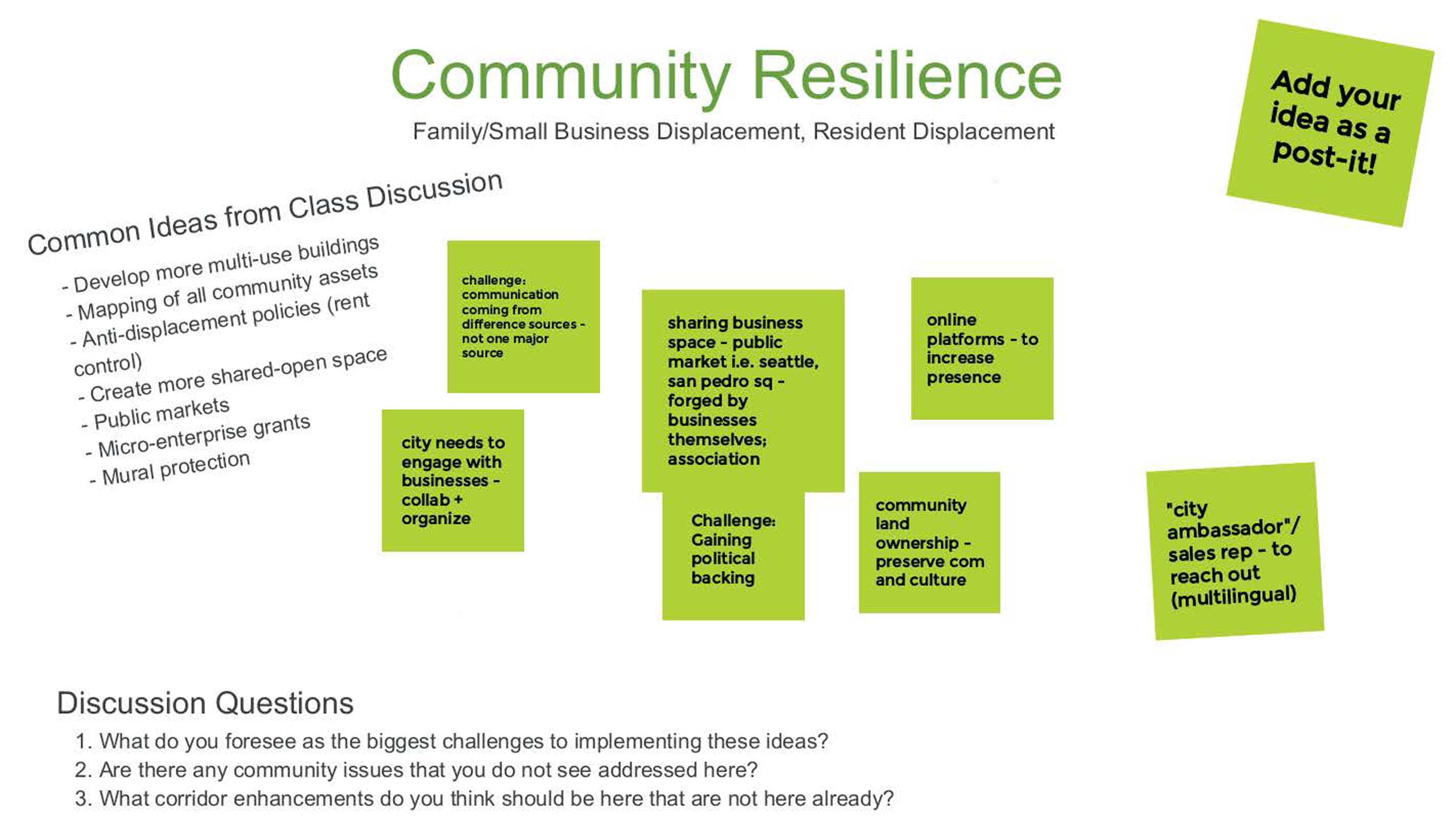 Based on feedback from project partners, the SJSU team began developing feasible recommendations addressing the four themes noted above. Examples of recommendations that will be discussed in greater detail in a final report include:
Establish a community land trust
Purchasing land for community-driven and goal-oriented uses may offer the Corridor community an opportunity to use the space more beneficially. One example is the work of the Northern California Land Trust (NCLT), a nonprofit founded in 1973 that aims to perpetuate affordable housing and provide community facilities. Their mission is to innovate and develop "cooperative and community ownership models that help ensure housing and economic justice for all." Successful NCLT projects include affordable housing properties scattered through underserved neighborhoods in Berkeley, Oakland, and East Palo Alto.
Provide corridor-focused grant programs
San José offers a number of programs and grants for amplifying culture through art. One is the Arts and Cultural Exchange Grant. Nonprofit organizations, professionals, and artists that qualify for the $2,500 to $5,000 art program are given the opportunity to create murals, exhibitions, or performances. Developing a grant program to commission local artists to introduce art along the Corridor would enhance the physical and aesthetic experience while providing an opportunity to highlight cultural heritage.
Install streetlight alternatives
Many respondents identified inadequate nighttime lighting as a possible reason for the high rates of property crime and vandalism along the Corridor. Alternative lighting options like Eco Discs can comply with lighting requirements established by the Lick Observatory. These discs offer noninvasive yet subtle lighting that can enhance nighttime visibility and nightlife. Eco Discs absorb UV light, work in a way similar to solar panels, and emit up to 10 hours of light at night. And they are a sustainable, zero-energy technology.
Construct high-visibility crosswalks and pedestrian refuges
These improvements require relatively minor changes to the streetscape and can be implemented over a short period. They also increase driver awareness of pedestrians and physically protect them. To accommodate both the existing bus rapid transit infrastructure and the proposed improvements, the SJSU team recommends the median stop, right-side boarding design developed by the National Association of City Transportation Officials.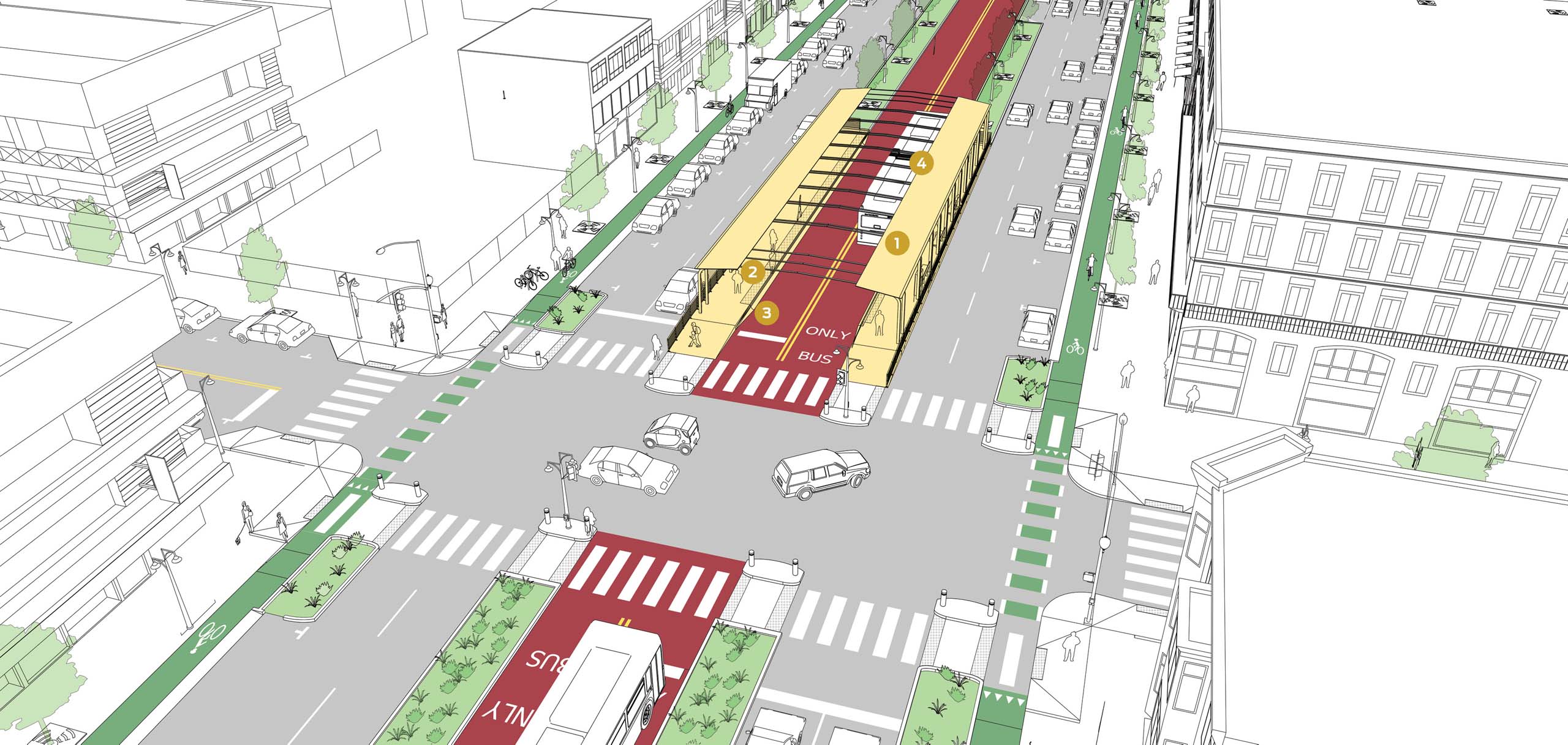 Incorporate CPTED best practices into future developments
CPTED — crime prevention through environmental design — involves designing the built environment in ways proven to reduce crime. The City can require that future development along Alum Rock Avenue incorporates established CPTED features. For example, the City of Oakland reviews proposed residential, commercial, and civic developments for CPTED deficiencies, such as poor lighting, inadequate sight lines, a lack of clearly defined spaces or signage, and lack of surveillance cameras or security systems, and requires developments to make improvements where needed.
What's next?
Despite the challenges facing Corridor businesses, the SJSU team believes there are many ways to effect positive and lasting change along the Alum Rock Avenue Business Corridor. Our final report, which will be available on the San José State University's Department of Urban Planning website will include a complete discussion of our findings, recommendations, and conclusions. We hope the business community, local organizations, and the City of San José will draw on our recommendations to help the Corridor realize its full potential. Going forward, graduate planning students at San José State University will continue to work with the Alum Rock community and our project partners to support this vision.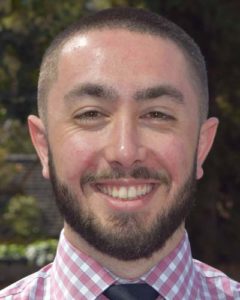 Matthew Moore is a third-generation Bay Area native and a graduate of The Nelson A. Rockefeller College of Public Affairs & Policy of the University at Albany, SUNY. He has a passion for protecting communities and the environment, which he currently pursues through his work at a local environmental consulting firm.