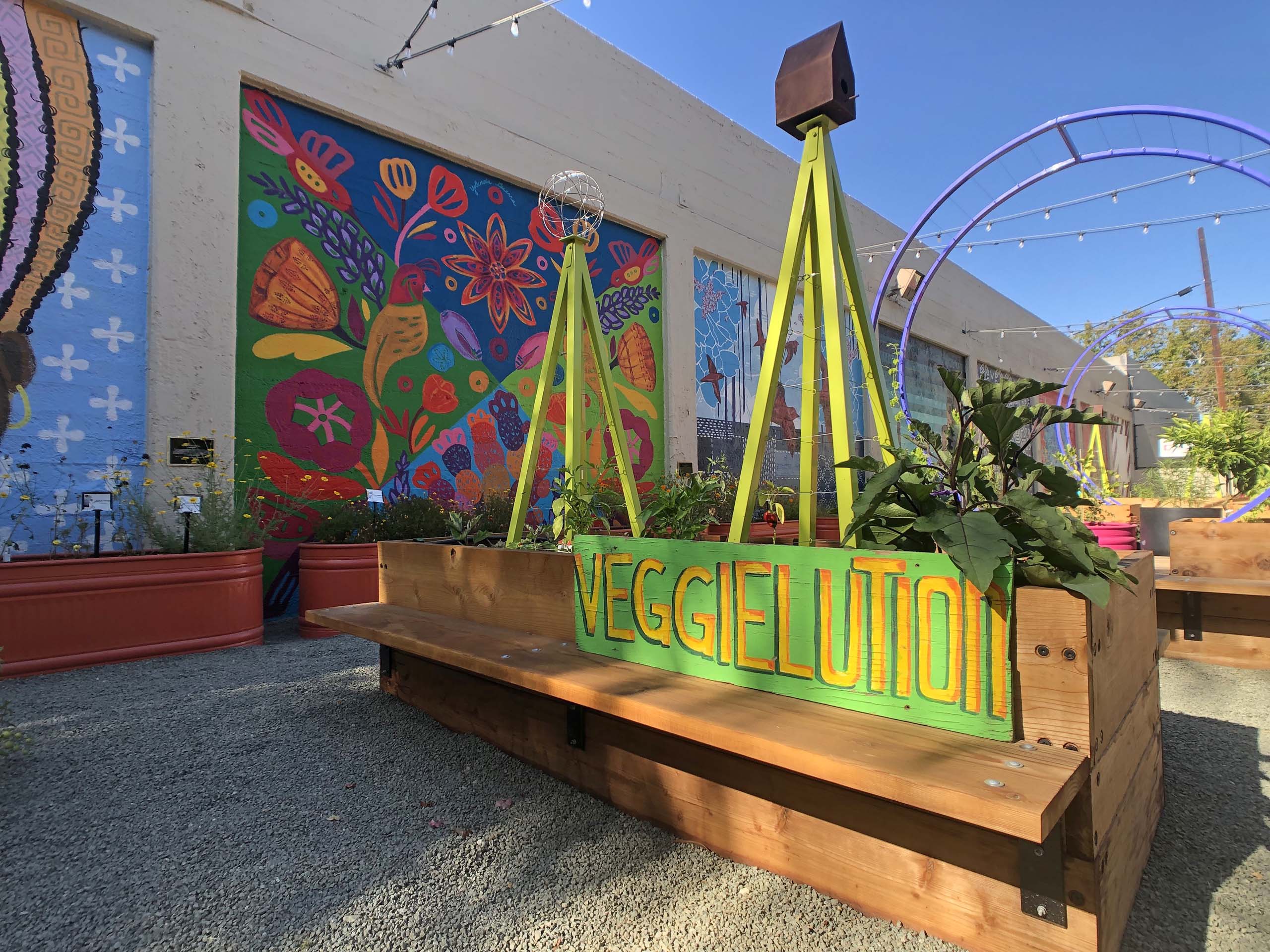 By Master's in Urban Planning students in San José State University's URBP 295, Fall 2021, December 10, 2021
At the southern edge of downtown San José lies an arts district known locally as SoFA (South of First Area). In recent years, the area has seen an influx of investment activity as developers set their sights on the highly gentrifiable landscape. Enter Veggielution, an urban agriculture nonprofit tasked with repurposing an abandoned lot in the area while the site awaits future development. Veggielution has ambitious plans for the site — dubbed the "SoFA Pocket Park" (SPP) — aiming to create a vibrant place of belonging for all community members, especially those often overlooked by the usual placemaking efforts.
Alongside Veggielution, 12 urban planning graduate students at San José State University and faculty members Richard Kos, AICP, and Gordon Douglas, Ph.D. — in partnership with CommUniverCity, Mineta Transportation Institute, and community leaders — engaged with residents and businesses during the Fall 2021 semester.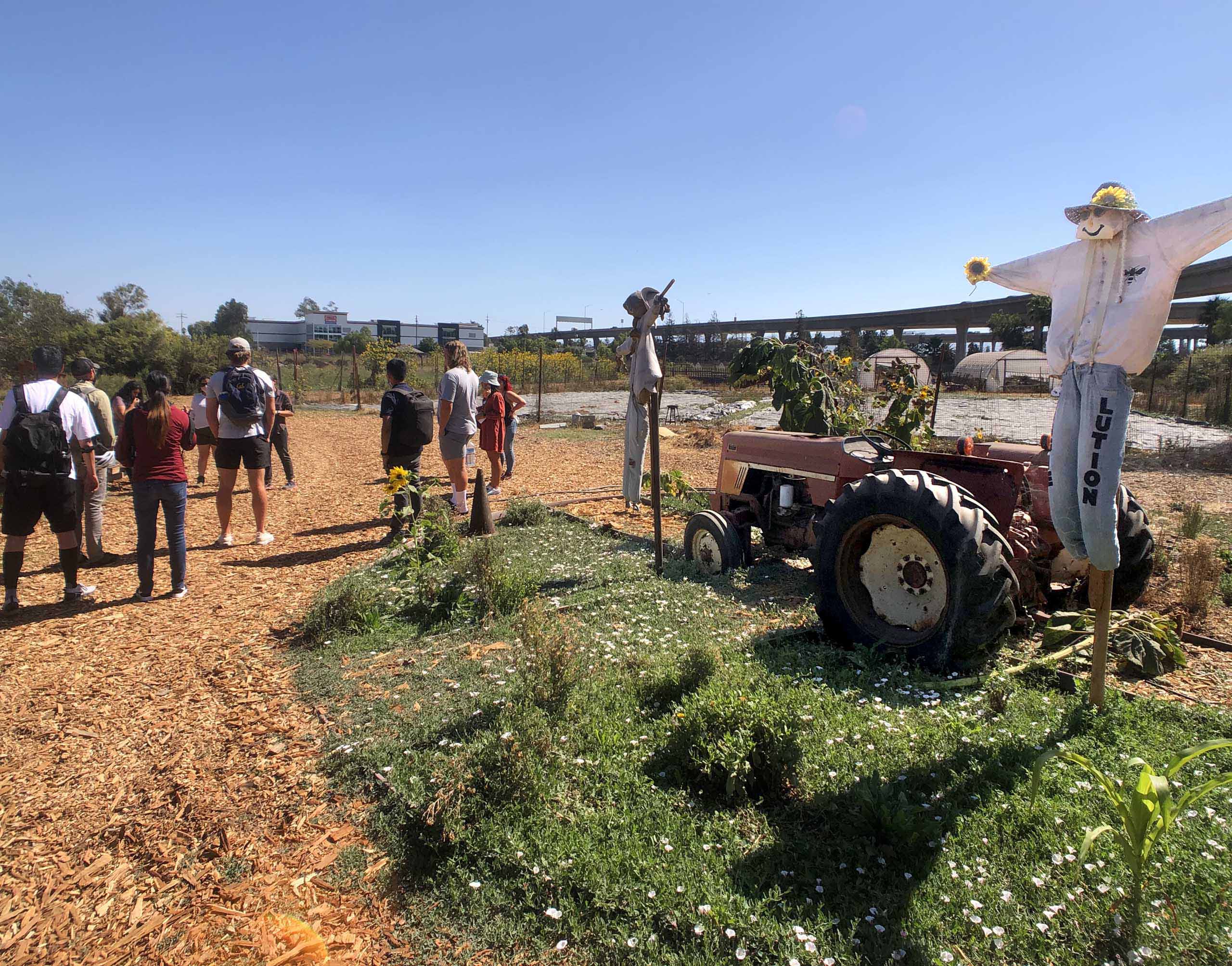 Veggielution's mission is to gather people around three types of connections essential for humanity: to our land and food, to each other in community, and across barriers that divide us. To that end, they committed to designing the SPP's programming to honor the vision of local residents, making sure to center and include in local decision-making those community members who have historically been marginalized. Veggielution asked for the SJSU students' help to build awareness of the SPP and to collect detailed input from community members on what they would like to see in the park. Thus began a three-month collaboration to guide future park design.
IN PHASE 1, students focused on getting to know two study area neighborhoods adjacent to SoFA: Guadalupe Washington to the south, and the South University Neighborhood to the east. They researched neighborhood histories, demographics, and priorities from past student planning efforts and went on walking tours led by community members to learn first-hand of community histories, priorities, and concerns.
South University Neighborhood is home to an abundance of college students as well as owners of some of the oldest houses in San José — and is among the youngest and lowest-income neighborhoods in the city. Guadalupe Washington is a historically working-class neighborhood with a thriving small business district along "Calle Willow" and a strong, public cultural identity, which students saw expressed through murals and shops throughout the neighborhood. This predominantly Hispanic-identifying neighborhood is becoming increasingly unaffordable, and many working-class residents face displacement. Both neighborhoods ranked parks deficiency and safety among their primary concerns.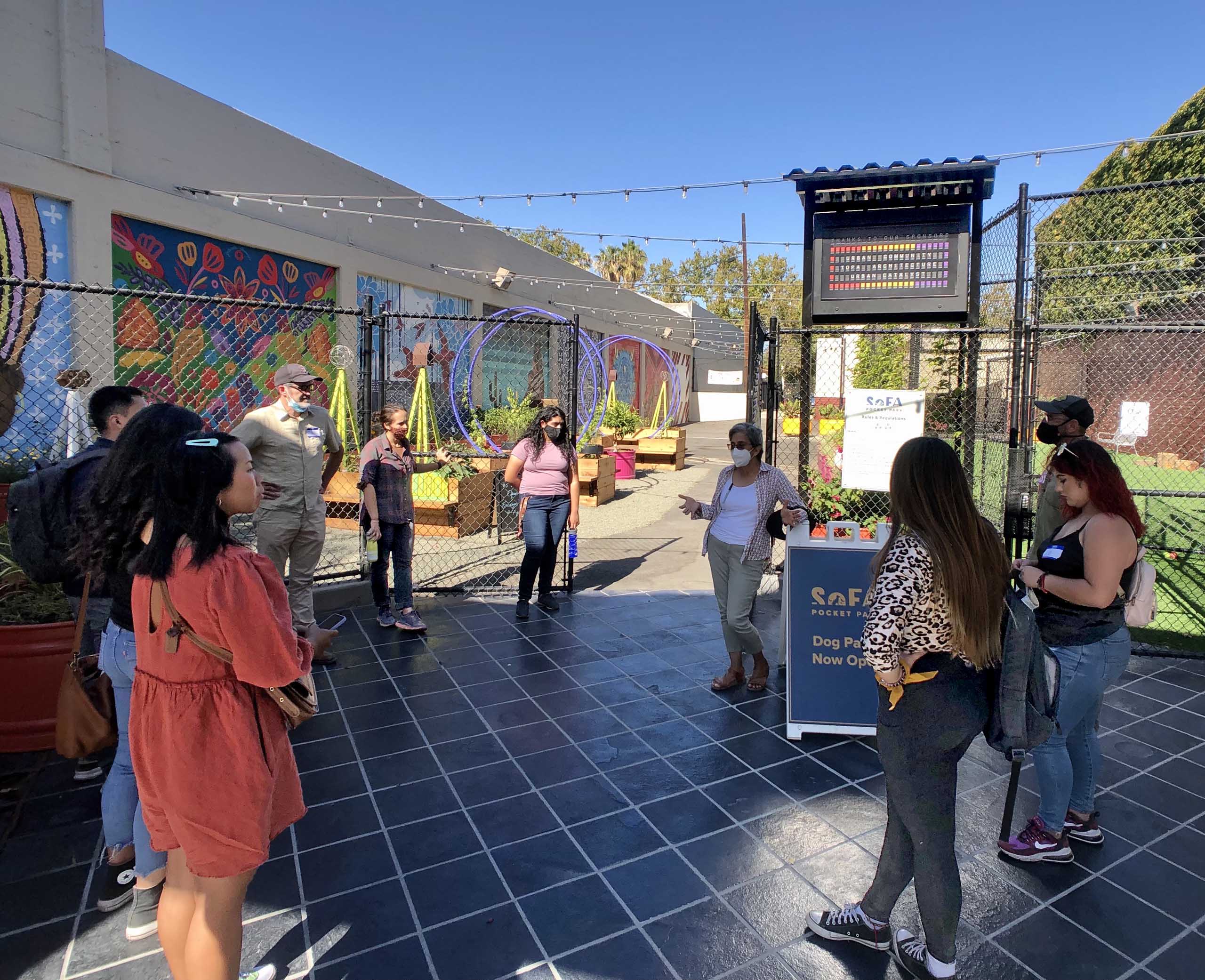 IN PHASE 2, students conducted community outreach and collected data using a survey developed in collaboration with CommUniverCity and Veggielution. Questions were designed to plumb local residents' parks needs and usage, desired additions to the Pocket Park, and access to fresh produce.
The survey was made available in English, Spanish, Vietnamese, and Mandarin — with digital and paper options to respond.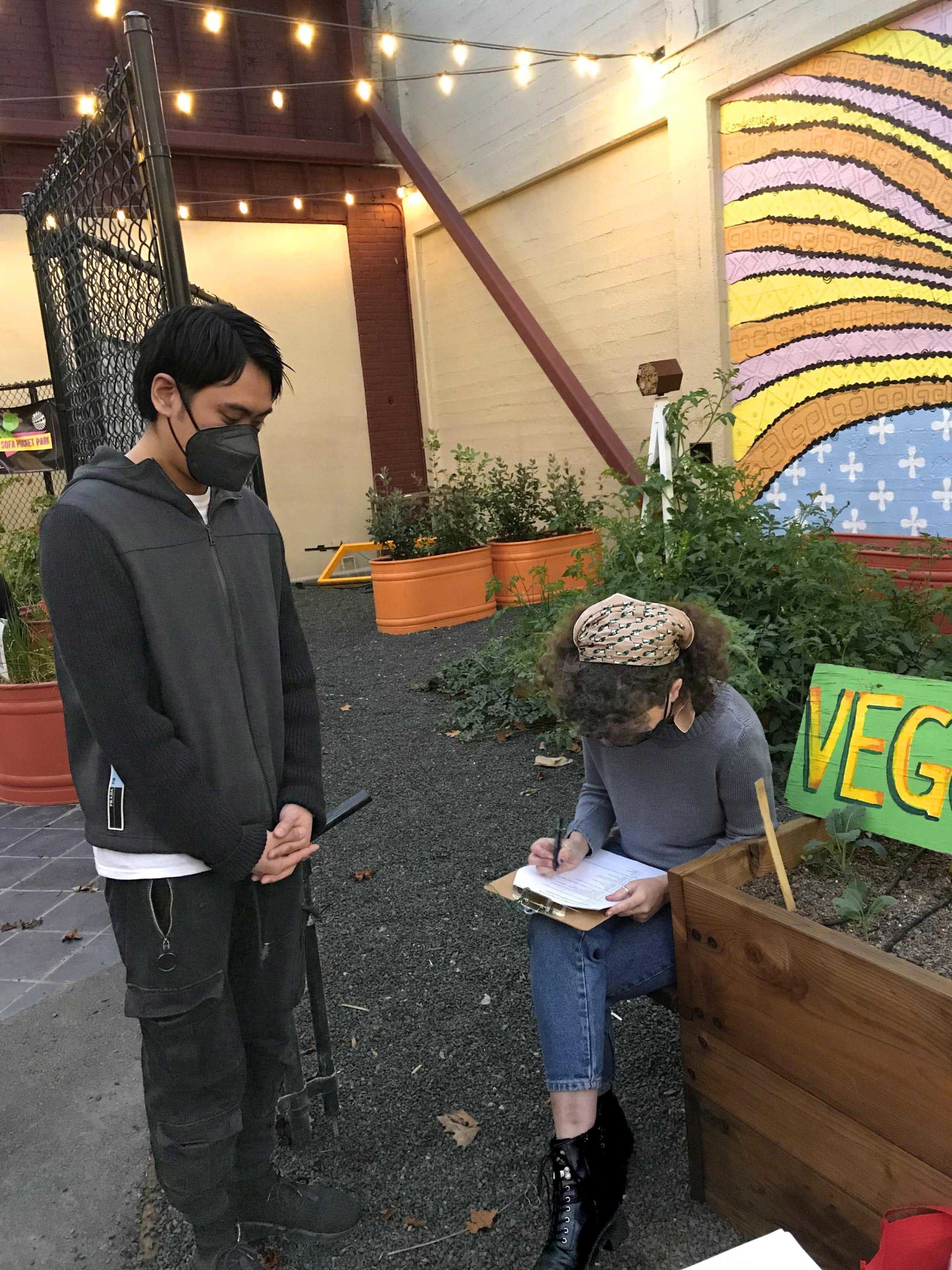 Students engaged people with the survey both formally and informally. As a formal survey approach, they talked with people throughout the neighborhood, asking them to take the survey either on paper or online. Many students verbally administered the survey. As an example of an informal approach, one student team connected with Panaderia Oaxaca, a newly-opened bakery that is now a community favorite. The students conversed informally with owner Monse, asking general questions about the neighborhood and engaging in a warm conversation that provided insight and built rapport.
In order to engage with as many residents as possible, students leaned on events in or near the Pocket Park. Those included the weekly Downtown Farmers Market, an evening art walk, an open streets event ("Viva CalleSJ"), and two Pocket Park exploration events. These proved invaluable in allowing the students to connect with community members in a casual and enjoyable environment.
Viva CalleSJ
Students used Viva CalleSJ, a popular open streets event in San José, to gather feedback about the SPP from as many community members as possible. The students talked to more than 100 people during the course of the event and facilitated a crowdsourcing activity in which 85 people provided feedback. That "sticker and poster" activity reduced barriers to feedback and attracted many participants, including children. Others were drawn to the area because they were curious about the poster and the nearby space. That led to many fruitful conversations and invitations to explore the Pocket Park.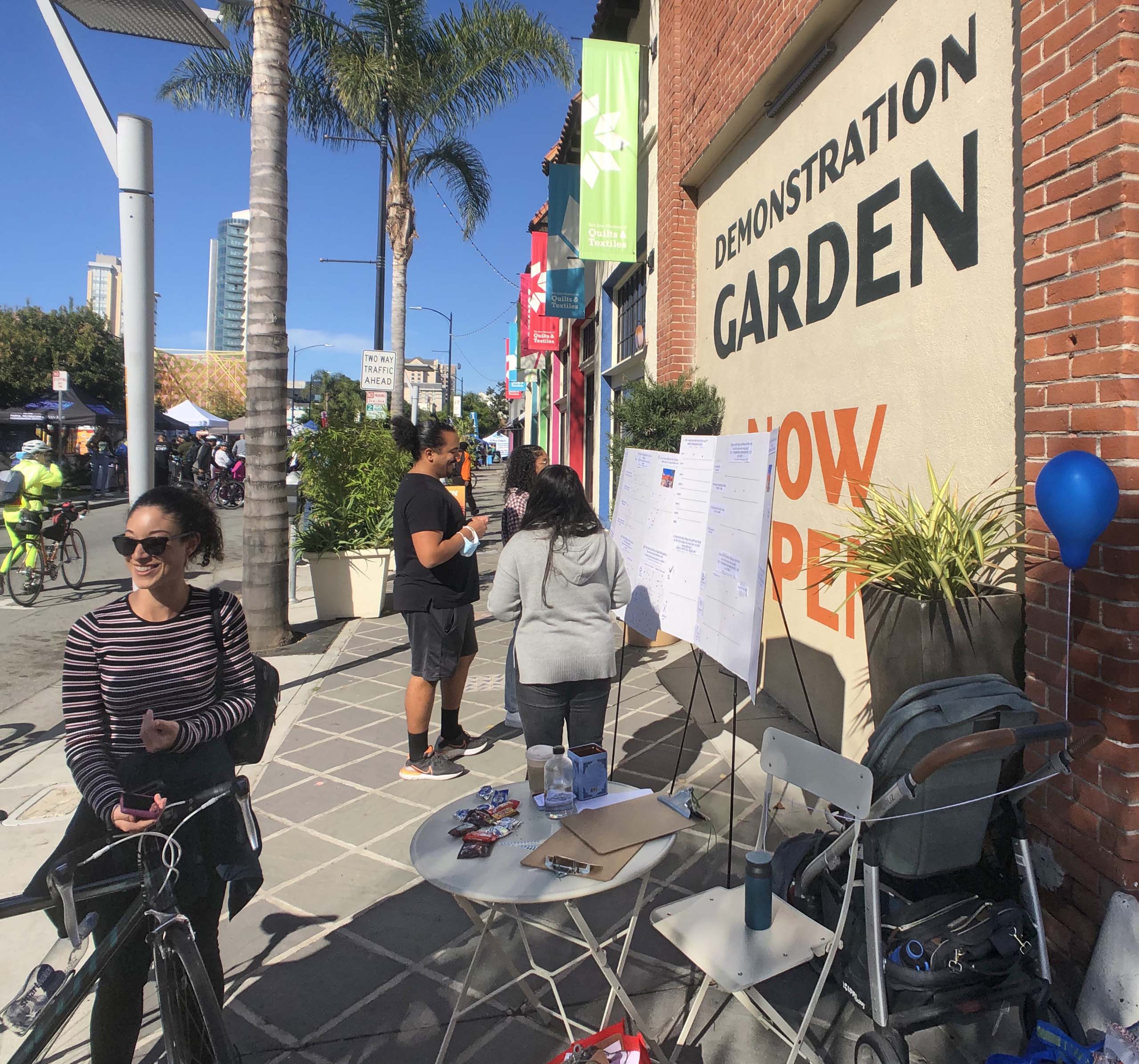 Pocket Park Exploration Events
To promote the park and create opportunities to survey neighborhood residents and youth, students hosted multiple SoFA Pocket Park exploration events. One event featured Latino Urbanism specialist James Rojas, the founder of Place It!, and Latino Urban Forum. Rojas utilized trinkets and toys to generate conversations about parks and open spaces, inviting participants to build their ideal park and explore their favorite childhood memories. These discussions led to rich conversations and insights about what connects people, including children, to the places and people around them. They also produced some interesting ideas for the Pocket Park, such as an installation of dinosaurs!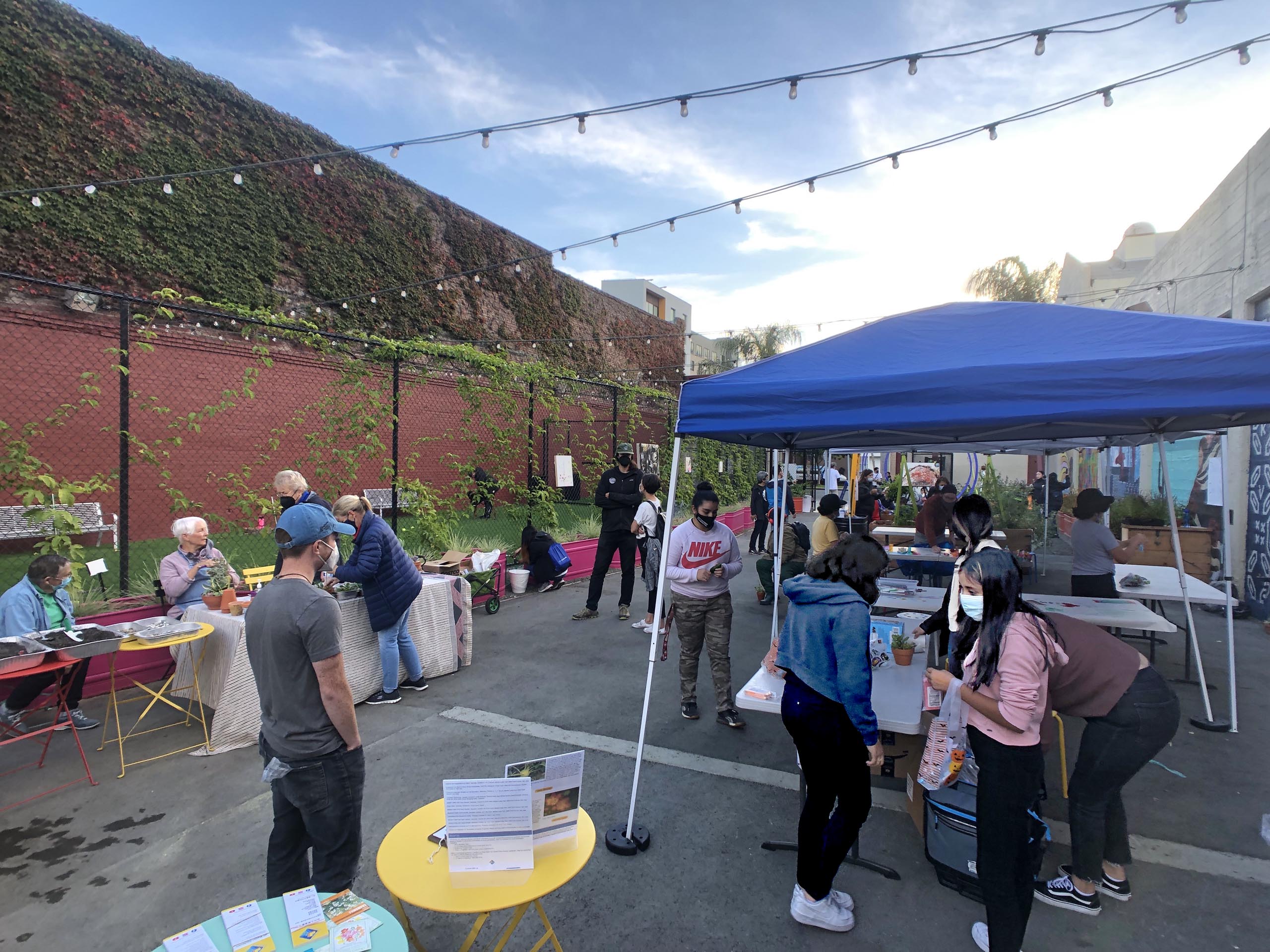 IN PHASE 3, students focused on analyzing 235 survey responses and preparing a professional-level report for Veggielution. The study's focus neighborhoods, Guadalupe Washington and South University, fall within the 95110 and 95112 zip codes; but just 91 survey respondents live in these zip codes. Students therefore organized the survey findings to differentiate among respondents living inside and outside of the study area since the SPP primarily seeks to serve local residents' priorities.
The survey questions were arranged in four categories: general park usage, SoFA Pocket Park feedback, accessibility to produce, and demographics.
Demographics and findings
Among respondents, the largest ethnic or racial group is Hispanic or Latino, followed by White and Asian. Of particular note is that study area respondents have lower incomes than those living outside the study area. Educational attainment within each group was fairly even.
Most survey respondents living within the study area believe the number and quality of parks in the area to be inadequate, demonstrating a need for the SPP. Overall, respondents highly approved of the SPP's appearance, amenities, and contribution to their neighborhoods. They were especially interested in having more open hours, additional activities for kids and families, picnic tables, and shaded areas for use during the day. When asked about the type of events the residents would like to see held at the SPP, the most popular response was some type of food/culture/music festival, followed by farmers' or makers' markets. Many respondents asked specifically for play structures or more kid-friendly areas and activities.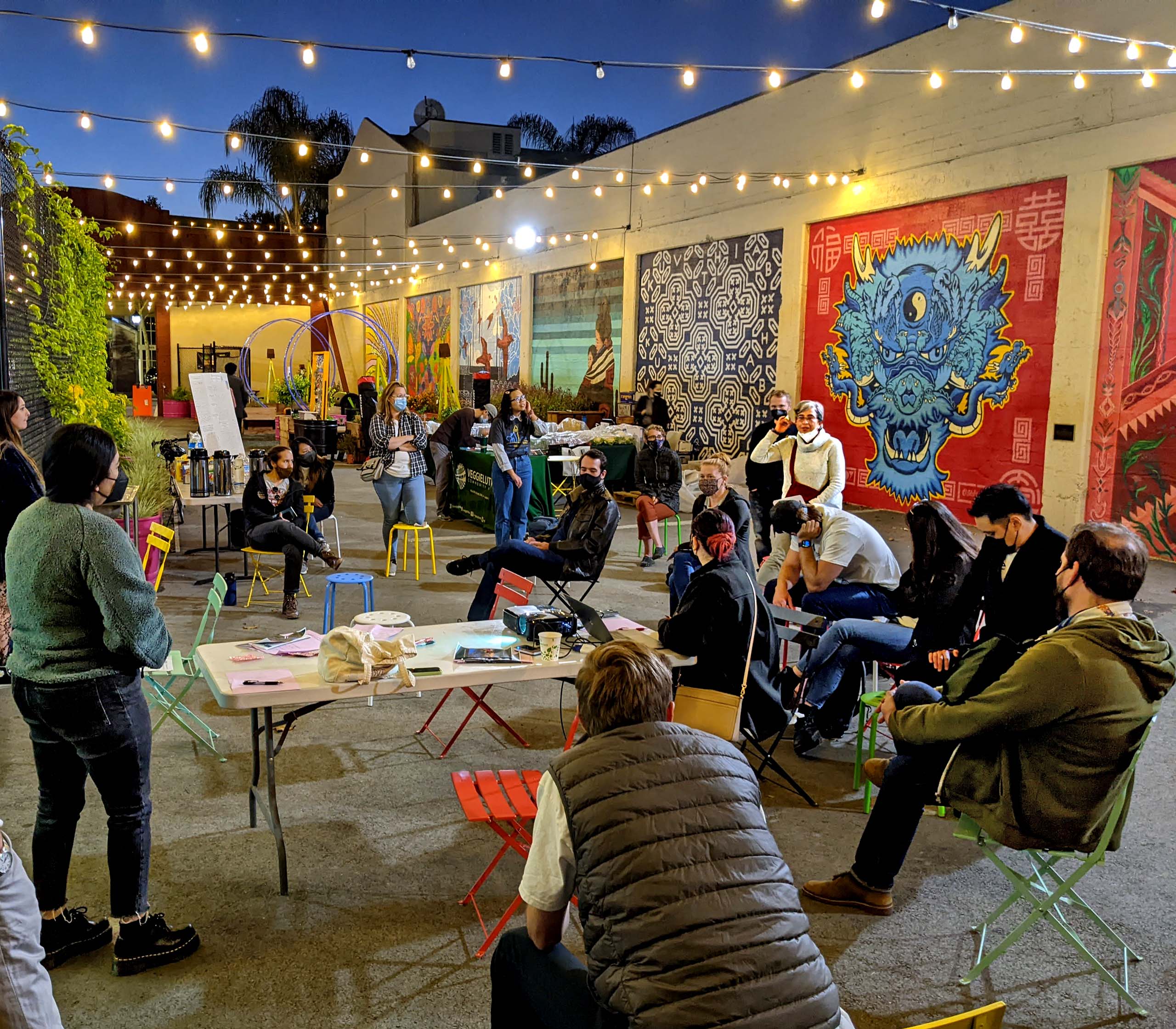 The SJSU graduate student team presents findings to project stakeholders at SoFA Pocket Park on December 1, 2021. Photo: Gordon Douglas, Ph. D.
Solutions
Based on survey results, the graduate students offered several short-term and long-term recommendations to Veggielution.
Short-term recommendations include larger and more prominent signage for the Pocket Park to reduce confusion about open times. Also recommended:
promoting events on social media
creating postable flyers for local businesses and markets
seating and picnic areas for residents, and
more events for families with children.
Long-term recommendations include:
expanding operating hours to align with residents' availability
adding play structures for children (to encourage families to visit regularly and learn more about Veggielution's community-serving programs), and
getting commitments from the San José Downtown Association, area developers, and the City to support and fund the construction of more parks in the area.
What's next
These recommendations reflect needs and desires voiced by neighborhood residents —notions and ideas that might otherwise have remained unknown. The graduate student team hopes that Veggielution will be able to build on connections made and lessons learned during this project, thereby fulfilling the community's visions for the space.
A full report containing project background, methodologies, and survey findings will be available to the public on San José State University's Department of Urban and Regional Planning website by late January 2022. The report's findings, in addition to guiding future programming at the SoFA Pocket Park, could also shape the design of future temporary or permanent parks in rapidly-evolving central San José.
About the authors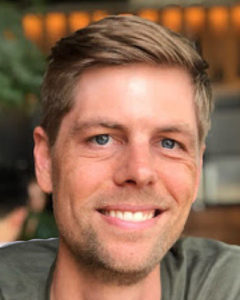 Matt Gustafson was born and raised in the Bay Area. He earned a BA in mathe­matics and art history from Wil­liams College and has years of work experi­ence with nonprofits. Now a community organizer and educator with SOMOS Mayfair in East San José, he hopes to use urban planning and policy as a tool for liberation in marginalized communities.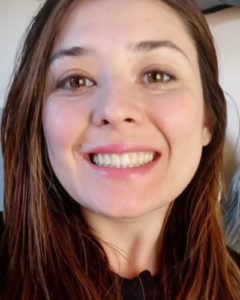 Jean Reynolds was born and raised in San José, California. She re­ceived her BS in en­viron­mental studies with a con­cen­tra­tion in re­new­able energy from San José State Uni­versity. She aspires to utilize technology in urban planning through geographic information systems. Reynolds is passionate about real estate development as a means to drive innovation, prosperity, and community.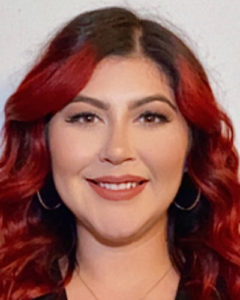 Xiomara Aguirre was born and raised in Vallejo, California. She earned a BS in earth sciences with an emphasis in weather, ocean, and climate from San Francisco State University. She aspires to make a difference in her community. Now an intern with the City of San Jose DOT Emerging Mobility team, she uses her knowledge of earth sciences and urban planning to help promote positive change in equity, innovation, and adaptation.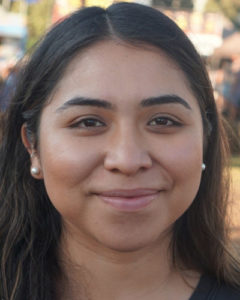 Ana Lopez was born and raised in Hunt­ing­ton Park, a small city just south­east of Los Angeles. She earned a BA in social wel­fare and Spanish lan­guage from UC Berkeley, where she works as a project and program analyst at the Safe Transportation Research and Education Center. She is passionate about improving the public health of communities through a better built environment.