Darin Ranelletti is Policy Director for Housing Security in the Mayor's Office, City of Oakland. He has been with the city since 2002, where he most recently was Deputy Director of Planning in Oakland's Planning and Building Department. Ranelletti holds a bachelor of arts in geography from UCLA and a master of city planning from UC Berkeley. He received Northern Section's 2021 Award of Excellence for Best Practices for his work (along with MTC/ABAG and Urban Planning Partners) on Innovation in Oakland, an initiative to promote cost-efficient forms of innovative housing construction.
What has been the focus of your professional practice?
Housing insecurity has had a devastating impact on Oakland. Three years ago, I joined Mayor Libby Schaaf's office to support her work to promote safe, healthy, and affordable housing in our city.
Give us some context of the challenge.
In the past, Oakland was an affordable place to live. Recently, however, rents and housing prices have skyrocketed. Now, if you can't afford it here, you will likely be displaced, either out of the region or onto the streets. As a result, homelessness has doubled in the last four years.
We are aware of Oakland's place in the greater Bay Area and think about housing from a regional perspective. Decisions made in one community impact others, and those are playing out on Oakland streets. We believe in a multi-pronged approach to addressing the housing crisis called the "3 P's:" produce (units for all incomes), preserve (existing units), and protect (tenants). There must be commitments at the local, regional, state, and federal levels to ensure everyone can afford a home.
If something isn't working, how do you facilitate change?
City governments are risk-averse because of their responsibility as stewards of public money. Compare that with the private sector where many new ventures will fail but some are successful. We need to be more willing to take risks in the public sector.
When we were working on Oakland's cabin communities (tiny homes) for residents experiencing homelessness, I recall the Mayor turning to staff and saying that it is OK if it fails but we must try. If we fail, we will learn and improve.
It takes leadership to try new things when people fear change. Leaders can come from any level. Even an entry-level planner can provide leadership, which is the courage to try something new. Whether as staff or political leaders, we must foster a culture of creativity and show that there is a supportive environment to do that.
Are there success stories about overcoming risk aversion?
Mayor Schaff believes in creating pilot initiatives with money from philanthropy or private sector and scaling up effective programs with government funding.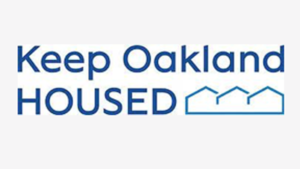 In 2018, we launched "Keep Oakland Housed" with private funding that provided case management, legal representation, and emergency financial assistance for people at risk of homelessness. The program helped some 5,700 families to remain housed (not be displaced). We were then able to expand the program by adding state and federal resources to build on a concept that had proven results.
What can planners do to prevent burnout?
A sense of purpose motivates my colleagues and me. Our work is meaningful. I have a really hard job, but I love my work. Bureaucracy is challenging. Acknowledging that we don't have all the tools we need is really tough. But the work is extremely rewarding.
People in an organization are more productive if they feel supported and are part of a team that is really contributing to a positive outcome. Employees must be recognized and heard, and they want to see their ideas incorporated. The culture of the Oakland Planning and Building Department is highly collaborative. That fosters a sense of shared commitment and community.
How can planners navigate politics?
Don't act politically, but think politically. Planners sometimes see politics as a dynamic to be ignored or avoided. Be aware of the political world you work in, so that you can be more effective as an expert advisor.
How do you feel about your shift from traditional planning to working directly with elected officials?
In some ways, it is liberating: I can be a stronger advocate. I can be political in my capacity. Planners are generalists. I reached a point in my career where I wanted to dive deeper into a specialized area, so I made the move to the Mayor's Office to focus on housing. My time as a staff planner has benefited me in this position because I know how the bureaucracy works and that there is more to planning than legislating. It is important to know how things are implemented and the constraints on staff. When we consider initiatives, the politics and bureaucracy must work together. I communicate and meet regularly with planning staff to coordinate our efforts.
What have you recently observed in the planning field?
When I started out in planning, the hot issues were urban design and sustainability. They are still important, but it has been great to see new planners bringing social equity and racial justice to the conversation, and they are comfortable engaging with their communities about these issues. Being able to translate community input into policy is the present and future of the profession and a skill to be honed. Planners with that skill and an orientation to community will be more likely to be effective.
You said you have "a really hard job." What do you do to unwind and relax?
Family is important to me, so I love spending time with my wife and kids. We have two teenagers and we love exploring Bay Area neighborhoods and restaurants together and going to movies. I also enjoy working in our garden.
Interviewer Catarina Kidd, AICP, is senior development manager at FivePoint and a guest writer for Northern News. All interviews are edited.