By Naphtali H. Knox, FAICP, February 18, 2022.
Northern News has received one review copy of Dream Play Build: Hands-On Community Engagement for Enduring Spaces and Places, by James Rojas and John Kamp. (Island Press, 2022. Paperback 6 x 9, 216 pp. ISBN 9781642831498.)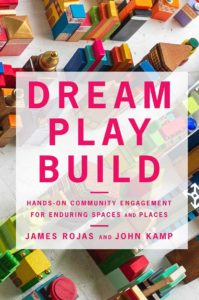 James Rojas is a globe-trotting planner who developed a visualization method to engage the community in the urban planning process. John Kamp is an urban and landscape designer and a licensed landscape contractor. In Dream Play Build, Rojas and Kamp "share their insights into building common ground and inviting active participation" in community planning "among diverse groups. Their approach draws on-site exploration using the senses and interactive model-building" in a "playful method that is remarkably effective at teasing out community dreams and desires."
"While much of [their] process was developed through in-person meetings, the book translates the experience to online engagement."
If you would like me to send you a copy of this book, you need only commit to writing a review for the May 2022 issue of Northern News (deadline April 13). Please contact me, Northern News editor, at knoxnaph@gmail.com, and a copy of the book will be mailed to you. First come, first serve.
Rojas, who lives in Alhambra, California, is an emeritus member of the California Planning Roundtable and a founder and member of the Latino Urban Forum. I first ran across him when he was invited by a group called StreetUtopia to help assist in their campaign to "reimage" San Francisco's Columbus Avenue. (Rojas and SFUFF's Fay Darmawi wrote an article about that effort. It led the November 2013 Northern News.)
You may also be interested in an article Rojas wrote for the December 2018-January 2019 issue of Northern News, "To understand urban planning, CivicSpark Fellows build childhood memories."