By Naphtali H. Knox, FAICP, editor
Northern News has received one review copy of Cities for Life: How Communities Can Recover from Trauma and Rebuild for Health, by Jason Corburn (Island Press, 2021) Paperback, 234 pp. plus notes. ISBN 1642831727.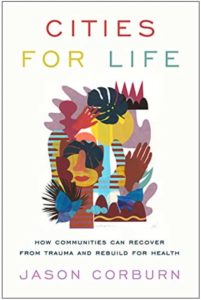 In a work "dedicated to all the community activists struggling to be heard, to heal, and to hold power accountable," public health expert Jason Corburn shares lessons from Richmond, California; Medellín, Colombia; and Nairobi, Kenya. Corburn draws from his work with citizens, activists, and decision-makers in these cities over a 10-year period, as individuals and communities worked to heal from trauma — from gun violence, housing and food insecurity, and poverty."
"This book didn't spring from a neatly organized research project," says Corburn. "I partnered with organizations in these cities to support their own ideas and initiatives for healthy change. I learned by doing, in hours of contentious public meetings, community workshops, and field visits observing and participating in projects."
"My research with communities," he continues, "revealed an all too frequent disconnect: residents in poor and BIPOC communities were saying, 'I feel the stress of insecure housing, working two jobs, and unsafe streets,' while planners, public health departments, and health care professionals were saying, 'We have this program to help you get more exercise and improve your diet.' "
Jason Corburn is a professor in the School of Public Health and the Department of City and Regional Planning at UC Berkeley. He directs the Center for Global Healthy Cities at UC Berkeley and the joint master's degree in city planning and public health. Formerly, he was director of the Institute of Urban and Regional Development and co-chair of Global Metropolitan Studies at UC Berkeley.
If you would like to receive our review copy of this book, you need only commit to writing a review for the June 2022 issue of Northern News (deadline May 25). Please contact the Northern News editor at knoxnaph@gmail.com and a copy of the book will be mailed to you. First come, first serve.