By Veronica A. Flores, June 21, 2022
With encouragement from loved ones and the blessing of my supervisor, I embarked on a three-month sabbatical earlier this year through Argentina, Chile, and Peru. My goals were simple: complete a volunteer project, practice Spanish, explore, and eat good food. I was nervous because I had never been away from home for so long, but the challenge made the experience that much more rewarding.
My schedule allowed me to linger in places for longer and travel to cities and towns that tourists usually skip. It also gave me a chance to meet with locals and to get a stronger sense of Santiago, the capital of and largest city in Chile (metro population 7,000,000). I appreciated discovering and returning to my favorite markets or restaurants, eating one of my new favorite appetizers of machas a la parmesana, and people-watching in the plazas, including Plaza de Armas and Plaza Baquedano. I stayed just a few blocks from Cerro Santa Lucia (Santa Lucia Hill) which provides a 360-degree view of the city.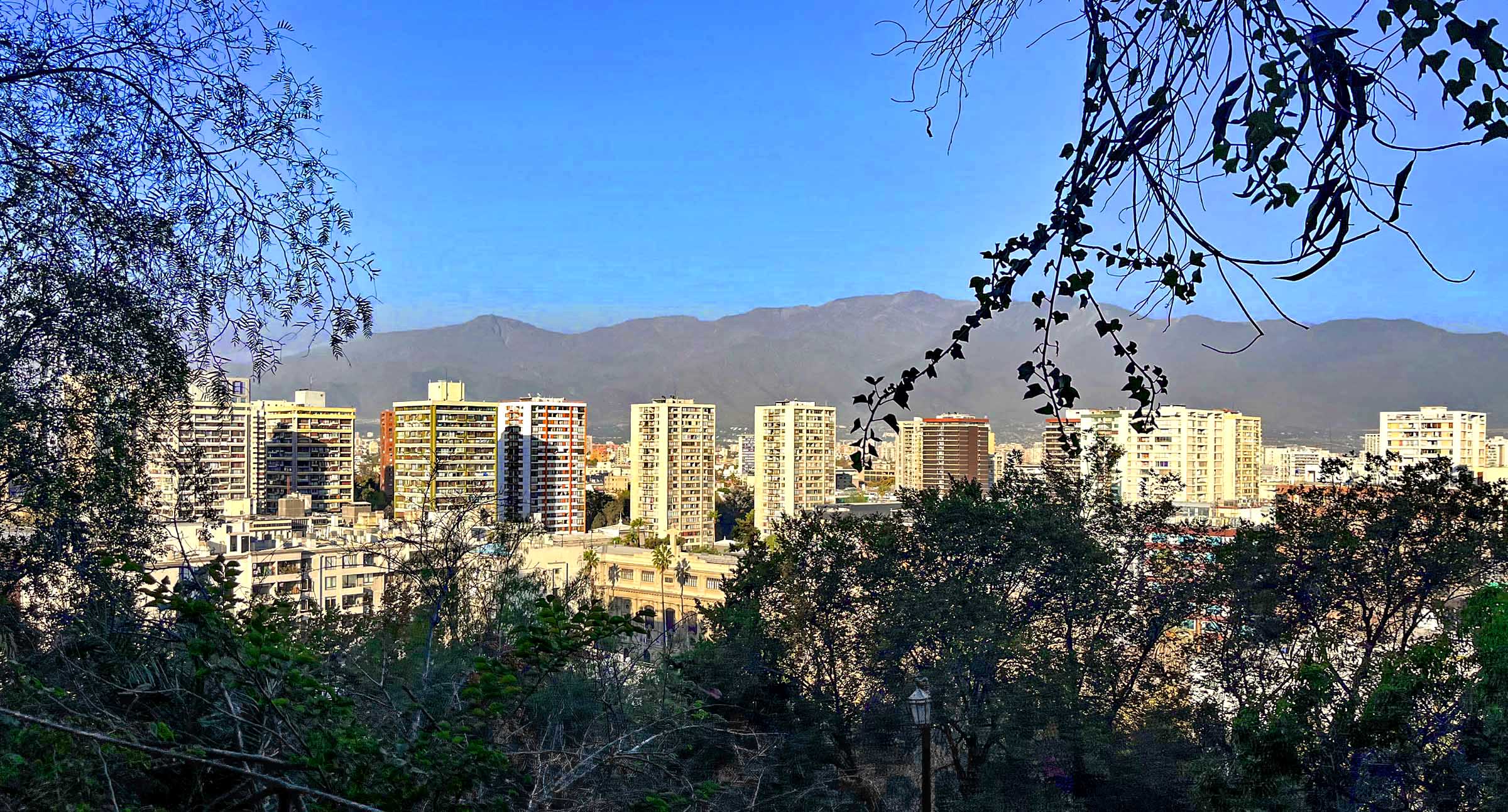 I frequented the parks with a picnic lunch and a book, and enjoyed walking through and sitting in all the different paseos including Paseo Bandera with its nearly four blocks of rainbow-colored pavement swirls (image later).
Looking back at my varied experiences, one standout was meeting with local professionals: Northern Section's International Planning Directors, Hing Wong, FAICP, and Alex Hinds, provided me with an email introduction to David Silva and Roberto Moris, two members of PLANRED.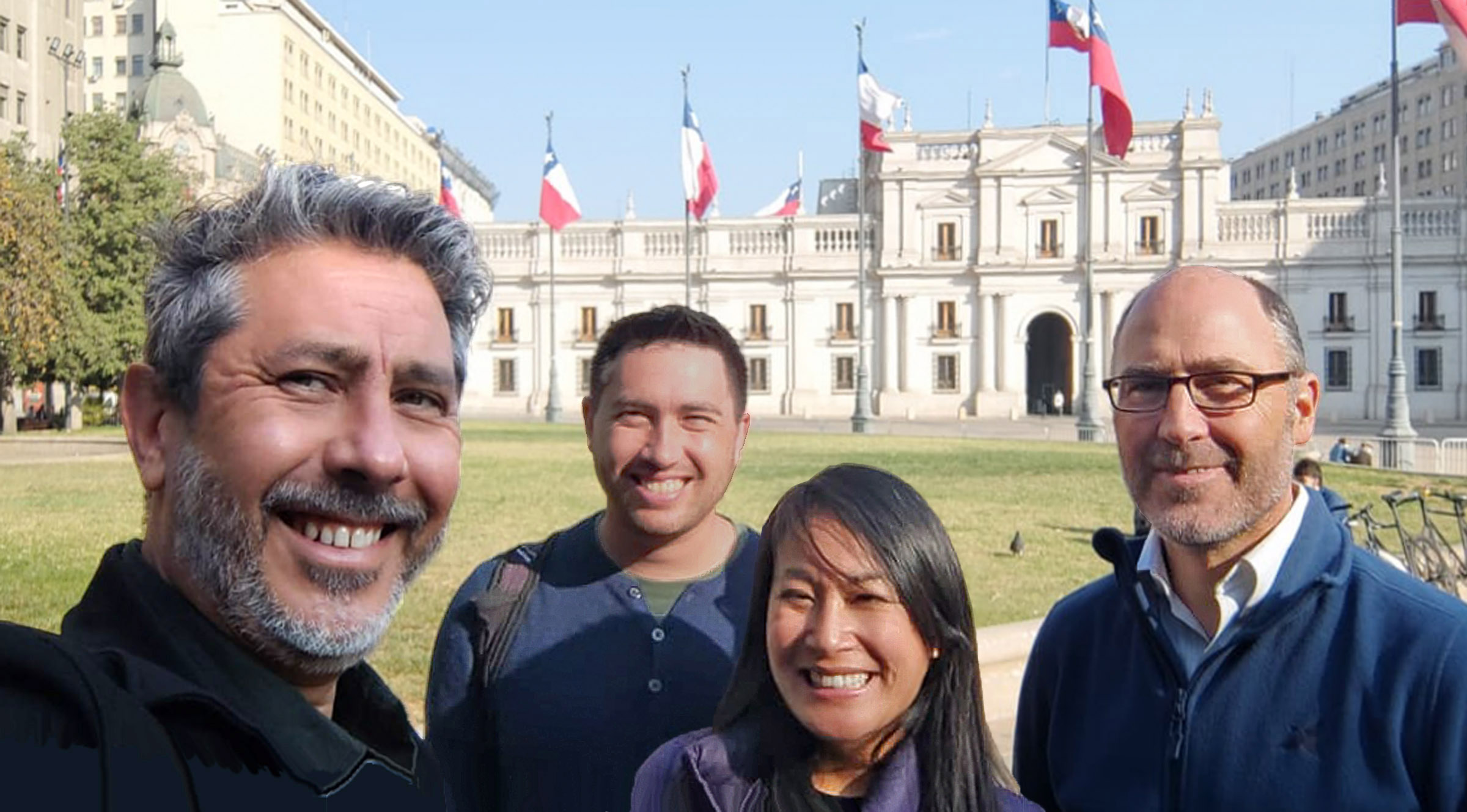 PLANRED stands for "Red de Planificadores de Chile," or "Planners Network of Chile." It is the APA equivalent in Santiago. Wong, Hinds, Silva, and Moris previously collaborated on a virtual series, "COVID-19 Conversations," which discussed how different countries were responding to the COVID-19 pandemic. Silva and Moris first met while working for the government and they aren't practicing planners. But they have taken leadership roles in PLANRED, which emphasizes the relationship between planning and other fields.
After I shared that I was interested in learning about the "real" Santiago and eating local dishes, what started as a lunch turned into an impromptu walking tour. We started in the Lastarria neighborhood, known for its restaurants and lively nightlife. It was very walkable, with a mix of restaurants, shops, hotels, some residential buildings, and the Museo de Visual Artes.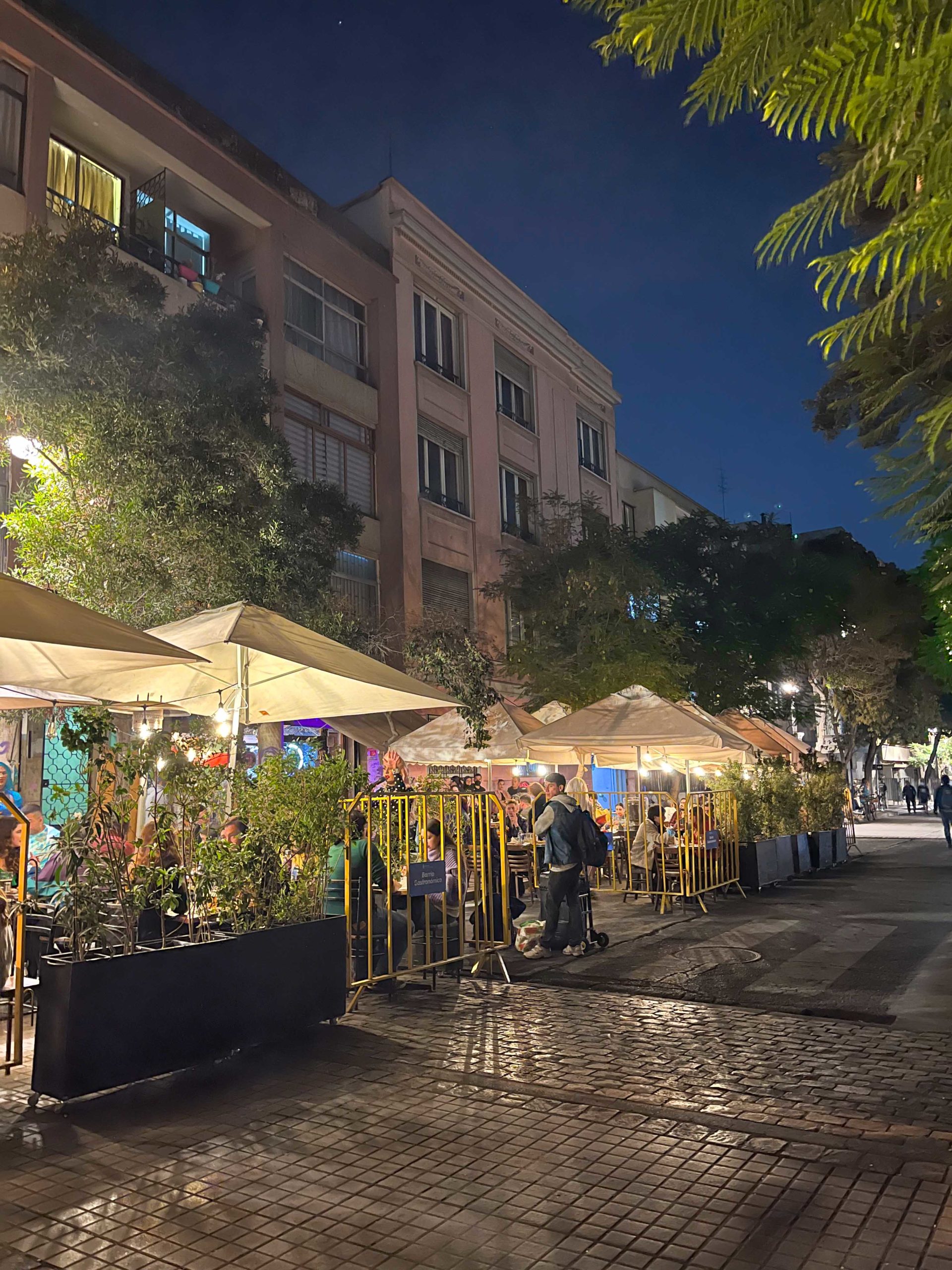 The northernmost end of the neighborhood's main street, Jose Victorino Lastarria, ends in a mini-alley closed to cars. Different vendors line the alley 24/7. A 10-minute walk got us across the Mapocho River to Mercado Tirso de Molina, a local market and food hall, which we reached via a shortcut through the busy, very crowded, and tourist-oriented La Vega Central just across the street.
During our walk, I noticed a change in the type of architecture and the height of the buildings we passed. David and Roberto pointed out a building that was modeled after a ship, with "port windows." At Mercado Tirso de Molina, I learned there is no "must-try" Chilean dish. David and Roberto explained that traditional Chilean food is really just Peruvian food, and we all ordered ceviche. (I was in both Chile and Peru during this trip, and I enjoyed the ceviche in Chile much more than in Peru.)
After lunch, we made our way towards the historic city center. We passed a number of interior malls — I presumed the indoor shops provided an escape from extreme heat or weather. But the Mapocho River looked about as dry as some California reservoirs, so the shops could not have been a refuge from rain. It turns out that these galerías were formerly aqueducts. Walking around, I saw that various buildings were connected by a number of canals-turned-malls. I later used some of these galerías as sheltered shortcuts.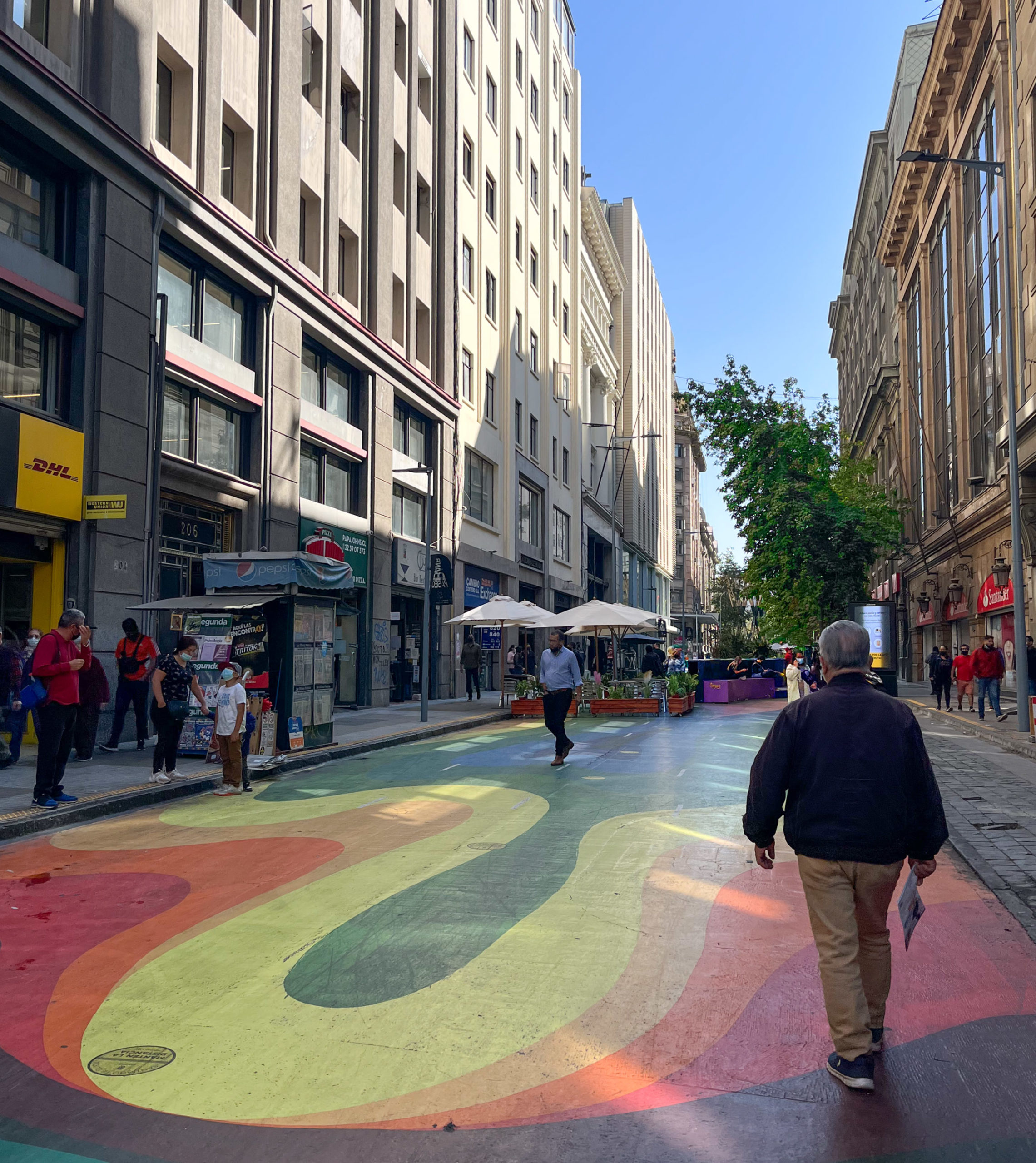 We walked along the rainbow-colored path of Paseo Bandera, where I learned that the beautiful pavement was never meant to be permanent. It seems Bandera Street, located near the main plaza and the city government palace, was closed to traffic while the Santiago Metro was under construction. During that time, the four-block stretch was converted into a temporary pedestrian promenade. As construction neared completion, locals, including the mayor, realized they enjoyed the pedestrian promenade too much to allow it to revert to a busy street. Eventually, enough support was gathered, along with funding, to make this a permanent installation (video 2:19) with a grand opening in 2018. I had walked along the colorful street before, not knowing it was the result of community effort.
Another interesting tidbit I learned from David and Roberto: Santiago comprises a number of municipalities, and each municipality has its own mayor and makes its own rules. This came up as we were walking northbound along La Paz, a main thoroughfare straddling the Independencia and Recoleta municipalities. I saw a lot of potential for street improvements along this main thoroughfare, but the mayors of the two municipalities could not agree on what to do.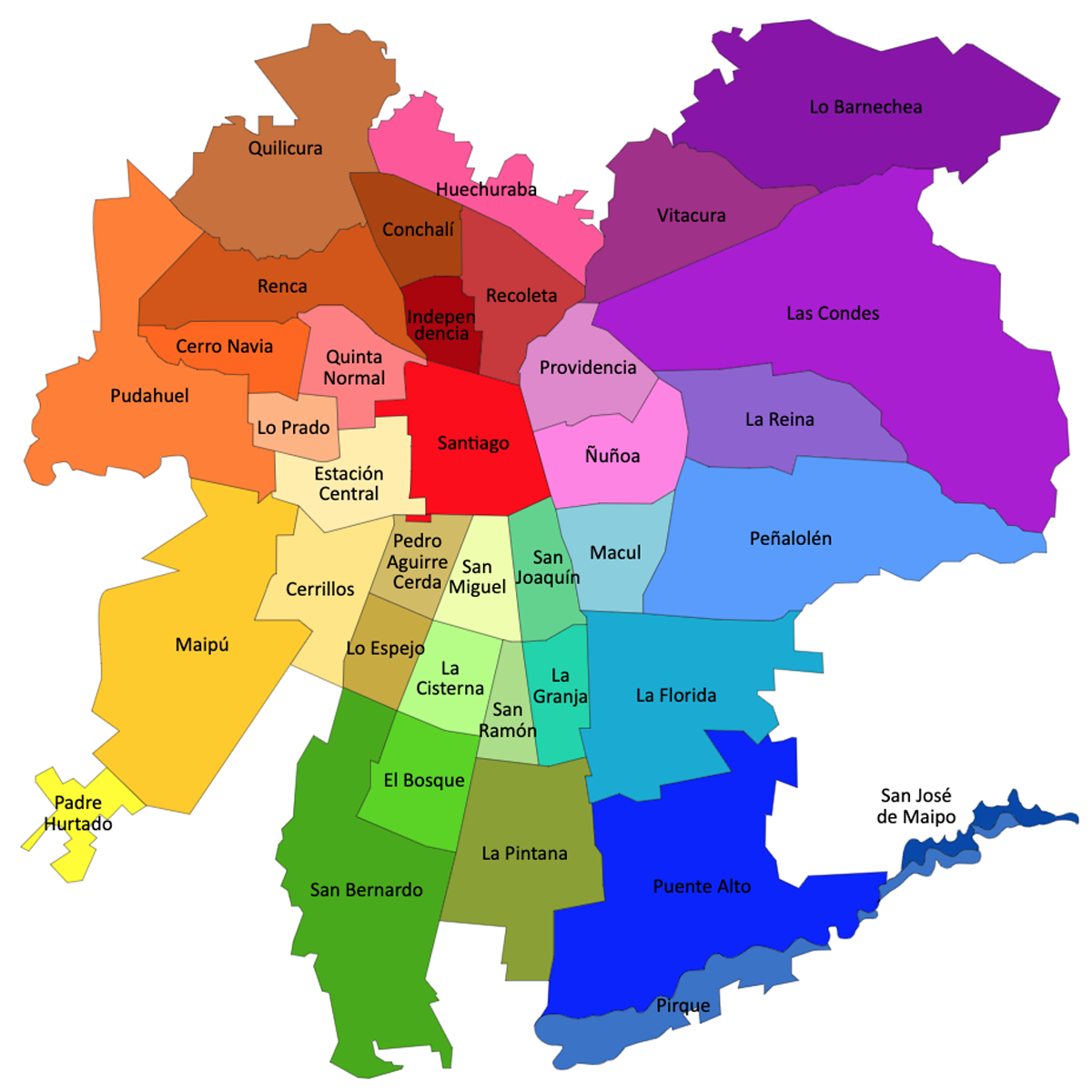 We had gone only a few blocks from the bustling business neighborhood of Bandera Street, but I could see and feel the change as we walked towards the Recoleta and around La Vega Central. Recoleta was very colorful and vibrant, despite a number of what appeared to be abandoned buildings. I saw real potential and was surprised that past rehabilitation efforts did not pan out. That emphasized for me how the existence of so many different municipalities within Santiago made it hard to realize some building developments and street improvements, especially where projects straddle municipal boundaries.
Our walking tour concluded near Plaza de Armas, Santiago's main central square. Before parting, David and Roberto showed the path of our walking tour on one of the brass maps embedded in the plaza pavement.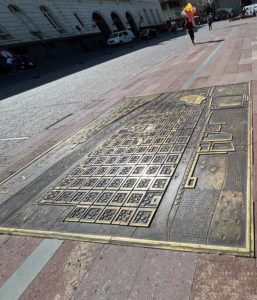 I had joined a handful of walking tours during my sabbatical, but this one with David and Roberto was my favorite. Both graciously shared their time and knowledge and encouraged me to ask about what I was seeing. I'm so thankful I was able to meet with these local professionals, and even more grateful for the opportunity to go on this sabbatical. While I enjoyed some tourist sites, an experience like this made my trip memorable.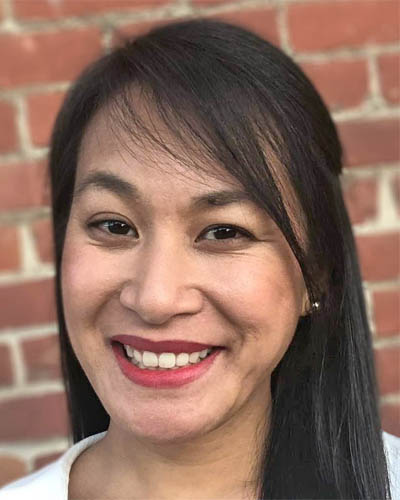 Veronica Flores is a senior planner in the Legislative Affairs Section, San Francisco Planning Department, and the elected administrative director of Northern Section, where she has served on the board in various capacities since 2016. She holds a master of urban planning from San Jose State University and a B.A. in sociology from UC Berkeley.