Republished with permission from author.
By Sarah Bernstein Jones, February 5, 2023
Editorial Team Note:
Northern News looks forward to providing in-depth coverage of local agencies' responses to adoption and certification of 6th Cycle Housing Elements. Our goal is to bring together diverse perspectives on this topic from planners across the section. Comments delivered to the Marin County Board of Supervisors by Sarah Bernstein Jones, Acting Director of the County's Community Development Agency, speak to the challenges felt by our section's urban and rural communities. You can read more about Jones' career in this issue's
Meet a Local Planner
article.
---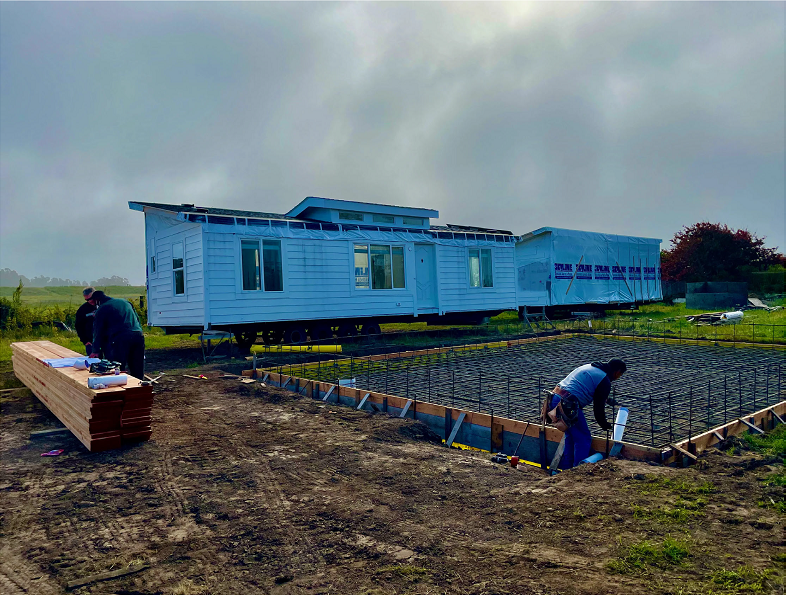 I once received a comment letter that's always stayed with me. It was about a housing rehabilitation project not in Marin (note: it was one of the HOPE SF public housing rebuild projects) and it was from a resident. The letter was submitted on flowered stationery, written with a shaky hand. The author said "I don't agree with everything about this process or this project, but people are struggling and we need change." It's stayed with me in part because of the courage and compassion it expresses and in part because it applies to so many efforts, with our Housing Element very much among them.
First, the process and project. This has been a complicated project with a lot of parameters that we didn't define and didn't choose how to follow. Many people would prefer to see something different about the Regional Housing Needs Allocation — I think "RHNA" has joined "CEQA" as a planning acronym that many people love to hate — or aren't fully aligned with how our proposed Housing Element approaches one issue or another. But as your Board noted in your remarks at the first meeting of the year on January 10, grappling with housing for Marin's workforce is one of the most important things we need to do. So while there might be disagreement with the State's direction on the specifics, our collective work on the Housing Element has come from a place of shared goals.
Many people here in Marin ARE struggling with our housing situations. There are people commuting hours to their jobs, multiple families living together in apartments and houses meant for just one family, people living with anxiety about losing their home and not being able to find another, businesses that can't operate because of labor shortages, parents who can't find childcare and schools that can't find teachers.
And so, as a county committed to meeting the needs of all residents and members of our communities, we need change. And change is never very comfortable or easy. In the case of the Housing Element, we've needed to find ways to accommodate close to 4,000 more homes in a county where almost every site has environmental constraints, infrastructure constraints, or both, and on top of that very high land costs. We in CDA are also looking at changes in our practices, to allow us to fulfill all our responsibilities, around housing and to existing communities. We wish we could bring you a Housing Element free of tradeoffs, made up of sites that could easily accommodate development, but that's not available to us. And yet, we need to consider these tradeoffs, because one path to success when it comes to housing…is getting more housing.
Marin has a great legacy of taking steps to shape this county in ways that reflect the value of our physical environment, and the respect for the topography and natural features that define it. Our Countywide Plan provides a strong framework of growing communities that fit the resources around them, whether it's the concentrated development of the highly accessible city-centered corridor or the small communities so enmeshed in the agriculture and natural resources of West Marin's rural inland and coastal corridors. The Community Plans set out compelling visions for unincorporated neighborhoods, and address ways to approach decisions about the many ingredients that contribute to physical places. But the Countywide Plan, to date, hasn't given us a way to support our housing needs. The good news is, we can change that, without changing the longstanding core values and approaches of planning in Marin. As you will hear from our team, we are bringing to you a path to meeting our housing needs that we feel preserves our fundamental approaches to resource preservation, meeting our RHNA through a focus on concentrated development supporting affordability and bringing an efficient ecological footprint.
This is where we get back to the process we're working under, and what we might not like about it. For many months now we've been working to meet the statutory deadline for Housing Element adoption of January 31, 2023. Your Board and CDA have been working to meet that deadline diligently and thoughtfully. Not meeting that deadline puts us at risk legally and in terms of funding, which you'll hear about more, but it also puts at risk the policy structure created over the years and in the proposed efforts before you, and with it the possibility that housing development would proceed in a manner consistent with our policies, goals, and community needs.
Some further thoughts: For over a century, but especially in the post-World War II period, planning has been about creating and perpetuating specific power structures in the built environment. This has had disastrous results for people without access to resources, disproportionately people of color, and for our climate.
With new state laws and new voices of advocacy, planners are getting the tools to start going in different directions. But we're still unlearning and relearning, as are the elected officials and other policymakers. I consider myself very lucky among planners to have a full-time Board of Supervisors and a well-resourced planning team. We had the luxury of giving careful consideration to the task of accommodating a 2,000 percent increase in our RHNA and chipping away at layers upon layers of government constraints, and working closely with our Board through every step of this process. Most jurisdictions don't have a structure that is as suited to handle the challenge of change. So, I know that there's impatience in many cities and counties that haven't gotten this right. We're not going to. This time we're in is about fundamental change. I'm confident that one day we'll get there.