If you follow San Francisco's City Arts & Lectures or think Fresh Air's Terry Gross would be one of the coolest people to hang with, then we want to meet with you! Northern News is expanding its partnership with Island Press books to include author interviews, and the Northern News team is looking for aspiring Northern Section member volunteers to lead interviews with authors Nolan Gray and Bill Fulton.
With support from our editorial team and Island Press Partnership Manager Jen Hawse, you'll be able to work with selected authors to produce a video interview, audio podcast, or written interview to be featured in an upcoming issue of Northern News. You'll get a complimentary copy of the author's recent book, help writing questions and connecting with your author, and support during your interview. Following the interview, our Northern News team will help you transform your interview into your preferred media for publication in Northern News. To learn more about this incredible opportunity, email Northern News editor Andrew Trippel.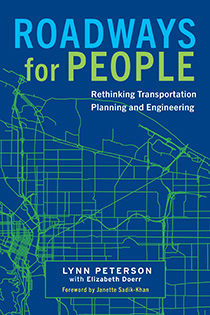 Lynn Peterson is scheduled to be interviewed by Northern Section member Dhawal Kataria, AICP, RSP. Dhawal is the author/interviewer of Northern New's popular Meet a Local Planner series. Look for his interview with Lynn in the May-June 2023 issue of Nothern News.
Roadways for People: Rethinking Transportation Planning and Engineering
Lynn Peterson with Elizabeth Doerr, Forward by Janette Sadik-Kahn
Roadways for People is written to empower professionals and policymakers to create transportation solutions that serve people rather than cars. Peterson draws from her personal experience and interviews with leaders in the field to showcase new possibilities within transportation engineering and planning. As traditional highway expansions are put on pause around the country, professionals and policymakers have an opportunity to move forward with a better approach. Peterson shows them how. Read an excerpt of Roadways for People, published in Planetizen.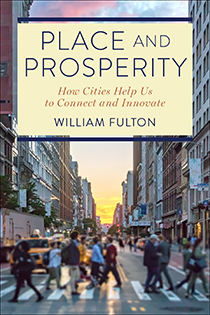 Place and Prosperity: How Cities Help Us to Connect and Innovate
In Place and Prosperity urban planning thought leader Bill Fulton draws from his personal experiences in learning and writing about cities. Fulton primary purpose is to show how these two ideas – place and prosperity – lie at the heart of what a city is and, by extension, what our society is all about. Fulton shows how, over time, a successful place creates enduring economic assets that don't go away and lay the groundwork for prosperity in the future. But for urbanism to succeed, all of us have to participate in making cities great places for everybody. Because cities, imposing though they may be as physical environments, don't work without us. Read an article by William about Place and Prosperity from Common Edge.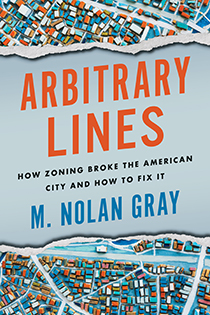 Arbitrary Lines: How Zoning Broke the American City and How to Fix It
In Arbitrary Lines, zoning expert and California YIMBY's Research Director Nolan Gray, argues that the time has come for America to move beyond zoning. Gray shows why zoning abolition is a necessary—if not sufficient—condition for building more affordable, vibrant, equitable, and sustainable cities. Adam Millsap at Forbes says that "Overall, Gray's book is an excellent addition to the literature on housing and land-use regulations." Read an excerpt of Arbitrary Lines, published in Strong Towns.