About the Awards Program
The purpose of the American Planning Association, California Chapter, Northern Section Awards Program is to encourage quality in planning and increase the public's awareness of the planning profession through recognizing outstanding achievement in the planning field. Each year, the Northern Section bestows Planning Awards to honor the most outstanding efforts in planning in the Section. The program honors innovative plans and projects, distinguished APA members, and lay contributors to planning and achievements of the Northern Section. Often, our Section winners ascend to win awards at the State and National levels!
Thank you for your submissions!
Thank you all for submitting your applications! We are working on our reviews and we will update winners as soon as possible.
Awards Gala postponed
Due to the global health pandemic our Awards Gala schedules for June 5th is postponed. We are working on alternative events and dates. Please email us with suggestions.
Stay Healthy. Stay Safe. Stay Home.
Please contact Florentina Craciun at
awards@norcalapa.org
with any additional questions or concerns.
Important Dates:
Application window – February 7- March 13
Jury Selection day – April 17
Notifications – April 17 – May 1
Trophy Order Form – April 17- May 1
You will receive this form upon receipt of award notification.
2019 Awards Gala
On June 7 we honored innovative plans, projects, and distinguished APA members, and met and mingled with Northern Section planners at Starline Social Club in Oakland. Thank you to all of those that came to celebrate our Award Winners this year.
Click through to see our image gallery, courtesy of Michael Axtell (Dreaming Monk Productions).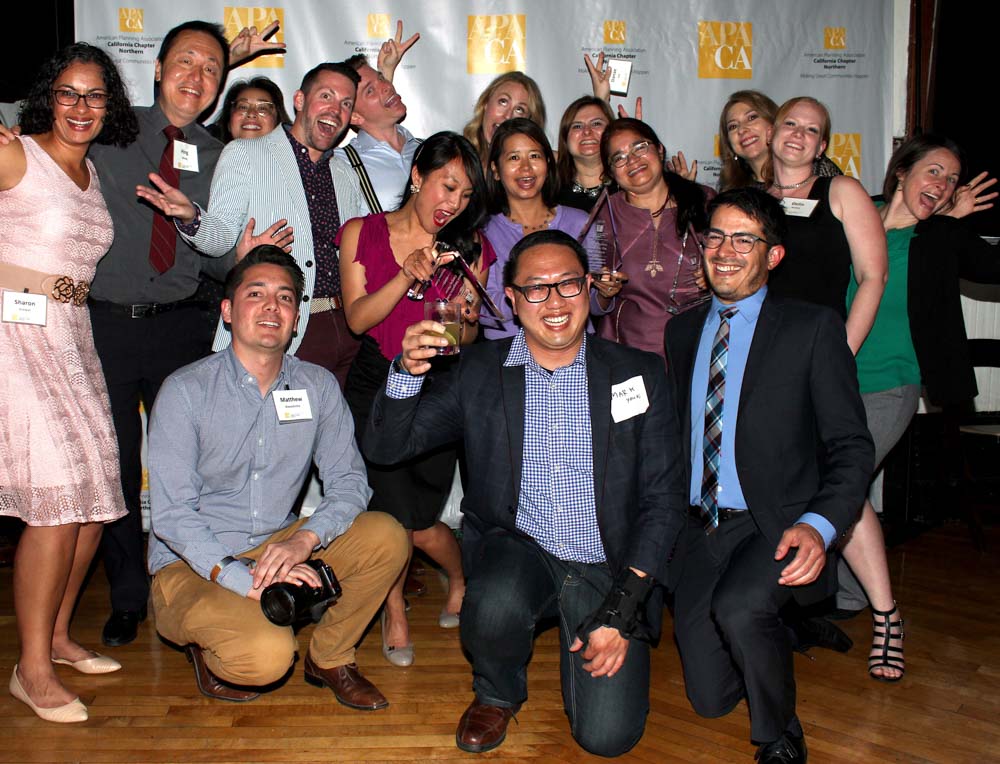 Become a Sponsor
Sponsorship opportunities include Gala Tickets; advertising in the Northern News and email list; and recognition during the Gala.
Awards of Excellence
Advancing Diversity and Social Change in Honor of Paul Davidoff
Best Practices
San Mateo County Second Unit Center — 21 Elements | Home for All | San Mateo County
Comprehensive Plan, Large Jurisdiction
Central SoMa Plan — San Francisco Planning Department
Comprehensive Plan, Small Jurisdiction
Vallco Town Center Specific Plan — City of Cupertino | Opticos Design
Hard Won Victory and Planning Agency
City of Santa Rosa Resilient City Development Measures Ordinance
City of Santa Rosa, Planning Division
Innovation in Green Community Planning
Santa Clara Valley Agricultural Plan — County of Santa Clara | Santa Clara Valley Open Space Authority
Public Outreach
Housing Voices Community Outreach Process — City of Santa Cruz
Transportation Planning
Elimination of Minimum Parking Requirements Citywide — Office of San Francisco Supervisor Jane Kim | San Francisco Planning Department
Urban Design
Pier 70 Project — Brookfield Properties | Port of San Francisco | SITELAB urban studio
Awards of Merit
Best Practices
Albany Residential Design Guidelines — Albany Planning & Zoning Commission | Albany Planning Department
Comprehensive Plan, Small Jurisdiction
Alameda Marina Master Plan — KTGY Architecture + Planning | Alameda Marina Development | Bay West Group
Bayfair TOD Specific Plan — City of San Leandro | Raimi + Associates | VWMP | Strategic Economics | Kittleson & Associates |Rincon Consultants| Wood Rodgers
Economic Planning and Development
Priority Area 1 Specific Plan — City of Brentwood | De Novo Planning Group
Zoning Ordinance Modifications to Support Small Businesses — City of Berkeley
Hard Won Victory
Mill Valley Lumber Yard Adaptive Reuse Project — Matt and Jan Mathews |Christopher Raker | Mark Rhoades | Michael Heacock| David Parisi
Innovation in Green Community Planning
Midpeninsula Regional Open Space District Climate Action Plan —Midpeninsula Regional Open Space District
Santa Clara Agrihood — City of Santa Clara | Core Companies | Steinberg Hart
Public Outreach
Downtown Livermore Facilitation Project — City of Livermore | PlaceWorks
Last Chance Grade Project — Caltrans District 1 | MIG, Inc.
Transportation Planning
Safe Routes to Schools Safety Assessments — City of Fremont | Fremont Unified School District | Alta Planning + Design
Urban Design
Windsor Civic Center Visioning Plan — City of Windsor, WRT
Section-Only Awards
Great Places
San Pedro Square, San José — San José Downtown Association | San José Downtown Property-Based Improvement District | City of San José
Special Recognition Award: Accomplished Planner
Special Recognition Award: Mid-Career Planner
Special Recognition Award: Emerging Planner