APA California Northern Section Awards 2022
The purpose of the American Planning Association, California Chapter, Northern Section Awards Program is to encourage quality in planning and increase the public's awareness of the planning profession through recognizing outstanding achievement in the planning field. Each year, the Northern Section bestows Planning Awards to honor the most outstanding efforts in planning in the Section. The program honors innovative plans and projects, distinguished APA members, and lay contributors to planning and achievements of the Northern Section. Often, our Section winners ascend to win awards at the State and National levels!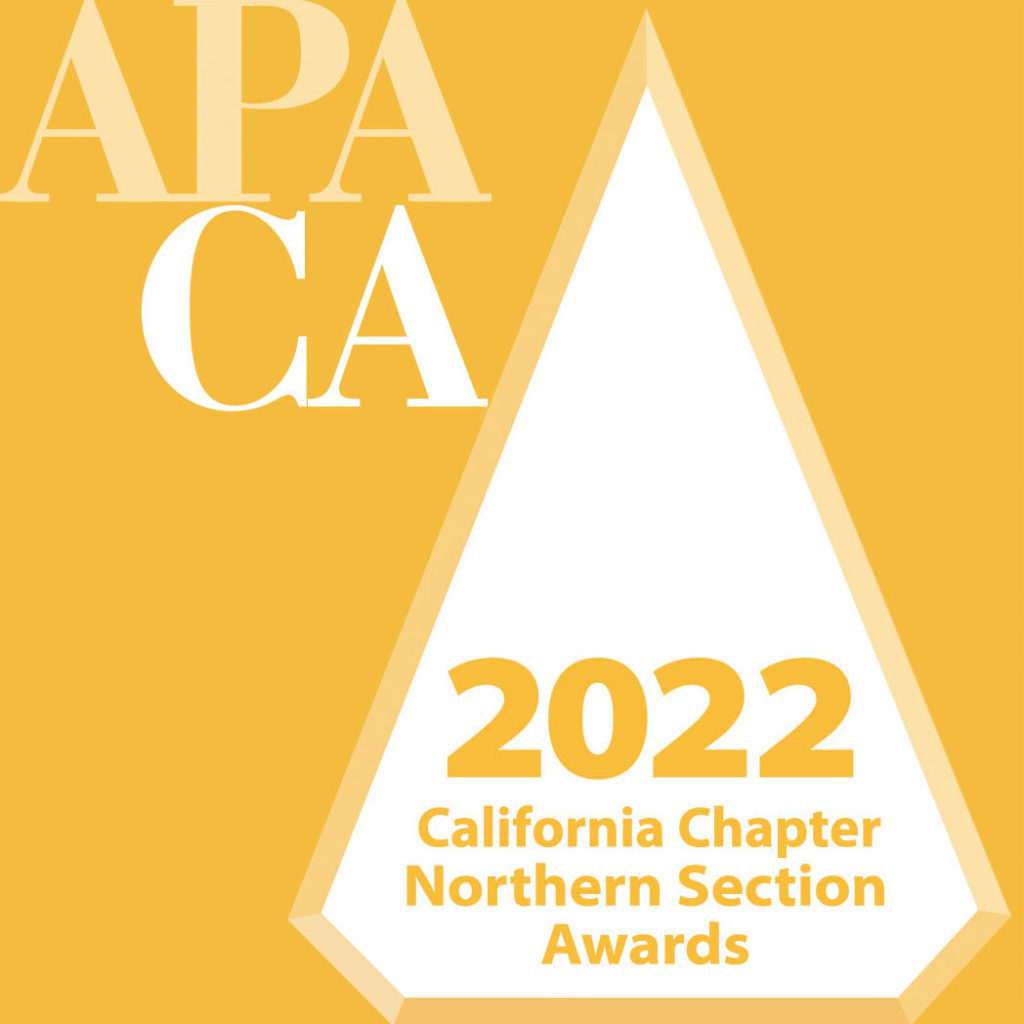 Important dates
Application window – February 22- April 1
Jury Selection day(s) – April 8 & April 9
Winner Notification – April 14
Trophy Order Form – April 14- May 5 (upon receipt of award notification)
Awards Gala – September
The APA Northern Section Awards 2022 Application Window is NOW OPEN.
Award Application Period: February 22nd – April 1
Please submit your applications by 5:00 pm April 1st  via email at awardssubmissions@norcalapa.org
Application Checklist
Complete the online form here
Application – See below for file format and labeling directions

Summary Description of Submission – up to half a page
Award Criteria – (1 to 2 pages);

150-word summary that will be used in our video presentation. Please include the following information in the summary.

Name of project/plan/person nominated
Why the plan/person was nominated
3-4 sentences about how the nomination meets the awards criteria
Electronic version of Submission – See below for file format and labeling directions
Eight (8) high resolution images – these images will be used in our video presentation
File and e-mail format:
Application Format: Include ONE (1) PDF of the three to four-pages with the Award Category and Project name on each page. PDF contents should include:

One page titled 'Summary Description'
1-2 pages titled 'Awards Criteria'
One page titled '150-Word Summary'.
Label PDF in the following format:

1. [Award Category]_Application__[Project Name]__[Applicant].

Include One (1) PDF of the Electronic Submission labeled in the following format.

"2. [Award Category]_Project File__ [Project Name]__[Applicant]".

E-mail Subject Line Format:

[Award Category]_[Project Name]__[Applicant]

You will receive a confirmation e-mail when your application is received. If you do not receive a confirmation within [5] days of submittal, your application was not received.
For any questions please email awards@norcalapa.org
Jury Application Period: February 22nd  – April 1st 
Is your award-winning project not ready for submission this year and you want to serve on our esteemed jury to select the 2022 APA Northern Section Winners? Please email Danae Hall at awards@norcalapa.org with a short statement of interest and your resume by 5pm April 1st. Note that participation at the virtual Jury Deliberation Day(s) is mandatory and will be held on Thursday April 8th and Friday April 9th. Award ceremony attendance is also mandatory; ceremony date is TBD. 
Save the date
Come celebrate the Northern Section Superstars at the APA Northern Section Awards Gala! We hope to celebrate in-person in September, 2022. Date and location TBD.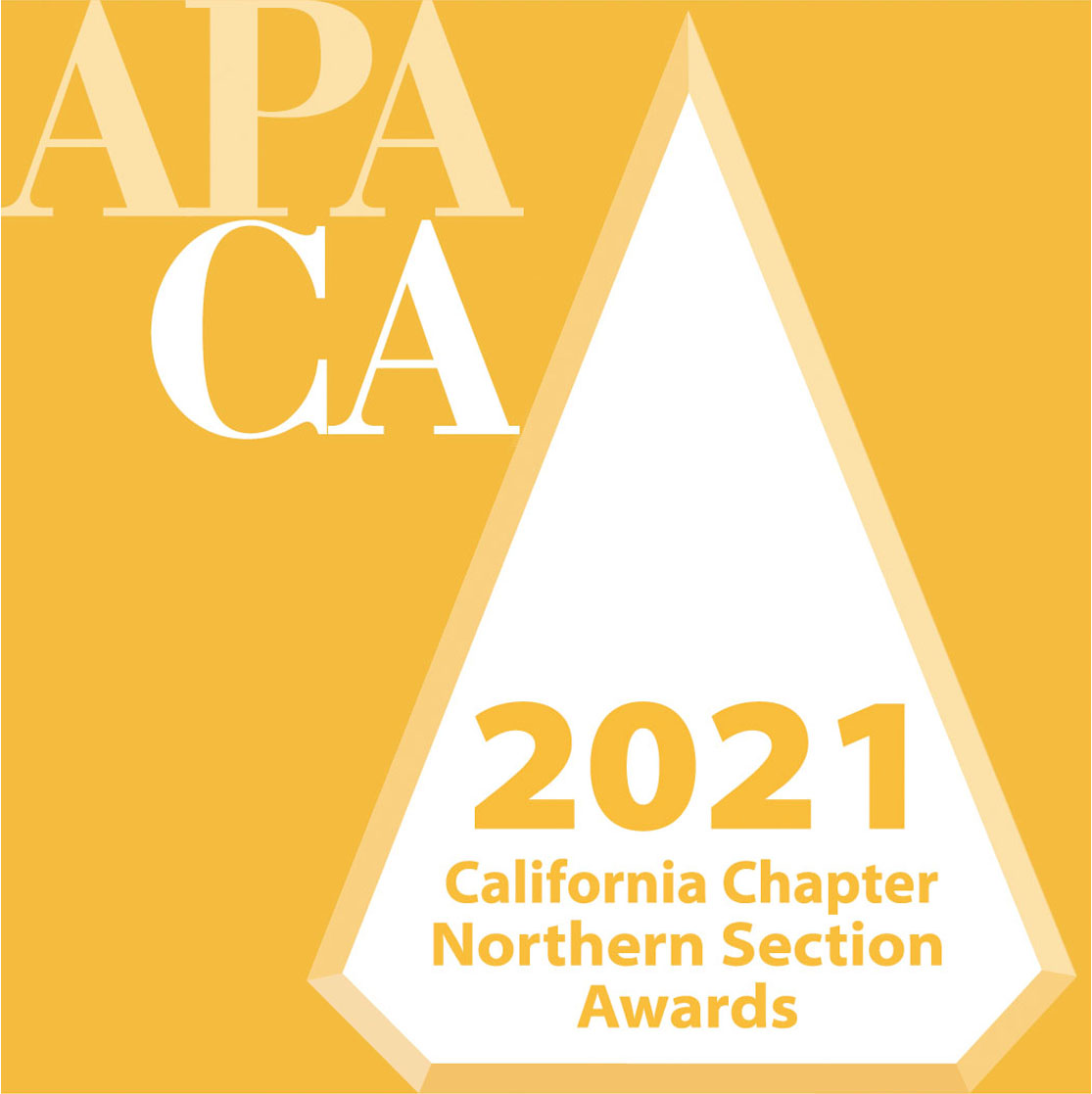 Northern Section 2021 Awards announced
The results are in. Join us in congratulating the best of Northern California planning! The Awards Gala is tentatively planned for November 2021 – stay tuned for event information
Our jurors were:
Ozzy Arce, City of Walnut Creek
Florentina Craciun, City and County of San Francisco
Amalia Cunningham, AICP, Contra Costa County
Eri Suzuki, SiteLab
Aaron Welch, Aaron Welch Planning
And the winners are:
Academic Award
Award of Excellence: Alum Rock Avenue Community Assessment, San Jose State University Master of Urban Planning Program
Team: Graduate Students in the San Jose State University Masters of Urban Planning Program Capstone Studio: Fall 2019 and Spring 2020
Award of Merit: Access Denied? Perceptions of new Mobility Services among Disabled People in San Francisco
Maddy Ruvolo | UCLA Institute of Transportation Studies | UCLA Luskin School of Public Affairs | San Francisco Municipal Transportation Agency | Senior and Disability Action
Best Practices
Award of Excellence: Innovation in Oakland
Team: Darin Ranelletti, City of Oakland | MTC/ABAG, Ada Chan | Urban Planning Partners, Lynette Dias and Meredith Rupp
Award of Merit: What's behind recent transit ridership trends in the Bay Area?
Team: UCLA Institute of Transportation Studies, Research team: Brian D. Taylor, FAICP; Evelyn Blumenberg, Jacob L. Wasserman, Mark Garrett, Andrew Schouten, Hannah King, Julene Paul, and Madeline Ruvolo | Metropolitan Transportation Commission, Supervisory staff: Alix Bockelman and Kenneth Folan
Comprehensive Plan – Large Jurisdiction
Award of Excellence: Tasman East Specific Plan
Team: City of Santa Clara | Ensemble/Rethink Development | Related California | Holland Partner Group | Summerhill Apartment Communities | St. Anton Communities | Greystar Development
Comprehensive Plan – Small Jurisdiction
Award of Merit: City of Gilroy 2040 General Plan and Program Environmental Impact Report
Team: Mintier Harnish: Jim Harnish and Brenton Gibbons, AICP | City of Gilroy: Stan Ketchum, Julie Wyrick, AICP, Cindy McCormick | EMC Planning Group: Teri Wissler Adam | Hexagon Transportation: Jeff Elia | Applied Development Economics: Doug Svensson
Grassroots Initiative
Award of Excellence: Rebuilding Downtown Santa Clara
Team: Reclaiming Our Downtown | Santa Clara Parade of Champion | Old Quad Resident Association
Hard-won Victory
Award of Excellence: Concord Hills Regional Park Land Use Plan
Team: East Bay Regional Park District | PlaceWorks, Inc.
Innovation in Green Community Planning
Award of Excellence: Lower Russian River Trail Feasibility Study
Team: Sonoma County Regional Parks | Alta Planning + Design | W-Trans | Green Valley Consulting Engineers | Miller Pacific Engineering Group | Alta Archaeological Consulting | Peter Baye | Rachel Kamman
Opportunity and Empowerment
Award of Merit: San Martin Strategic Development Plan and Urban Design Visions
Team: 12 Graduate and 38 Undergraduate students in CRP 553 and CRP 341 Spring 2020 San Martin studios, instructors Dr. Hemalata C. Dandekar and Dr. Vicente del Rio, City and Regional Planning, Cal Poly San Luis Obispo | Rob Eastwood, Bharat Singh, Michael Meehan, County of Santa Clara, Planning Department
Planning for Health
Award of Merit: Lillian Commons – Morgan Hill Medical Campus
Team: EMC Planning Group – Michael Groves, AICP, and Elizabeth King, Principal Planner/Designer
Public Outreach
Award of Excellence: La Honda Public Access Working Group
Team: Midpeninsula Regional Open Space District | MIG Inc.
Transportation Planning
Award of Excellence: Redwood City Citywide Transportation Plan (RWCmoves)
Team: City of Redwood City | Fehr & Peers | CDM Smith | Bottomley Design & Planning | Wendy Silvani Consulting
Award of Merit: Richmond Ferry to Bridge to Greenway Complete Streets Plan
Team: City of Richmond | PlaceWorks, Inc. | Toole Design Group | CSW/ST2 Engineering | Bike East Bay
Urban Design
Award of Excellence: Balboa Reservoir Design Standards and Guidelines
Team: PYATOK architecture + urban design | Van Meter Williams Pollack, LLP, Architecture/Urban Design | GLS Landscape/Architecture
Award of Merit: Livermore Downtown Core Revitalization
Team: RRM Design Group | City of Livermore
Become a Sponsor
Sponsorship opportunities include Gala Tickets; advertising in the Northern News and email list; and recognition during the Gala.
Past award winners