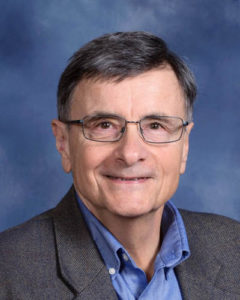 Transportation planning and management expert and scholar Joseph Kott died unexpectedly and suddenly at his home after suffering heart failure February 14. He was 71.
Dr. Kott was well known at public agencies, private consultancies, and universities in Australia and the United States, and especially in California, where he was an instructor and researcher in the University of California Institute of Transportation Studies Technology Transfer Program at Berkeley. He had been scheduled to teach two of their online courses in July and August — "Bus Rapid Transit: Planning, Design, and Operations" and "Transit-Oriented Development: Putting it all Together."
He was a founding principal of the non-profit Transportation Choices for Sustainable Communities in Oakland, and held senior positions as a transportation planner with San Mateo County, Wilbur Smith Associates and Nelson/Nygaard Consulting Associates in San Francisco, and as chief transportation official for the city of Palo Alto.
Dr. Kott also had been a lecturer at Stanford University's Program on Urban Studies — where he was a visiting scholar in 2012–2013 — and at Sonoma State University and the Presidio Graduate School. He was a longtime lecturer at San Jose State University, and was in the midst of teaching two courses, "Introduction to Local Transportation" and "Sustainable Transportation Planning," when the department sent a notice of his death to the school's planning students.
Dr. Kott was a member of the American Institute of Certified Planners (AICP) and held Professional Transportation Planner (PTP) certification from the Transportation Professional Certification Board.
Joseph Kott was born and raised in Michigan and attended Wayne State University in Detroit. There he met his future wife, Katherine Kitto, and earned a bachelor of arts in political science in 1976. Degree in hand and peripatetic, Mr. Kott enrolled in a graduate degree course at the Department of City and Regional Planning, University of North Carolina, Chapel Hill. While studying for his master of city planning (MCP) at UNC, he interned with the Town of Chapel Hill planning department, where he wrote a guidebook on town planning in Chapel Hill.
Mr. Kott's first job after receiving his MCP was as a planner for Orange County in Hillsborough, NC. After a year, he went to work in systems planning for the North Carolina Department of Transportation in Raleigh.
In 1984, Mr. Kott moved to Springfield, Illinois. He worked for three years with the Illinois Commerce Commission in the Transportation Division, and in 1986 became the planning coordinator for Southern Illinois University School of Medicine.
In 1988, Mr. Kott and his family moved to Maine, where he was a planning consultant in urban/regional planning, economics, and transportation in Auburn, and an adjunct professor at the University of Southern Maine, in Portland, teaching graduate courses in both community transportation planning and community planning until 1997. From 1992–1998, Mr. Kott was the transportation planning and programs manager for the Greater Portland Council of Governments.
In 1998, Mr. Kott moved to California to be the transportation coordinator for Marin County in San Rafael. But the next year, he was recruited by Palo Alto to be that city's chief transportation official, a position he held for nearly seven years. Palo Alto city council member Yoriko Kishimoto said of Kott's departure in 2005, "We're all devastated by his leaving," saying Kott was an "out of the box" thinker and "willing to stick his neck out."
While working in California, Mr. Kott was pursuing advanced degrees through universities in Australia. He received a Master of Transport (Planning) in 2002 and a Master of Traffic (Engineering) in 2004, both from Monash University, Melbourne, Australia. He was awarded a Doctor of Philosophy in January 2012 from Curtin University, Perth, Western Australia.
After leaving Palo Alto, Mr. Kott worked for the transportation firm Nelson/Nygaard in San Francisco, which he called "an excellent cultural fit for me." In 2007, he moved to the San Francisco office of Wilbur Smith Associates (now CDM Smith), and in 2008 to Redwood City, California, to become the transportation projects and programs manager for the San Mateo City and County Association of Governments (C/CAG), a job he held until 2012.
In August 2011, Mr. Kott started two ventures: Kott Planning Consultants, and the non-profit Transportation Choices for Sustainable Communities Research and Policy Institute, both in Oakland, California. Dr. Kott was the managing principal and vice president at Transportation Choices, an organization that researches sustainable urban and regional transportation planning and policy. Dr. Richard Lee, a principal at Transportation Choices, saw "Joe as a socially-minded entrepreneur of the first order," who brought "high standards and deep values to all of his work." He was "the rare individual who had risen to the top of his profession, and then used that vantage point to chart and pursue new directions for himself and his profession," wrote Dr. Lee.
Dr. Kott is survived by his wife of 45 years, Katherine, son Paul T. Kott, and daughter Amy E. (Kott) Rands. His son Andrew predeceased him in 2007.
Paul Kott wrote that his father "was the kindest man I've ever known. He was also the most intelligent, thoughtful person I've ever met. His love was powerful, and that love was reflected in his values and actions. He made the world a better place, both professionally and personally, fighting for more livable cities and battling climate change and greenhouse gas emissions. He was truly interested in the lives and interests of others."