By Adele Peters, Fast Company, May 14, 2019
"On an overgrown vacant lot in the small city of Clarkston, Georgia, a short drive from Atlanta, a new community of eight tiny homes will sit on a half acre that once held one single-family house. 'There's very little available land to build new housing,' says Ted Terry, the city's mayor, explaining that Clarkston was originally a farming town filled with apartment complexes as Atlanta sprawled closer over time.
"The city plans to rewrite zoning to allow for taller apartment complexes downtown. But it also began working with MicroLife Institute, the Atlanta-based nonprofit developing the project. The nonprofit promotes small-space living in walkable neighborhoods and worked to help the city change its zoning code to make a tiny home community possible. After passing the ordinance in 2017, the city approved the plans for the development this month. The homes will go up for presale this summer, and the neighborhood should be completed by the end of the year.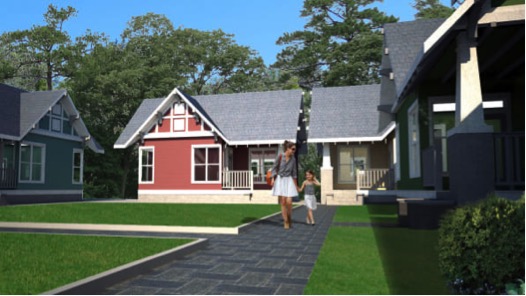 "The houses range from around 250 to 500 square feet. Clarkston, which has a large refugee population, is more affordable than some nearby communities, but most houses in the city are still much more expensive than the new tiny homes.
"Tiny houses [are not] just for a certain demographic. 'Our research has shown that we have everyone from 18 to 85 interested. Every race, every income class,' said Will Johnston, executive director of the MicroLife Institute.
"The community follows the 'pocket neighborhood' model popularized by architect Ross Chapin in communities in the Pacific Northwest and will be the first of its kind in Georgia. Each house faces a central shared courtyard with a fire pit and room to garden. The homes have front porches, and a community garden will be split in front of different homes. All but one of the houses also have private yards in back."