Livermore's new "living room" and pedestrian-amenity plaza attracts community residents and visitors to Downtown area.
By Kimmy Chen, Associate Principal – Gates + Associates, December 19, 2022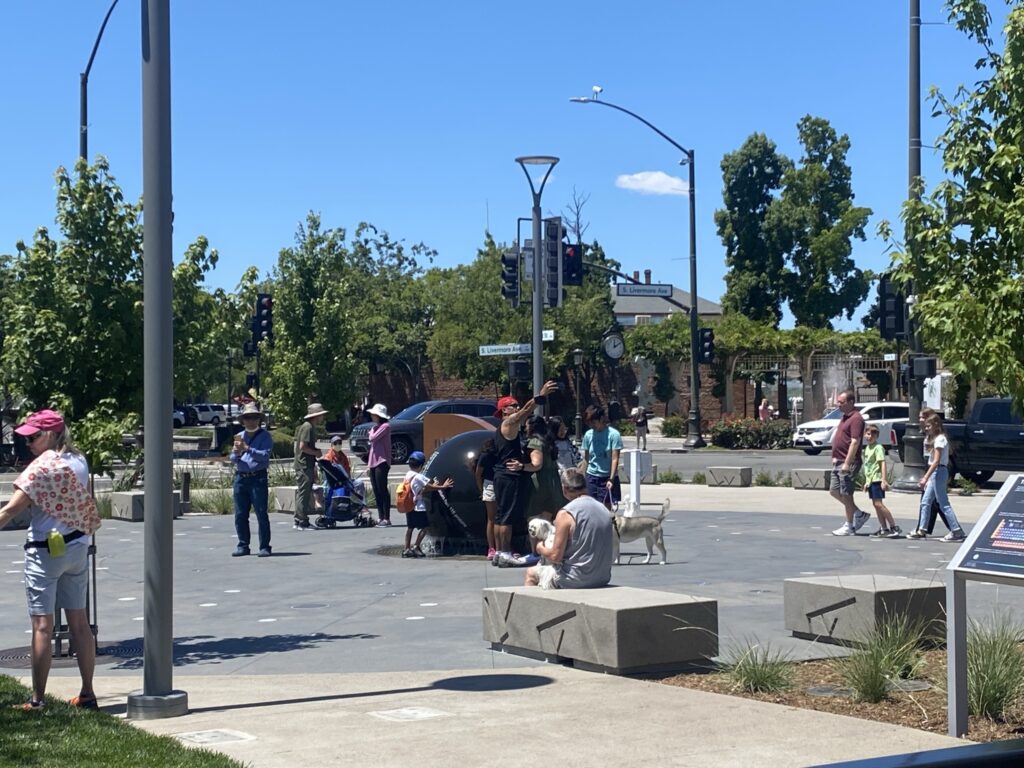 The City of Livermore, east of San Francisco, has a new living room. Actually, it's an outdoor living room called Livermorium Plaza that offers insights into how U.S. cities are re-doing their downtowns to give more of what people yearned for – or rather, swarmed to — during the COVID pandemic's lockdowns and work-from-home experiences.
The City of Livermore, just east of San Francisco, recently redesigned and rededicated a one-quarter acre urban space that celebrates the atomic element, Livermorium, which is named for the town's most famous employer, Lawrence Livermore National Labs (LLNL). Once a dark and closed-in park and, before that, the site of one of the City's historic hotels, the reborn Livermorium Plaza now sports welcoming features and comfortable spaces that draw residents, workers, and visitors to enjoy lunches, meet friends, or relax.
Design firm Gates + Associates worked with the City and the community to develop a memorable and comfortable design that complements the main pedestrian area in the City's downtown. LLNL partnered on the project, helping create engaging and educational features about the Livermorium element. The result is Livermorium Plaza, a welcoming gathering place and an outdoor room that draws people in and enhances the walkable downtown experience that's reinvigorating Livermore.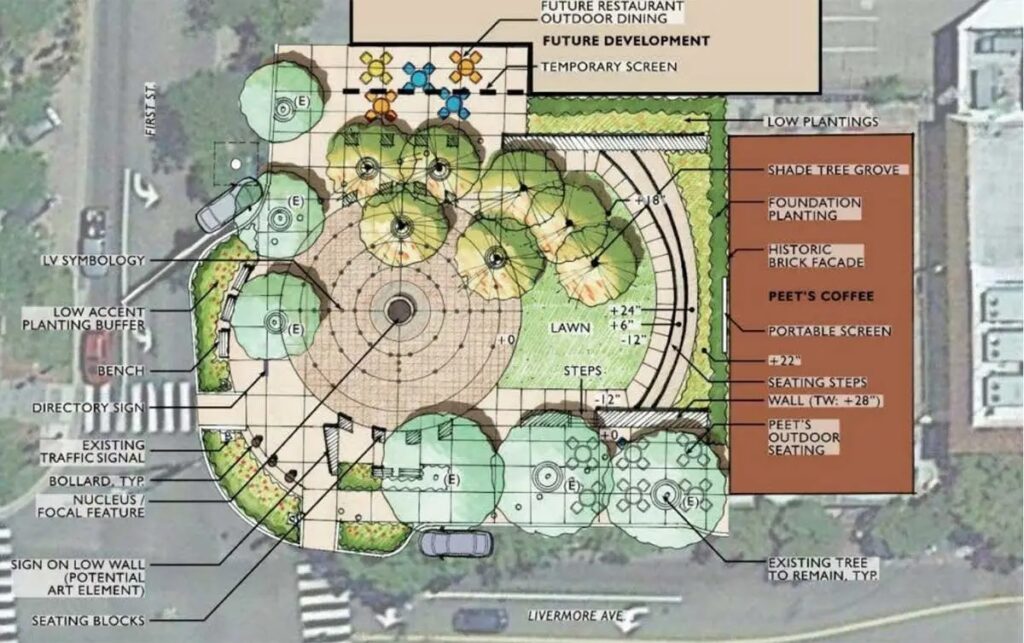 A visual anchor to the project site is an 11,000 lb. solid granite rotating water sphere, shaped like the nucleus of the atom that becomes an iconic sculpture at the park's center. The softly bubbling fountain orb activates the space and engages young and old alike. Educational images and text are woven into the plaza's design, from the fountain to the paving, integrating the form of the Livermorium atom as an interactive feature of the space.
The park also features seating and activation nodes at each corner, shade trees throughout, and sidewalk improvements. Creative lighting and unobtrusive cameras ensure user safety and comfort at all hours.
An additive feature is that the park will be a community 'movie house' when the City initiates its plans for all-ages favorite films. In addition, an adjacent historic structure, whose large wall was initially considered a detriment, will include a movie screen and landscape elements to enhance the park experience.
Other team members bringing the City of Livermore project to reality include contractor Robert Bothman Construction, civil engineer BKF Engineers, lighting and technology design by Interface Engineering, structural by SGH Engineering, and geotech by BSK Associates.
"The past two years under COVID have changed life in many ways and helped many people rediscover the parks and greenspace near their home or work," said David Gates, the semi-retired founder of the eponymous firm who also worked on the plaza. "We're seeing more and more towns like Livermore re-invest in their parks and pedestrian spaces to optimize scarce land resources and create more livable, enjoyable communities."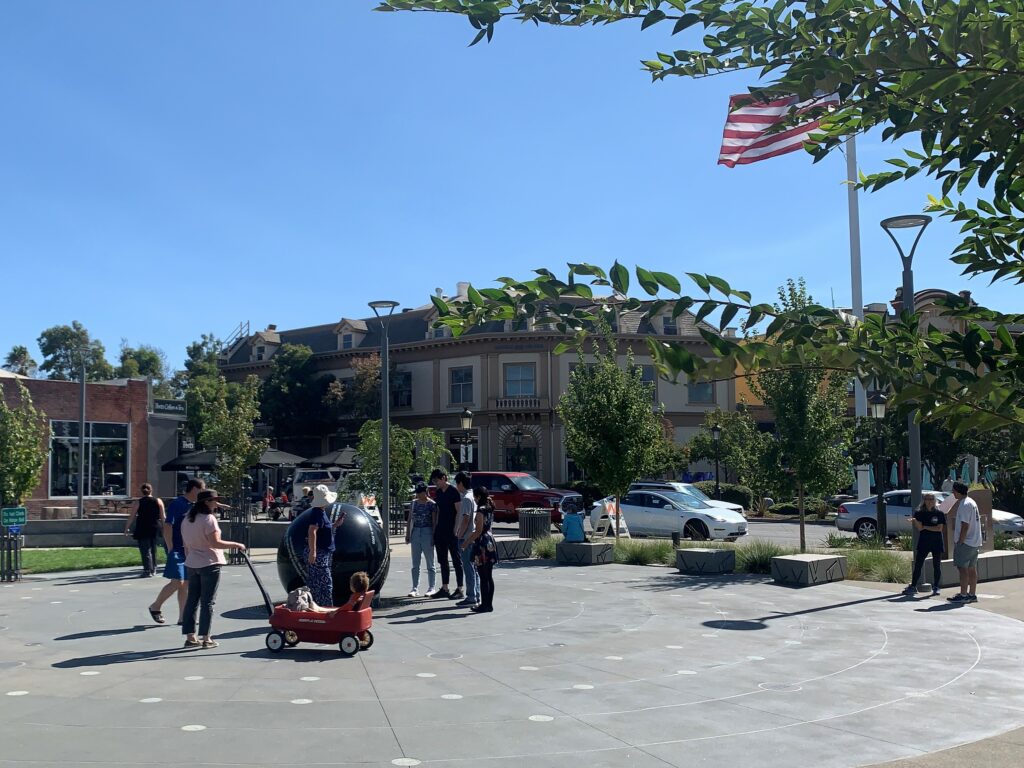 Livermorium Plaza is already being adopted by the community, the best proof-of-concept for the design and planning that went into this public space. Livermore's annual fall Art Walk drew thousands of people downtown, including to its new "living room." On most days, passersby, lunch-goers, families, and visitors enjoy a brief respite while learning more about Livermore's history and its famous atomic element heritage.
About the author: Kimmy Chen is Associate Principal at Gates + Associates, a landscape architecture and urban design firm in Walnut Creek, CA, creating sustainable, extraordinary places in the Western U.S. For more information, visit www.dgates.com.