By Danae Hall, AICP, Awards Program Director, May 21, 2023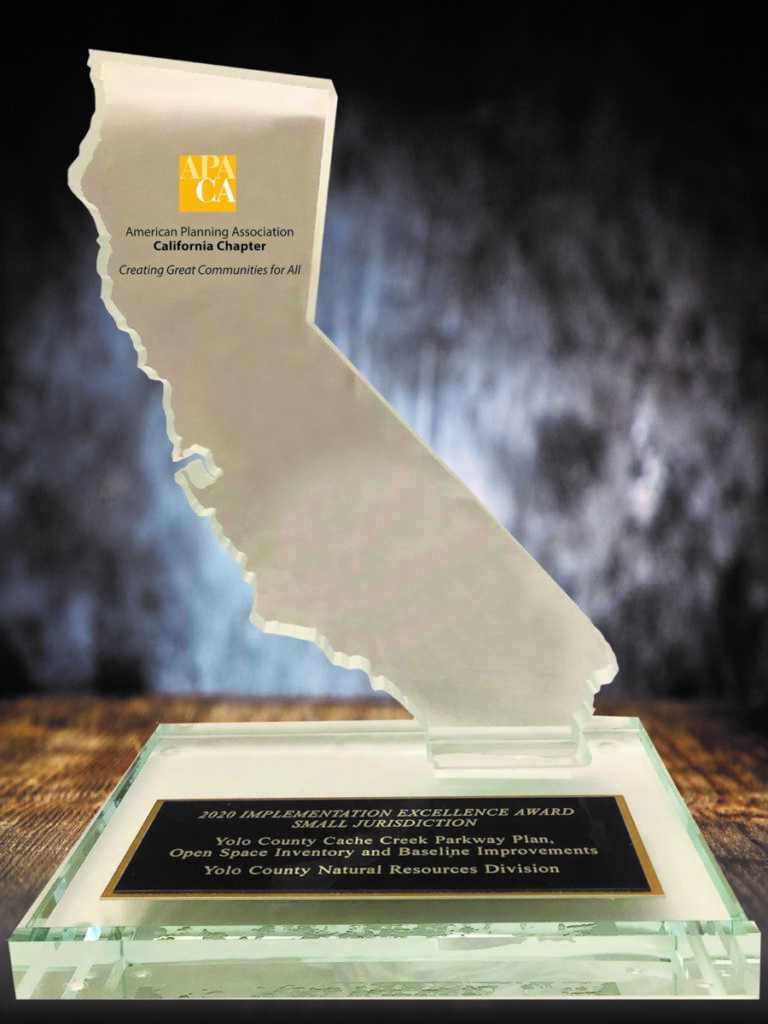 Each year, the Northern Section bestows Planning Awards to honor the most outstanding efforts in planning in the Section. This year, we received over 30 applications. The jury was impressed with the quality of applications across the board. After careful deliberation, the results are in and we are excited to share them with you.
Congratulations to all of the winners and thank you to everyone who applied. We look forward to seeing you at our Awards Gala, where our 2023 APA California – Northern Section Awards recipients will be celebrated. The Gala will tentatively be held in October 2023. More information will be shared once it becomes available. If you, or someone you know, is interested in helping to plan the Awards Gala, please contact Danae Hall at awardssubmissions@norcalapa.org.
Award
Organization
Name of Project
Academic

Award of Excellence

San Jose State University, Dept. of Urban & Regional Planning; Urban Planning Capstone Studio graduate student teams: Fall 2020 and Spring 2022
Guadalupe River Park User Survey and Recommendations for the Future of the Park
Academic

Award of Merit
City and Regional Planning Department, Cal Poly San Luis Obispo
Downtown Campbell Vision Plan
Advancing Diversity and Social Change in Honor of Paul Davidoff Award

Award of Excellence
California High-Speed Rail Authority
California High-Speed Rail, San Jose to Merced Project Section, Environmental Justice Community Improvement Planning and Engagement Process
Best Practices

Award of Excellence
PlaceWorks
City of Emeryville 2023-2031 Housing Element
Best Practices

Award of Merit
PlaceWorks
Antioch Commercial Infill Housing
Comprehensive Plan – Large Jurisdiction

Award of Excellence
City of San José
San José Diridon Station Area Plan
Comprehensive Plan: Large Jurisdiction

Award of Merit
M-Group
El Camino Real Specific Plan, City of Sunnyvale
Comprehensive Plan: Small Jurisdiction

Award of Excellence
City of South San Francisco
South San Francisco 2040 General Plan
Comprehensive Plan – Small Jurisdiction

Award of Merit
City of Alameda
City of Alameda 2023-2031 Housing Element
Economic Planning and Development

Award of Excellence
City and County of San Francisco
Shared Spaces Program
Hard-Won Victories

Award of Excellence
Marin County
Marin County 6th Cycle Housing Element (County of Marin and MIG, with VTA Associates)
Hard-Won Victories

Award of Merit
Lexington Planning
City of Albany San Pablo Avenue Specific Plan
Implementation: Large Jurisdiction

Award of Excellence
Napa Sonoma ADU Center
Napa Sonoma ADU Center
Opportunity/Empowerment

Award of Excellence
City of Alameda
Dignity Village
Planning Agency (public sector)

Award of Excellence
Association of Bay Area Governments (ABAG) and Metropolitan Transportation Commission (MTC)
Association of Bay Area Governments and Metropolitan Transportation Commission, Regional Housing Technical Assistance Program
Public Outreach

Award of Excellence
Midpeninsula Regional Open Space District
Purisima Creek Redwoods Multimodal Access Project
Public Outreach

Award of Merit
City of Dublin
SCS Property Community Outreach
Resilience and Sustainability

Award of Excellence
East Bay Regional Park District
Former Roddy Ranch Habitat Restoration and Public Access Plan
Resilience and Sustainability

Award of Merit
Ascent
City of Milpitas Climate Action Plan
Transportation Planning

Award of Excellence
ICF Jones & Stokes
State Route 37 Planning and Environmental Linkages (PEL) Study and Guidebook
Transportation Planning

Award of Merit
Kimley-Horn
California Strategic Highway Safety Plan (SHSP) Pivot
Urban Design

Award of Merit
Interwest Consulting Group
San Benito County Zoning Code Update, ADU Design Handbook/ Construction Drawing Templates
Additionally, the Northern Section is glad to announce the following awards:
Special Recognition Award: Emerging Planner – Megan Campbell
Special Recognition Award: Mid-Career Planner – Stephen Velyvis
Special Recognition Award: Distinguished Planner – Veronica Tam
We would like to extend a huge thank you to our panel of jurors for taking the time to review each application thoroughly and for engaging in thoughtful deliberation. Our 2023 jurors include:
Andrew Mogensen, AICP, Community Development Director, Millbrae
Florentina Craciun, AICP, Senior Environmental Planner, City and County of San Francisco
Joanna Jansen, AICP, LEED AP, Managing Principal, Placeworks
John Cook, AICP, Managing Director, Environmental Planning, ICF
Mike Iswalt, AICP, Transportation Planner, Kimley-Horn
---