About the Program
The International Planning program within the Northern Section seeks to educate and inform members about planning issues going on throughout the world. The program organizes planning tours to expand the horizon of our members as well as initiates collaboration with international partners.
International Planning Tours
The main objectives of the tours:
Explore cities with fellow travelers that share a common interest in urban planning.
Meet with our counterparts to understand the planning issues facing these cities, and how they are responding to urban problems and challenges.
Chat with university academics to learn about their urban planning programs and curriculum.
Create a dialog with elected officials in how they deal with planning policies affecting their municipality.
Understand the history of visited cities and how it has shaped the culture, social fabric, economy and physical form of these cities.
Enjoy the impressive architecture, arts and culture, culinary delights and sights of each city through guided tours and self-discovery.
Exchange U.S. urban planning knowledge and ideas with governmental planners, educators and planning organizations; establish continuing relationships for future exchange opportunities.
International Planning Collaboration
Building upon the contacts gained from the Northern Section's International Planning Tours, our International Planning Collaboration program is off to a good start. The first collaboration is a pilot project with the Municipality of São Paulo, Mackenzie Presbyterian University in São Paulo, and the American Planning Association. Assisted by an APA National Chapter Presidents Council "micro" grant, a funding match from the Northern Section, and much appreciated pro bono work contributions from planners both in Northern California and in São Paulo.
The second collaboration is with the City of Ouro Preto, Brazil, the São Cristóvão neighborhood (more commonly referred to as Veloso), San José State University, and APA. A SJSU class of twelve students spent one week in Ouro Preto collecting data and talking to Veloso residents in January 2018. Several community workshops were conducted by APA and SJSU. The workshops generated a list of opportunities and constraints, plus a prioritized list of community needs subsequently included in a grant application the São Cristóvão Residents Association submitted to the Inter-American Foundation.
The third collaboration is with PLANRED (Chilean Planners Network) on co-sponsoring a video conference event COVID-19 Conversations — California, Chile, and Beyond for Friday, May 22 at 9am PDT. If you are interested in attending this online event, please fill out this very short form so we can have a participant sign-up list: t.ly/eWlK. The Zoom video conferencing info will appear right after you've filled out the form.
Purposeful Travel: A Tool Kit for Initiating International Collaboration
Purposeful international travel provides planners with fresh knowledge and adds skills to their repertoire. Most planners enjoy travel — exploring interesting places, meeting new people, and tasting different food. Many also yearn to volunteer or work professionally in other countries. Planning professionals, professors, and students—whether on a study tour, attending a conference, or working together on a project abroad—are well positioned to gain meaningful insights. This tool kit — Purposeful Travel – A Planner's Tool Kit for Initiating International Collaboration — will assist you and your colleagues in forming international planning tours and launching international planning collaborations.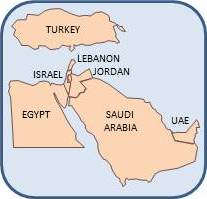 Upcoming International Tour to The Middle East
We were enthusiastic when we started planning for the seventh APA California Northern Section's International Tour to The Middle East and we had narrowed it down to three countries (Israel, Jordan, and Egypt) scheduled for October 2020. However, due to COVID-19, the tour is now put on hold. We hope to be able to go in 2022 with resumed planning in late 2021. If you are interested in this tour, please contact Hing Wong, AICP, at hing@hingwong.info.